Tamar and Thomas' Tilden Park Brazilian Room Wedding in the Berkeley Hills
Here is a delightful Tilden Park Brazilian Room wedding I shot over the summer. The Brazilian Room (also known as the Brazil Room) is one of several venues operated by the East Bay Regional Park District. The venues run by EBRPD tend to be fairly affordable when compared to privately owned wedding venues. The Brazilian Room is close to downtown Berkeley and Oakland, is not far from San Francisco and comes with a decent amount of infrastructure (tables and chairs). As I have shot more weddings at these City and County-run venues, I realize that there is a trade-off for the price. And that is flexibility. As long as you can work within their guidelines and on their timeline, you are good to go. But you will be out of luck if want to get in 15 minutes early or do something outside of their rule book. Thankfully, my wedding clients tend to be laid-back, easy-going people. Tamar and Thomas were no exception.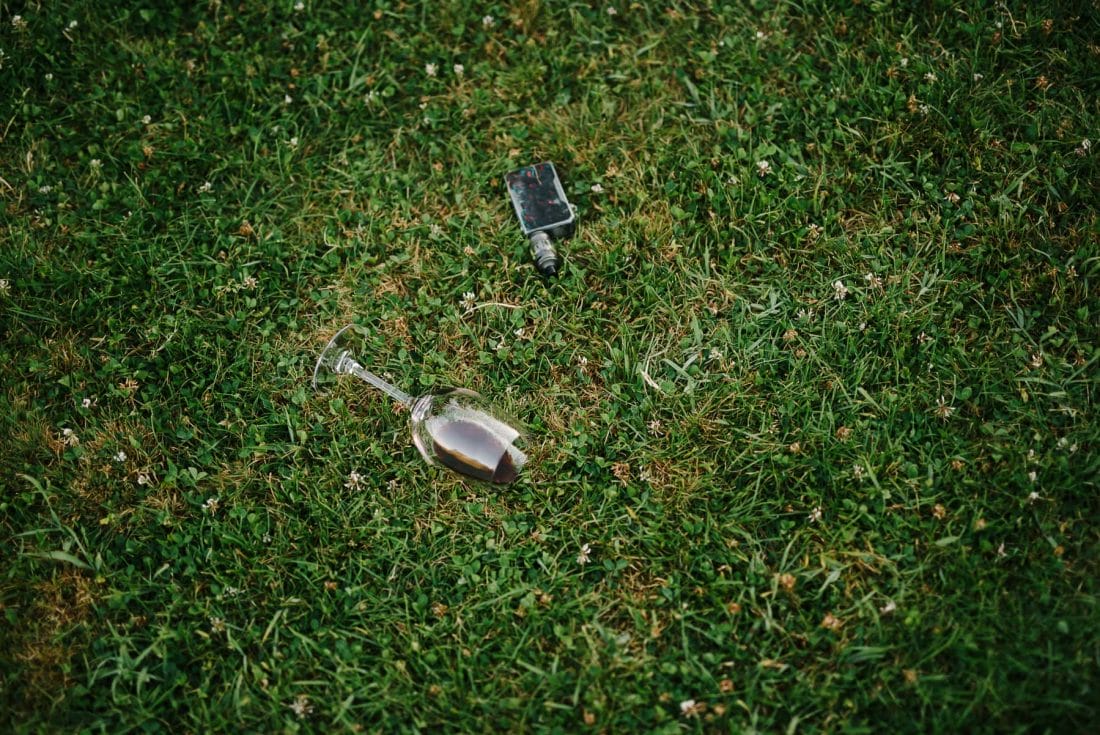 Tamar reached out to me at the beginning of 2020 about photographing her wedding. I photographed several of her friends' weddings and was stoked to when she asked me to be her wedding photographer. Of course, I said yes! While looking at a wedding I shot 15 years ago, I realized that one of Tamar's bridesmaids was in the picture. Two previous wedding clients attended Tamar and Thomas' wedding, and another client's sister was there. Our connections run deep.
Getting Ready at Home in Oakland and Couple Portraits on the Way to the Brazilian Room
Tamar and Thomas' apartment is on the top floor of a sweet old building in the Temescal area of Oakland. They both did their wedding prep in the building. Thomas and a few friends got ready at a neighbor's place. Tamar and a small group of her friends prepared for the wedding in their cool top-floor apartment. Once they were both ready we did first look outside of Tamar and Thomas' apartment. Then we went downstairs to the lobby of the building for some quick pictures before heading to the Chapel of Chimes in the Piedmont Cemetary. As an art student, Tamar was stoked to stop off at the Chapel of Chimes. That place is amazing. If you haven't visited it. You have to check it out.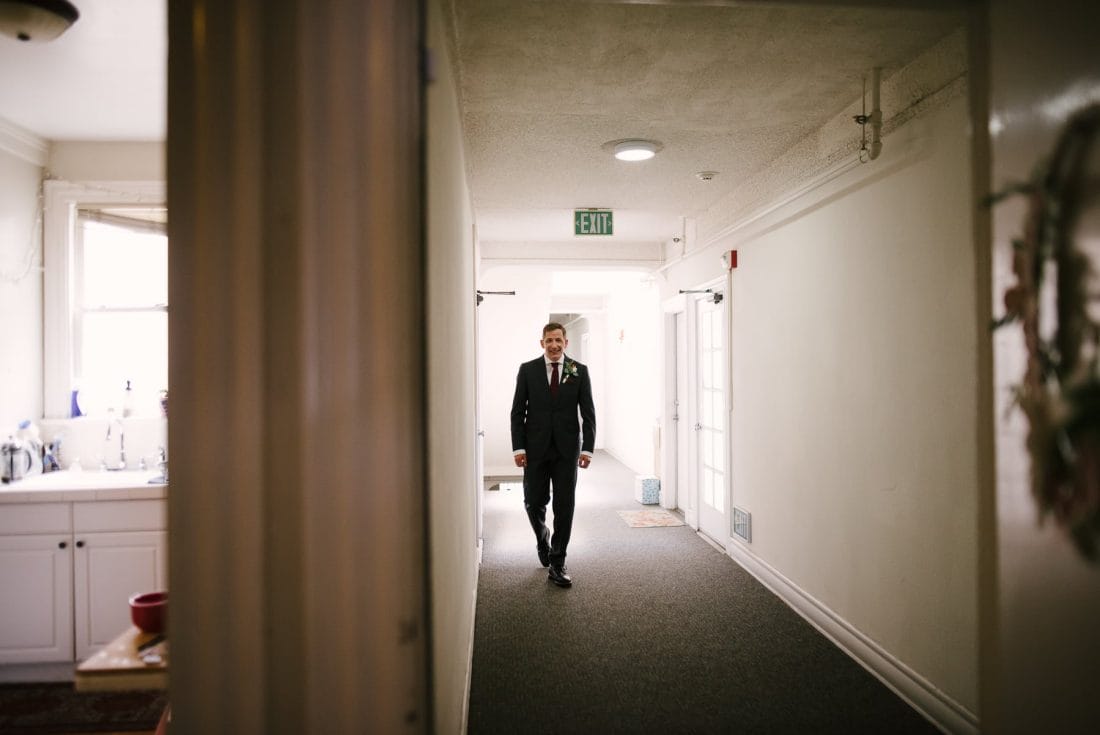 Pre-Ceremony Portraits and Brazilian Room Wedding Ceremony
When we got to the Brazilian Room, Tamar had a surprise for Thomas… a hand-painted portrait of the two of them. I love how genuinely surprised and excited Thomas was. Once all the family and friends were at the Brazilian Room, I did a quick survey of my options for group portrait locations. The options are somewhat limited. Thankfully, I found a suitable spot close by and we knocked out the group portraits and headed to the ceremony. There is pretty much only one outdoor spot at the Brazilian Room where people do ceremonies. The lighting tends to be tricky, but you do what you can. Tamar and Thomas' ceremony was short and very sweet.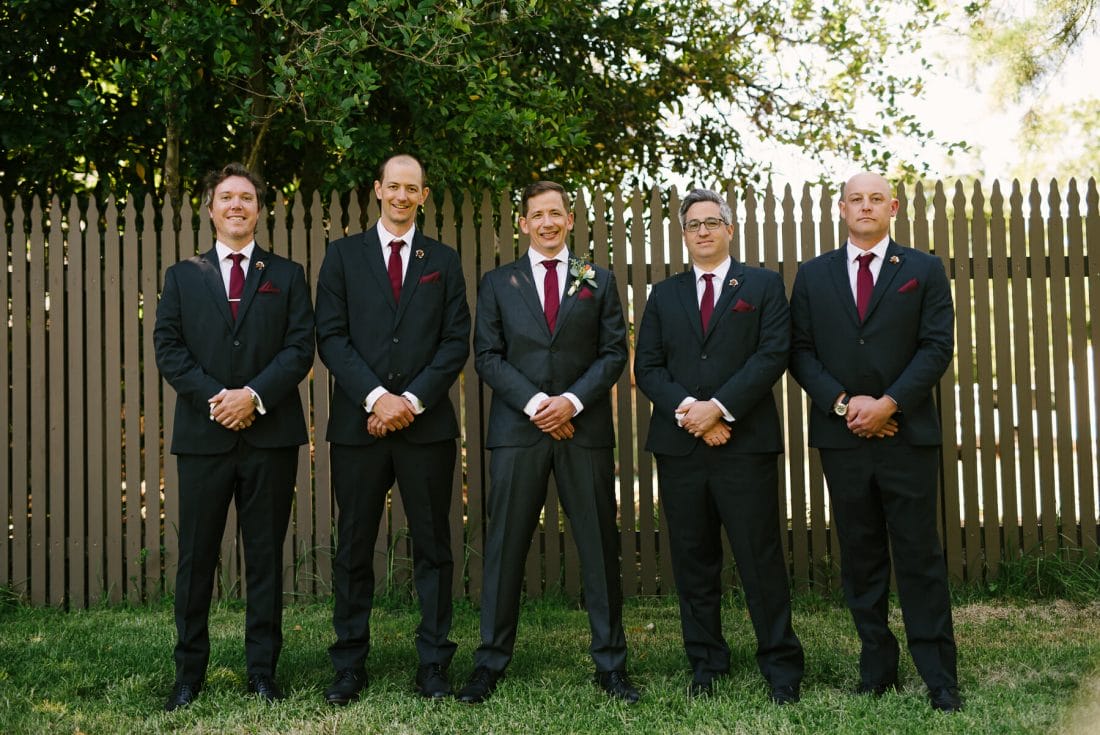 Cocktail Hour, Dinner, and Dancing
It was so sunny and warm at the Brazilian Room, that most folks hung out in groups wherever they could find shade. Once the sun dropped behind the building, there was a little more space to hang out without the fear of getting roasted. Tamar and Thomas' friend (and also a former wedding client), JP, brewed beer and made the mead for the wedding. His creations are excellent. After cocktail hour, folks moved inside for dinner and toasts. Jamie Jams of Ceremony DJs rocked the house.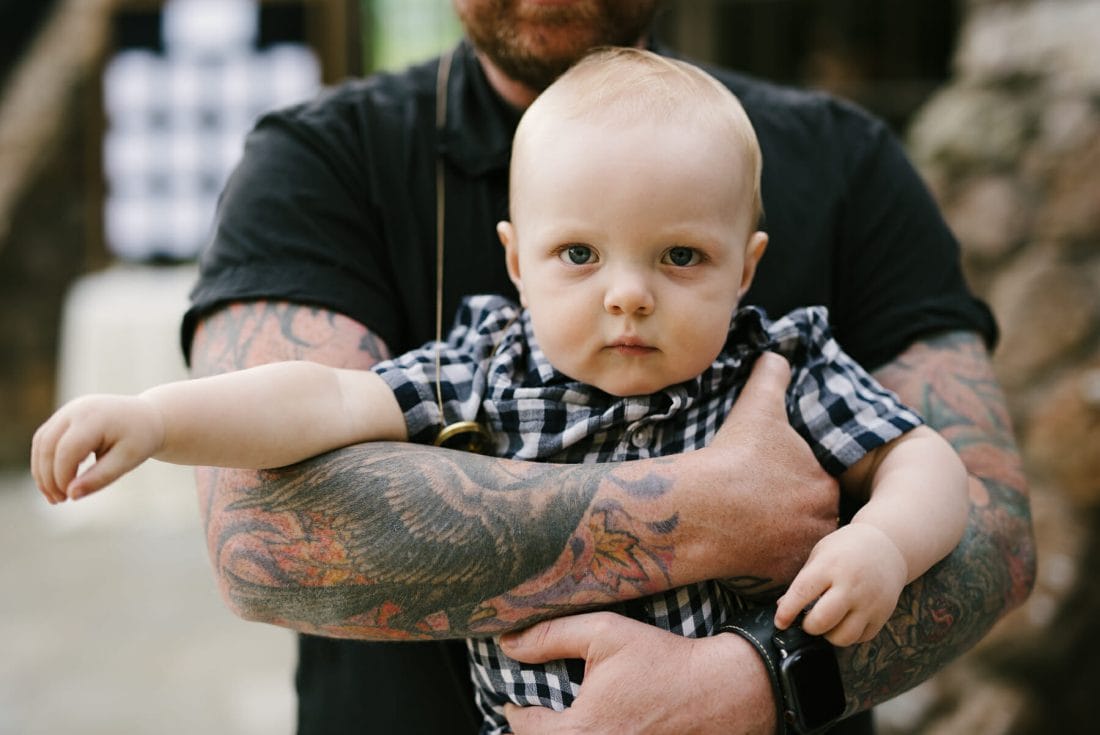 Photo Station
I often tell people that if they want more, different, pictures, then they should get a photo booth or something similar. I offer an open-air self-serve photo studio. It is pretty fun. It consists of a couple of flashes, a camera, and a trigger to take the pictures. I brought it to this wedding, and folks made excellent use of it.
I shoot a few Brazilian Room weddings every year. Some years more, and some less. It has been a bit since I blogged about a Brazilian Room wedding. If you want to check out some shots from years past, take a look at this mash-up of 5 Brazilian Room Weddings from 2017.