A LITTLE ABOUT ME AND MY FAMILY, AND SOME FUN RESOURCES.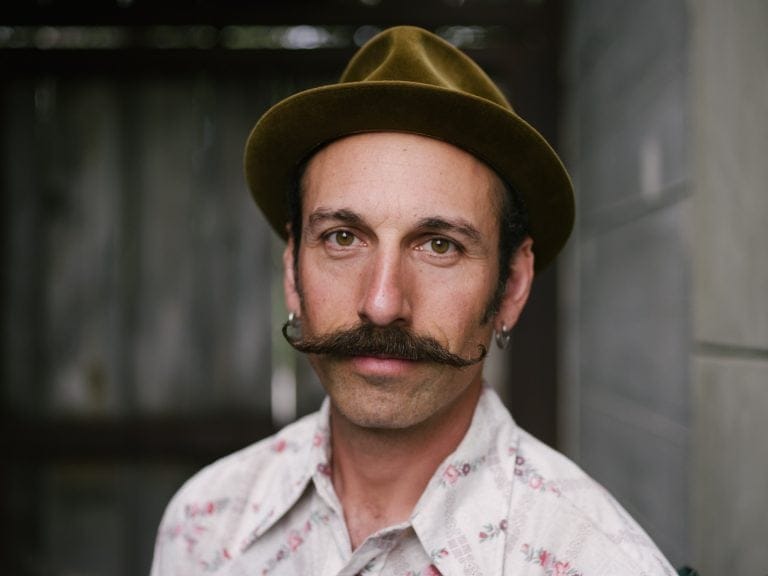 HEY THERE!
It's me, Gabriel, the photographer, living a maximum effort lifestyle in Oakland, California with my wife, Loretta, our two kids, Ellis and Zelda, and Hazel the dog in a sweet Victorian that I spent years restoring.  With our small flock of chickens, colonies of bees, fruit trees, and veggie beds, it sometimes feels like we are country folk living in the big city. Sauerkraut, bread baking, and other ferments are regular staples in our house. We spend a lot of time in the kitchen and eat copious amounts of bread, butter, and honey.
When not creating at home, I may be out hiking with my kids, hot spring soaking in the desert, hunting for mushrooms, climbing things, carving a spoon, or finding cool old stuff. My kids are pretty rad. Loretta is amazing. I really hate ants, but admire their ability to accomplish huge tasks despite their small size.
In 2002 I shot my first wedding professionally, and made photography my full time gig around 2007. While often sporting facial hair between July and January, know that my facial hair does not get in the way of my photography, though it does make eating ice cream rather complicated.  Listening to podcasts is my go to photo editing brain food.
I mostly shoot in Northern California, but would be jazzed to join you in some exotic destination. Thanks so much for checking out my work. Let's chat.
I am an obsessive Do It Yourself-er.  Ever since I was a kid, my drive to taste, take apart and put together, and explore has been high.  If you are curious about some of my hobbies, or thought it might be fun to pick up a new hobby of your own, here are some resources that I have found helpful in my recent endeavors.
Fermentation – bread, ginger beer, mead, sauerkraut, …  check out The Art of Fermentation and Wild Fermentation by Sandor Katz.
Beekeeping?  Have you secretly always wanted to start beekeeping?  Me neither, but now that I have started, I am hooked.  If you are interested in starting your own back yard beekeeping operation, here are a few resources:  Bush Farms, Randy Oliver, Beekeeping for Dummies, and Mann Lake.  
Mushroom Hunting is so fun.  It is a great excuse to get out into the natural world when the weather is crappy.  Get All That Rain Promises… a pocket guide to mushroom hunting, and go find yourself some dinner.
Bought a new house, getting married, want to find cool old shit?  The best place to do your vintage and antique shopping in the Bay Area is the Alameda Antique Fair.  It happens the first Sunday of every month, and is an epic treasure trove of vintage and antique stuff and tons of great food trucks.  Estate Sales are good too, but require more effort.
We spend a lot of time together.  Sometimes we go on adventures into the desert or the woods.  Our annual journey to hot springs in Death Valley is epic.  We also have dance parties at home sometimes.  
Ellis was born in 2010 and Zelda was born in 2012.  They both like sushi.  Toward the end of each year they dress up with me and play chimney sweeps at the Great Dickens Christmas Fair in San Francisco.  They are pretty great kids.
For new parents, not so new parents, people who are undecided about kids, and folks who just want a good laugh...