Intro
For folks looking to get married at Roberts Regional Recreation Area in Oakland, here is the most comprehensive guide to help you plan your wedding. The information below should give you most of what you need to figure out onsite storage, load in and load out, lighting, audio, dance floor, ceremony, food and beverage, vendors, cost, and all the rest. Scroll to the end for vendors and links to other weddings I have shot at Roberts Regional. The last couple I worked with at Roberts Regional, Kim and Geoff, helped me GREATLY in putting this together. It is their wedding images that you see here. I will be highlighting images from their wedding in this post. Much of the specific information I am sharing here was collected by them. A big thank you to Kim and Geoff.
When I met Kim and Geoff to talk about their wedding, they said they had found me through Laura and John's Roberts Regional wedding. They said it had been very helpful in their planning, and they continued to use that post to help them. I also connected Kim with Laura, who was generous enough to share her google docs. In talking about their wedding, I suggested that Kim and Geoff chat with my neighbor Alyson, owns Flowers and Forage about flowers for their wedding.
Why you Should Consider Roberts Regional for your Wedding Venue
Wedding planning is complicated. Some venues are easier than others. Roberts Regional is one of the more complicated wedding venues. That said, it has a lot going for it. The park is close to Oakland, Berkeley, and San Francisco. It has easy parking, great views, and huge oak and redwood trees. And, as far as Bay Area venues go, it is very affordable. Kim and Geoff spent $15,000 on their wedding, not including rehearsal dinner, rings, and attire.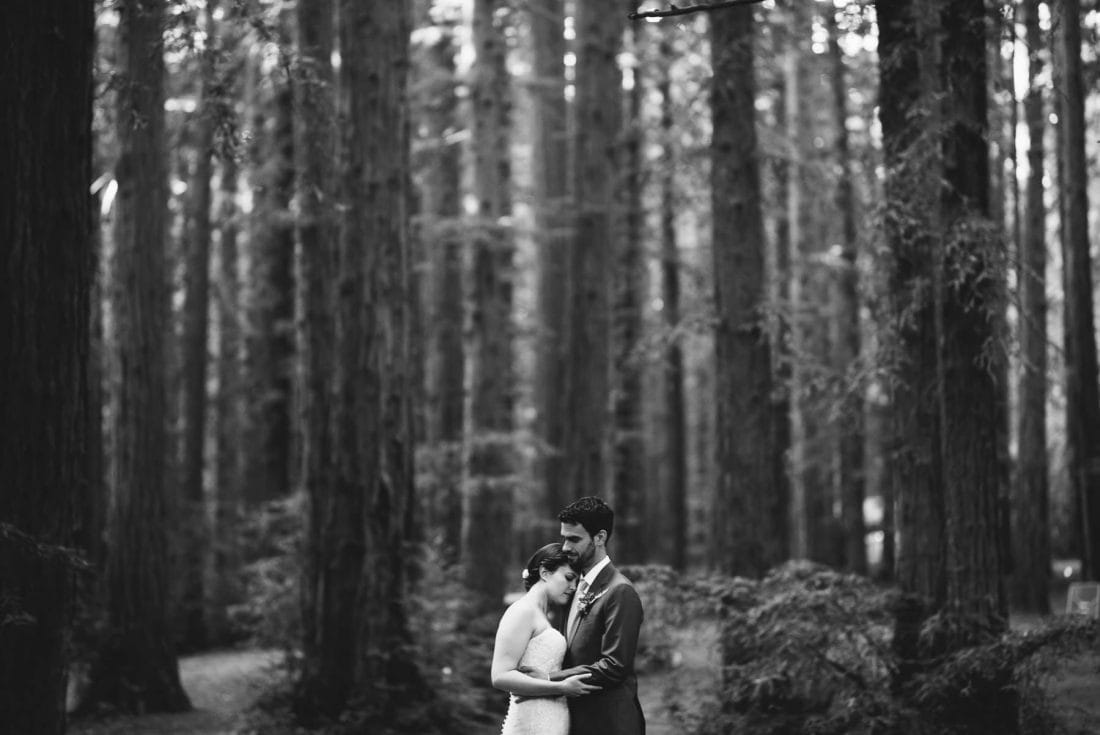 Why Roberts Regional is a Complicated Wedding Venue
The logistics of schlepping in everything for your wedding, setting up, breaking down, and clearing it out all in one day is tricky. Setting up in the morning is one thing, but when you and your guests have been drinking and partying for hours, breaking everything down and packing up is probably not going to be high on your list of things you want to do at the end of your wedding day. Pro-tip: hire help! Five to six people for a couple of hours to break down, haul out, and clean up everything will be well worth whatever you pay them. And bring a wagon so that you don't have to carry everything by hand.
How to Reserve a Space at the Park for your Wedding
Kim and Geoff used the Madrone and Bay Vista picnic areas for their wedding. The other weddings I have done at Roberts have also utilized these two sites. You need to reserve two sites to do a wedding at the Roberts. The rental fee (at the time I wrote this) for the two sites is $566 plus a $325 deposit. Kim and Geoff had their ceremony at the Madrone site and reception at the Bay Vista site. Check availability for Madrone/Bay Vista on the EBRPD site Facility Availability Calendar. To make your reservation you will need to meet with a park ranger and do a walkthrough. Once you have done your site visit, you can call the EBRPD to reserve your date and get the rental contract. Here is a link to their reservation page. Their number is 888-327-2757.
Here is Kim and Geoff's site map. It should be helpful to visualize the layout of the space.
Some Park Rules and Considerations
Roberts Regional Recreation Area has a pool, a playground, a baseball field, and several picnic areas. It is a community space, and you will be sharing the park with other people. There is enough separation between things, that it probably won't feel like other people are too close, but it is something to consider. The fact that it is a regional park run by a government agency, means there are rules and guidelines that you will need to adhere to. Some things to note:
No electricity is available onsite
No generators are allowed
Nothing can be hung from the trees
Beer & wine are allowed, but NO hard liquor
Vendors who need to drive off the pavement into the picnic area (e.g., to drop off chairs in the Redwoods), need to have a vehicle access permit ($75) and be escorted by a park ranger. You will be responsible for securing this permit. Note that this process takes longer than it should.
The park entry gates close in September at 7 pm. Cars can exit but can not enter after the park closes. Plan accordingly. Make sure that all vehicles that need to load stuff out are in before the gate closes.
Park curfew is at 10 pm. Vehicles left overnight (before or after the event) should be called into the EBRPD dispatch line (510-881-1833) to avoid getting towed away.
There is usually a parking fee of $5 for the lot. You can prepay for your guests or just have them pay as they enter.
Here are more details about EBRPD Picnic Reservations
Getting Ready
Since there is no getting-ready space at Redwood Regional, Kim got ready at a rental house about 10 minutes away. Geoff got ready at a separate location. We decided that I would just stick with Kim and meet Geoff at the park. When I shot Jessica and Ethan's wedding at Roberts Regional a while back, Jessica got ready at their house and Ethan got ready at a friend's place. There is not a great spot for getting ready at Roberts to get ready, so plan accordingly.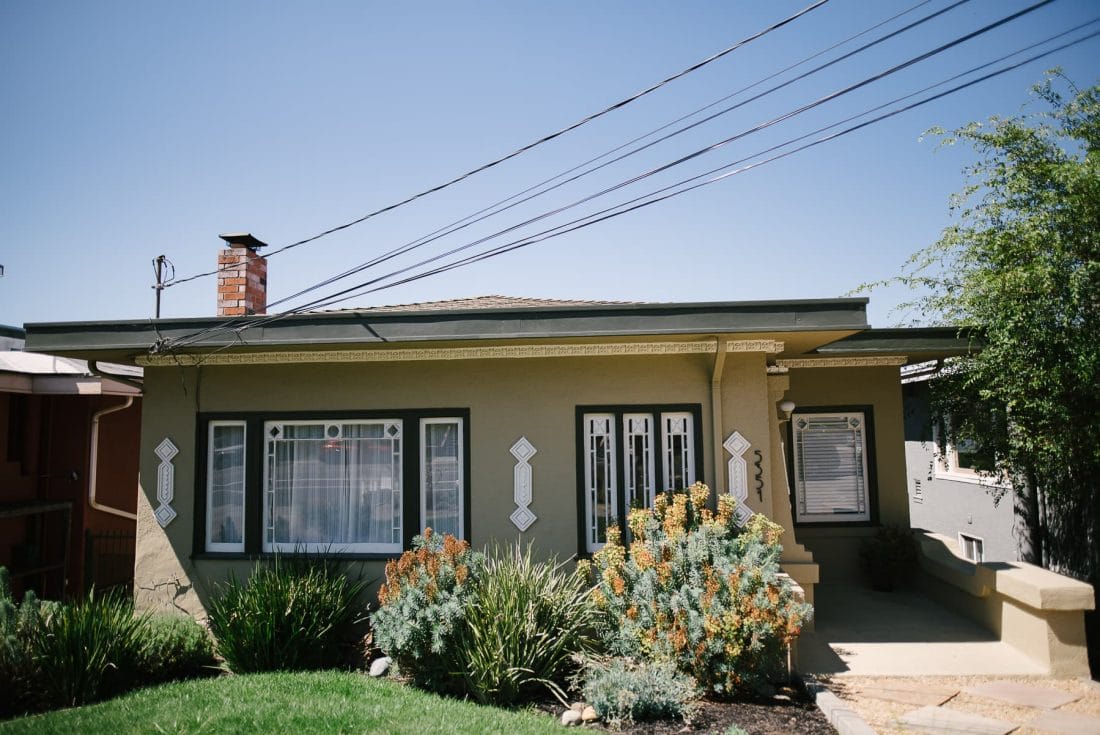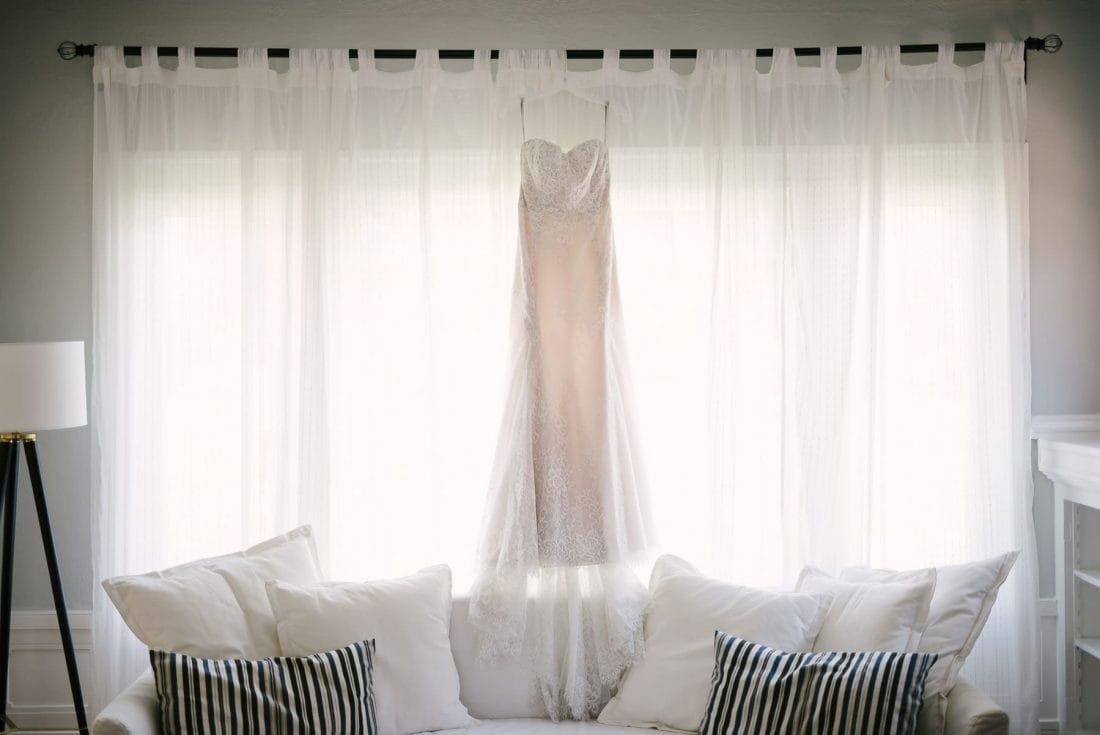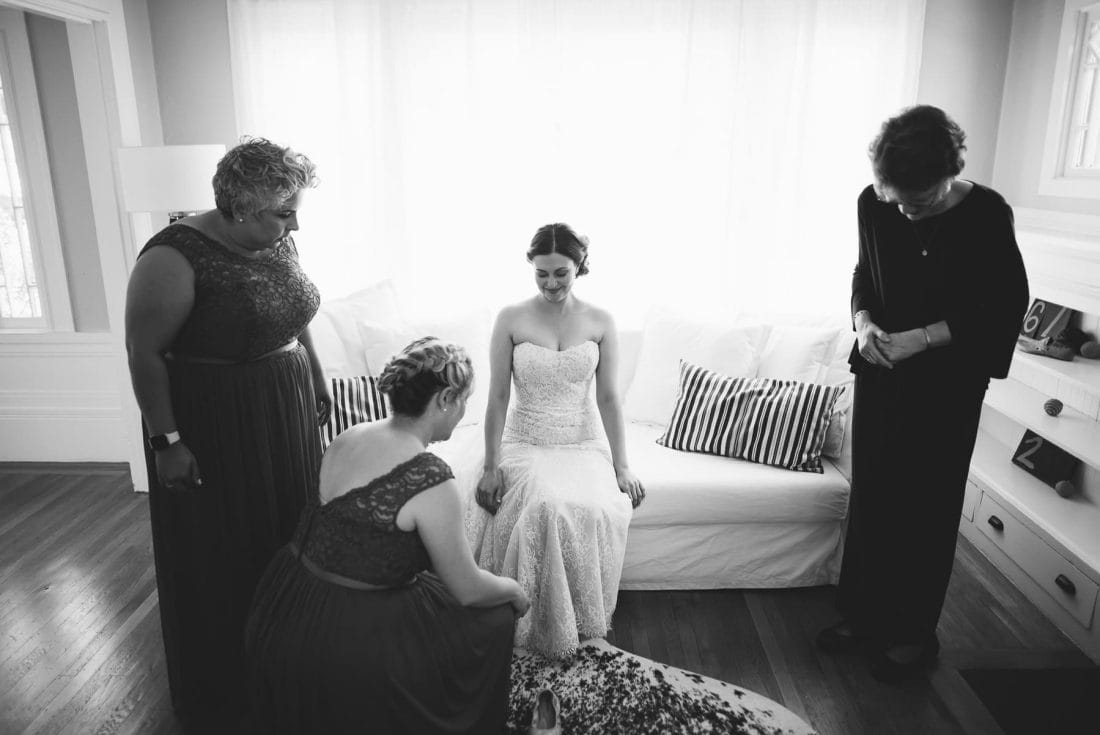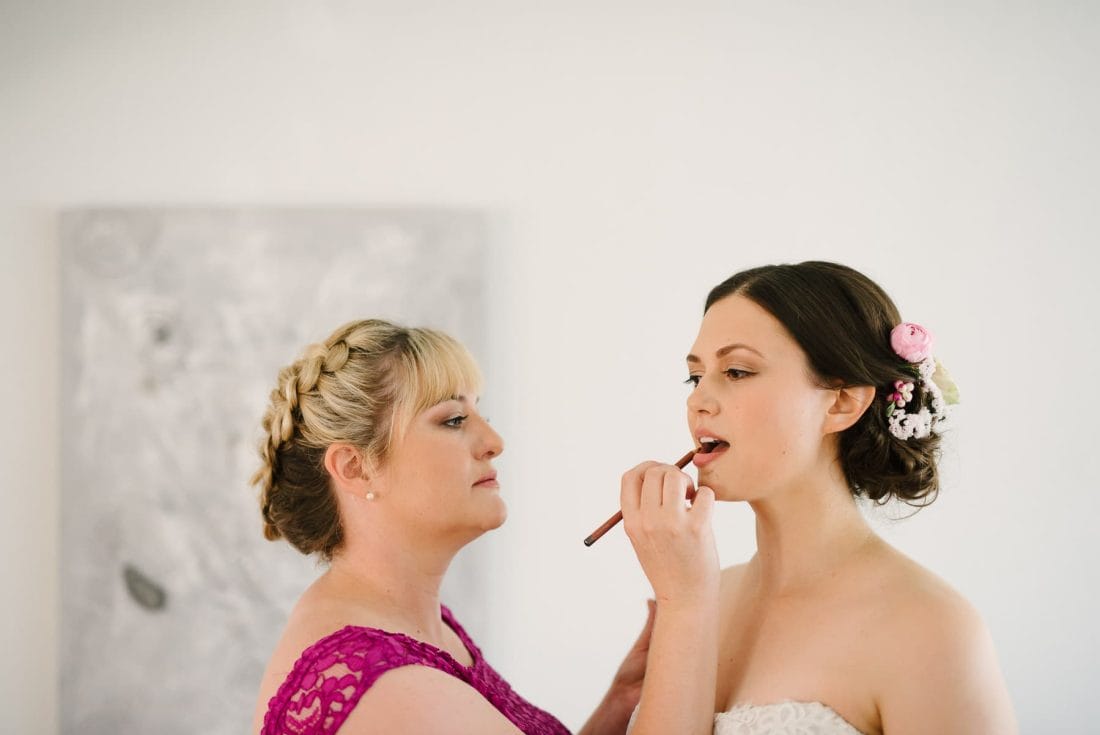 First Look and Family Pics
There are a handful of decent places to do family pictures. Because the lighting inside the redwood grove is a little tricky, after doing a first look in the redwoods, we decided to do family pics by the baseball field. Keep in mind that redwood needles like to hang on to wedding dresses.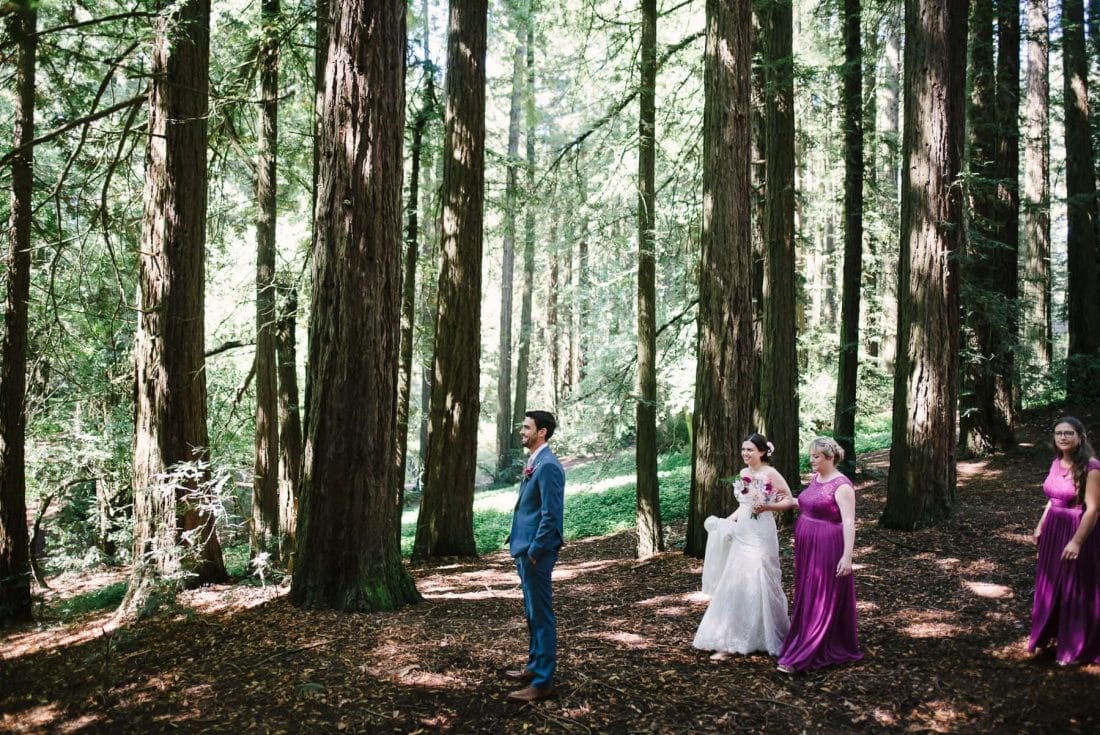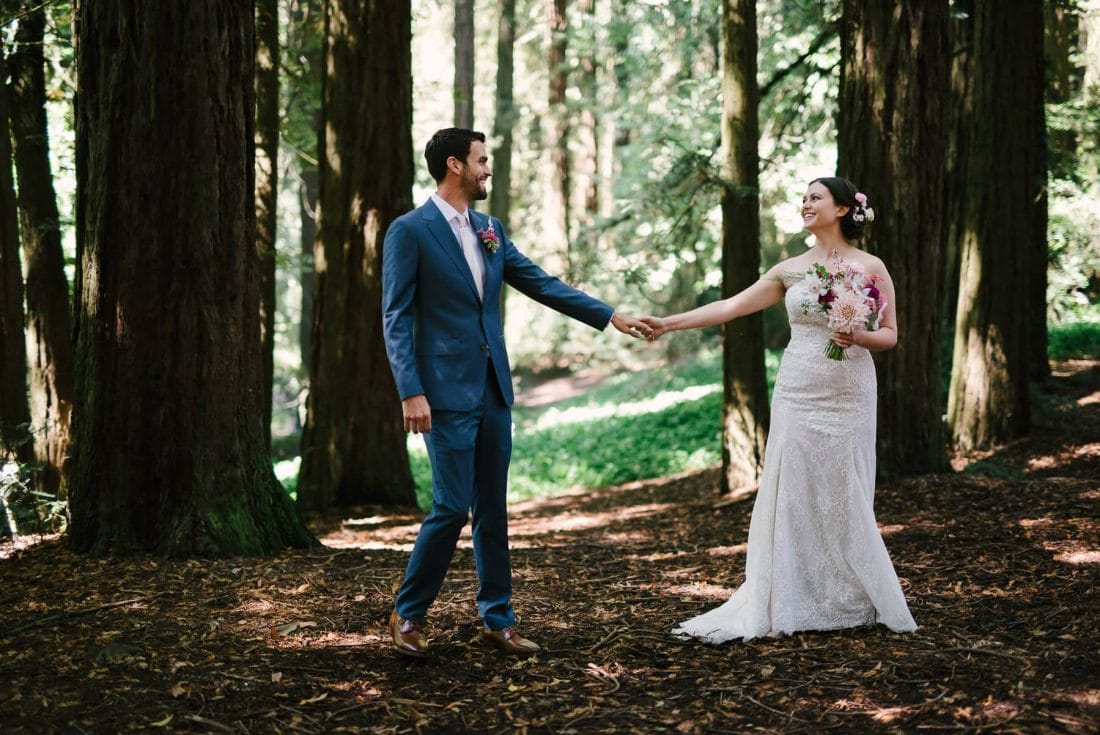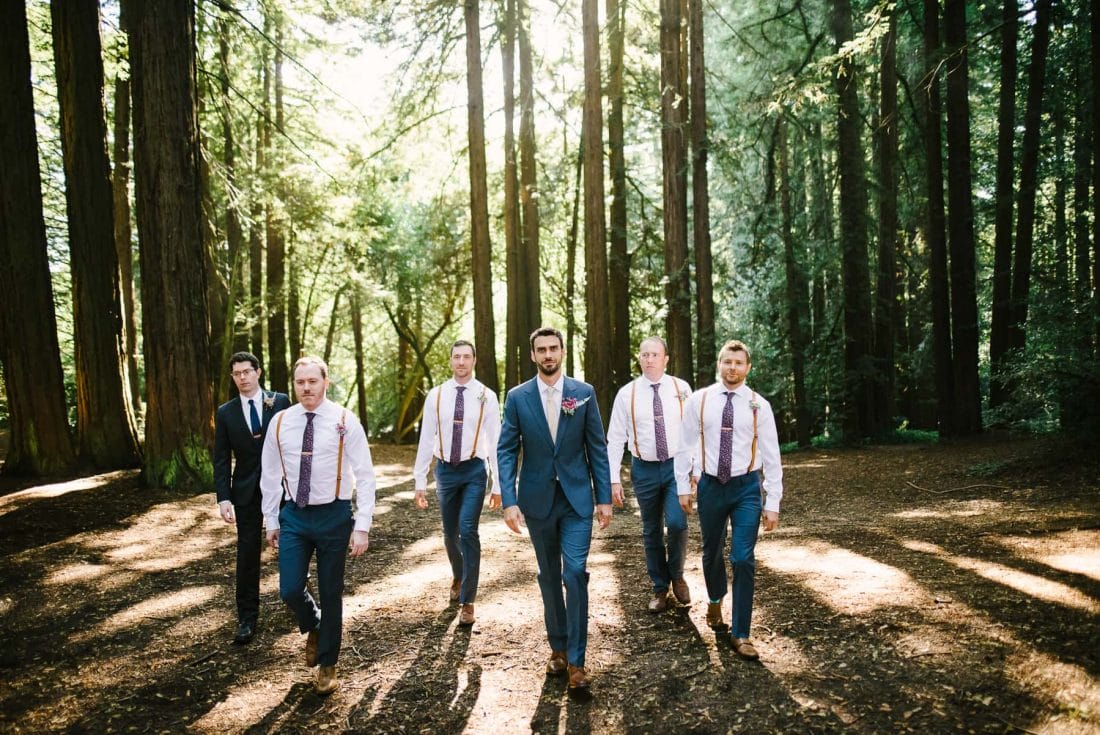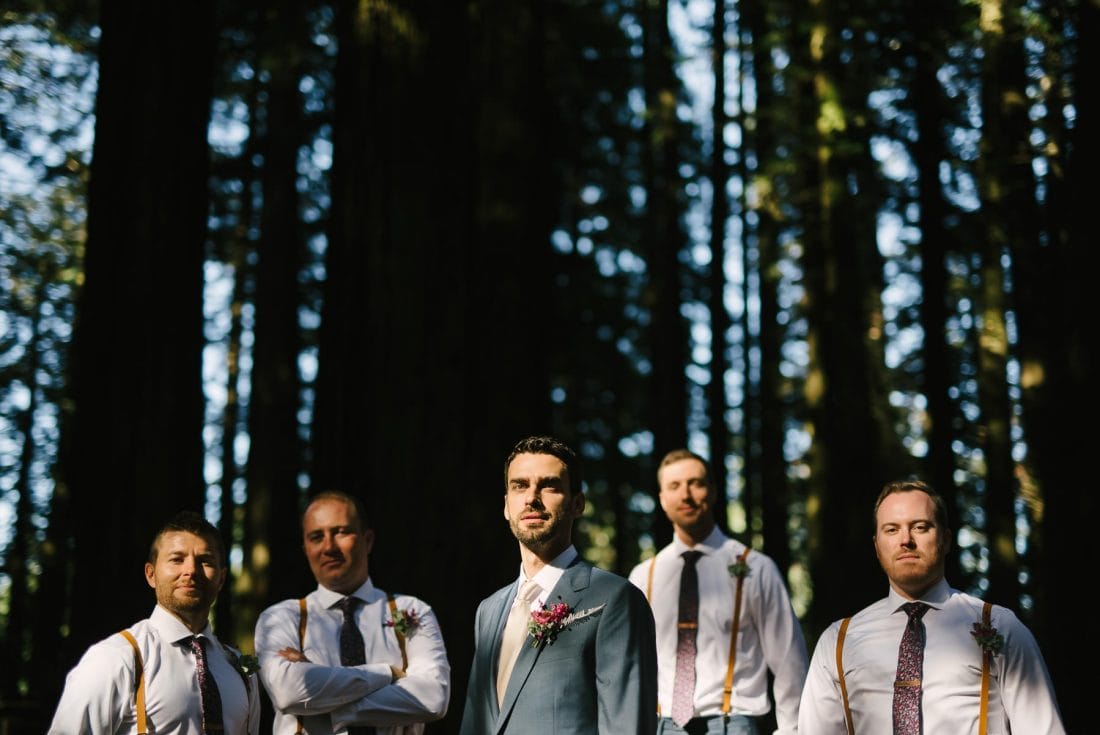 Ceremony
You don't need seating or speakers or rugs or aisle runner for your ceremony… but they are nice. Kim and Geoff didn't have runners or carpets for the ceremony aisle, but the previous 2 weddings I shot at Roberts Regional had them. Kim and Geoff did rent chairs and speakers. The speakers were used for both the ceremony and reception. Their audio equipment was from Guitar Center (Audio Package A). They borrowed one of my camping rugs for the ceremony. They got their chairs from All Seasons Event Rentals for $2.25/chair.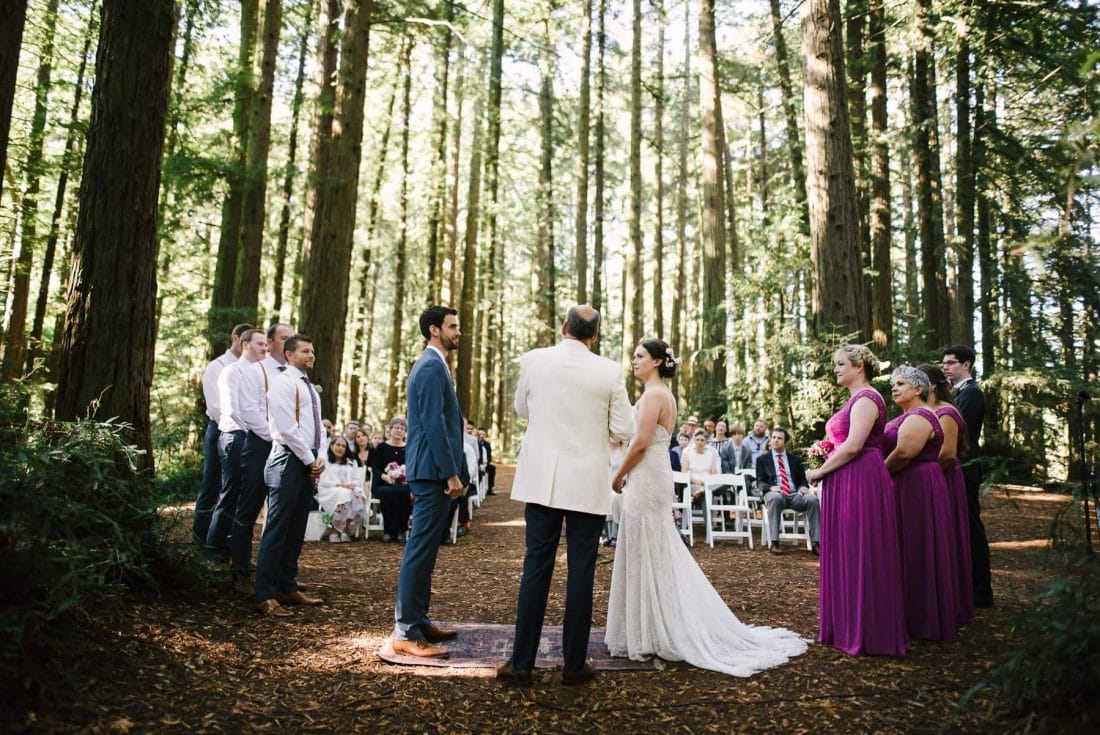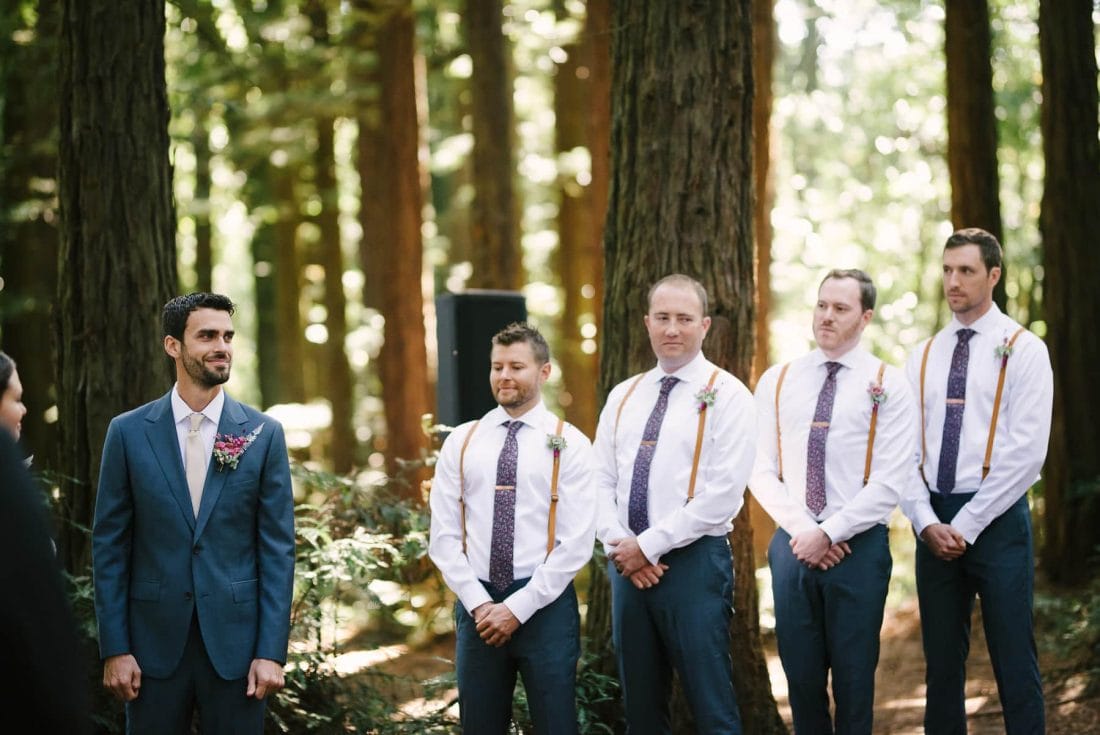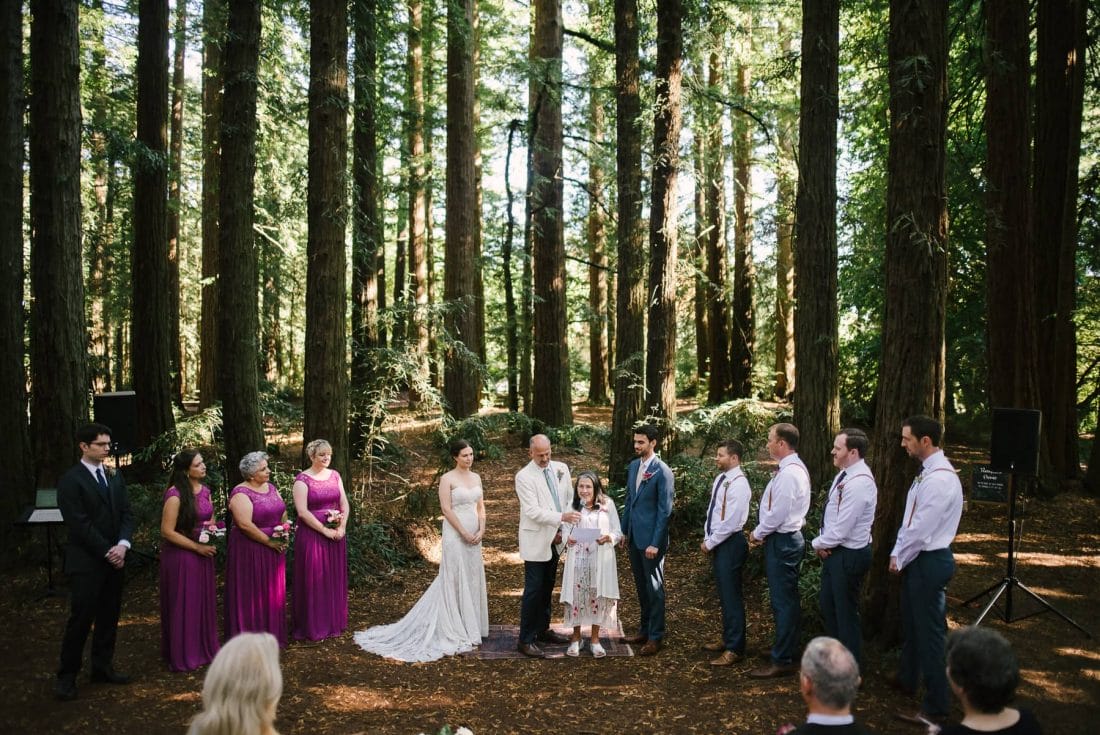 A Quiet Moment After the Ceremony
After the ceremony, Kim and Geoff had some quiet time alone, we took a few portraits, and then headed to the Bay Vista site for dinner, speeches, dancing, and the rest of it.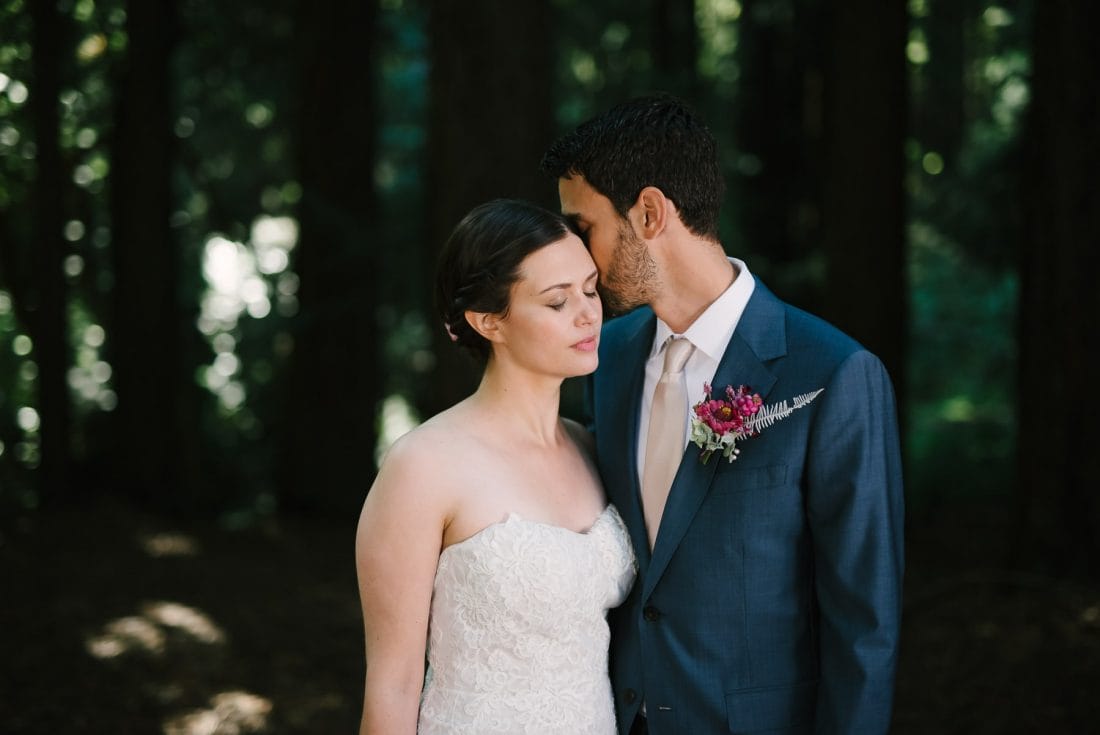 Food and Beverages
Los Cilantros (they are on my vendor list) brought some bomb Mexican food to Kim and Geoff's reception. Because they just came in and dropped the food off, there was a lot of running around making sure that the food stations stayed stocked and all the other things were in place. Having some folks in place to serve food, clear dishes, and take care of all the little things would be a good idea.
Most of the beer was from the local brewery, Drake's Brewing Company. Kim and Geoff served keg beer from a Jockey Box (from NorCal Draft Co) along with some canned and bottled beer. They also served agua frescas and other beverages. I am always a fan of glass cups (just say NO to plastic bottles and cups!). You can either rent or purchase glasses. Mason or other jars make fine glasses and are cheap. Check out the General Bottle Supply for a huge selection of bottles that can double as beer glasses.
Dinner and Speeches
The dinner and speeches were super sweet. Kim and Geoff rented tablecloths from the same company they got the chairs from. They used compostable plates and silverware. I personally don't mind the compostable plates but I prefer real utensils. The mouth feel of a metal fork is so much better than plastic or wood. Glassware was rented. In addition to the solar-powered LED string lights that they hung around the reception area (using 92″ shepherd hooks from Home Depot), they also had fairy lights on the tables, path lights leading to the bathroom, and lighting in the bathroom. They purchased a battery pack (500Wh Jackery Explorer) which powered the audio equipment. It provided more than enough power for the 5+ hours of use it got.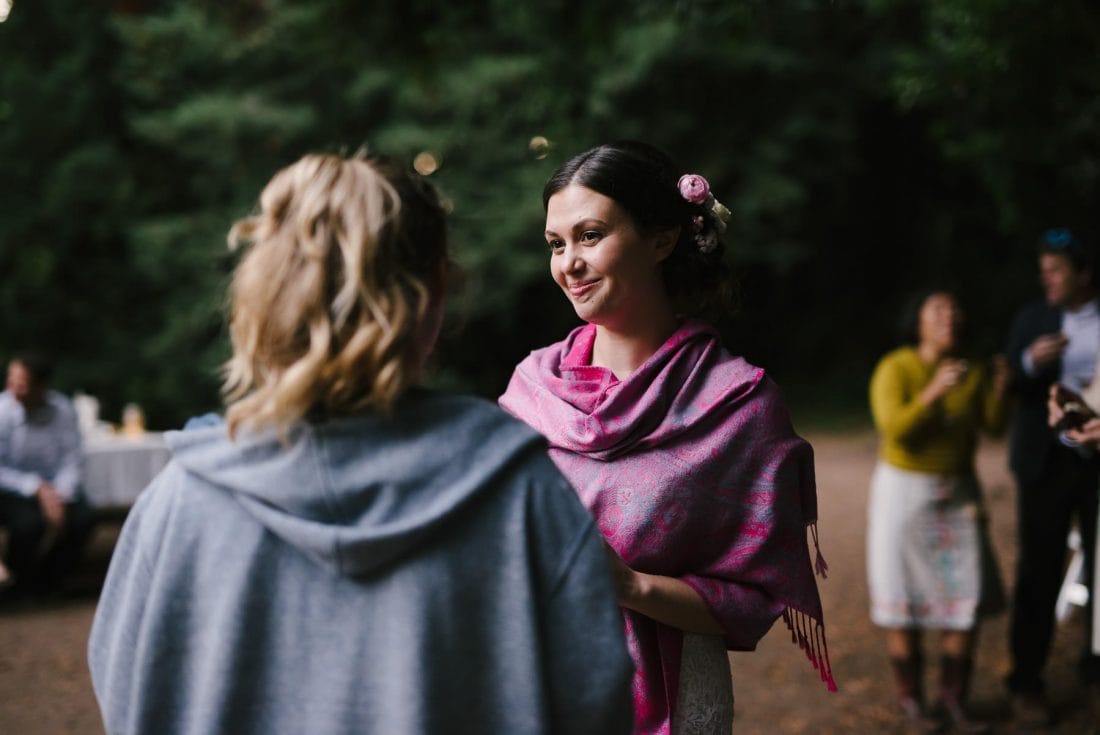 Couple Portraits
After speeches, we took a quick walk through the redwoods for some couple portraits. It is always nice to take a breath and a moment of quiet to do these pictures. The light in the redwoods toward the end of the day is so nice.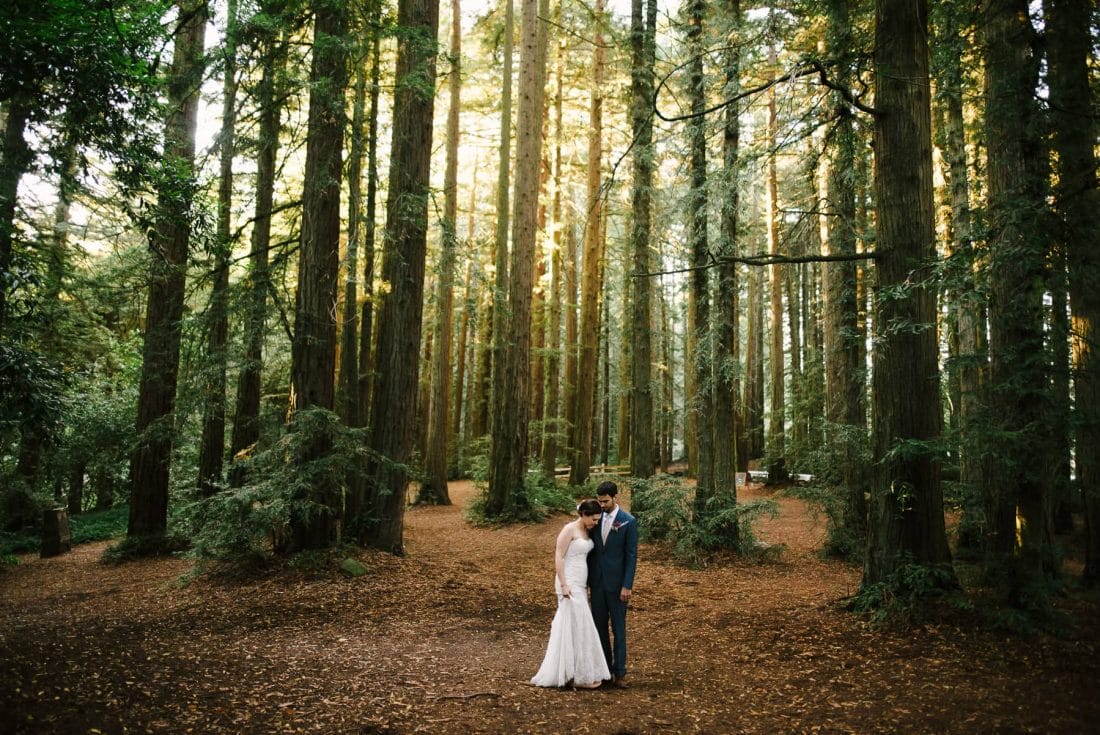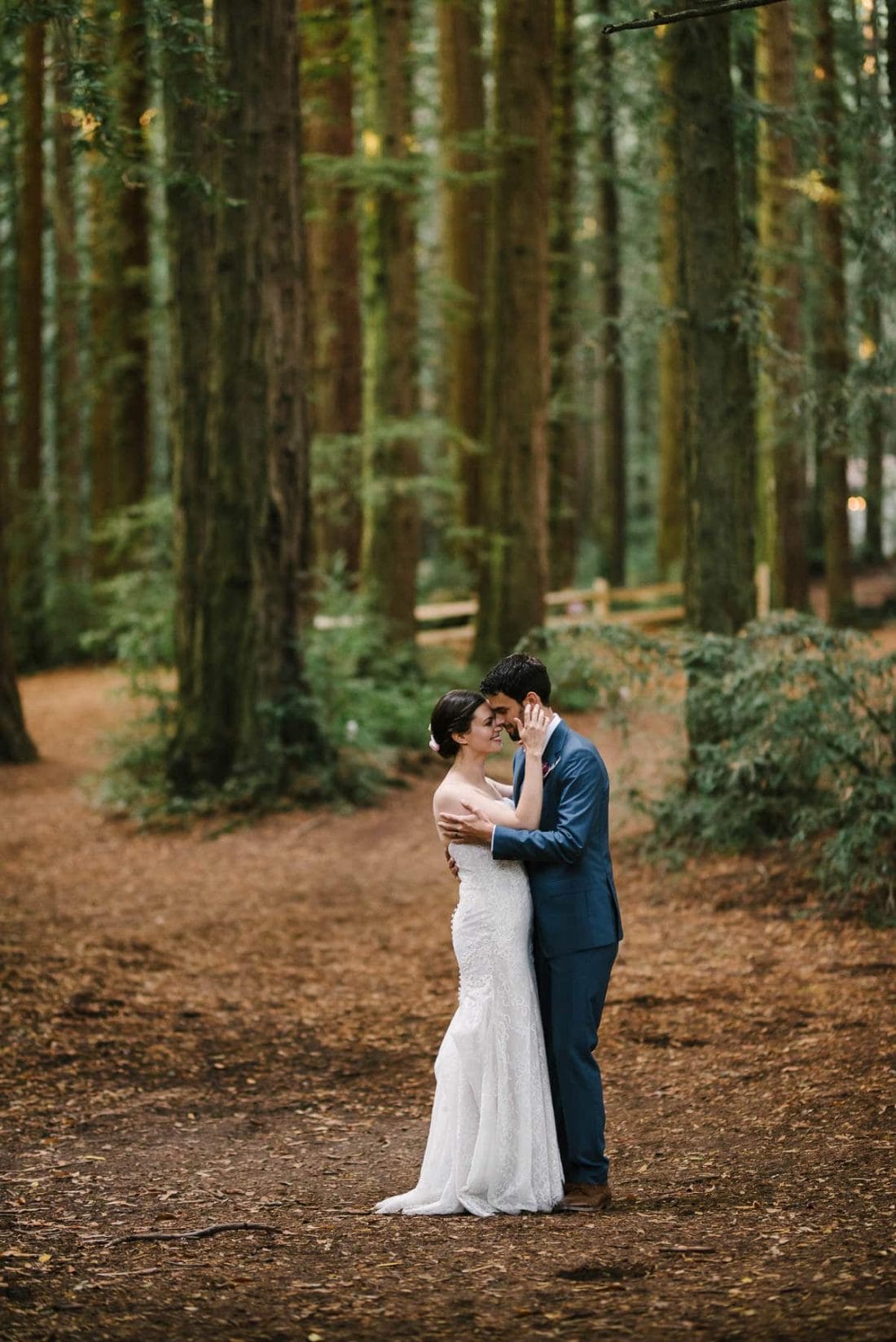 Dancing and Dessert
We got back from our walk in the woods, and Kim and Geoff had their first dance, cut their cake (with a handmade cake topper), and opened the dance floor. After the sunset, the temperature dropped a bit, and folks were glad for the blankets. Bug spray was available, but the mosquitos were minimal. I had mentioned how nice the rug dance floor was at Laura and John's wedding, and Kim and Geoff acquired some great rugs for their dance floor (from CL and Nextdoor). Have a broom on hand to sweep the rugs and picnic tables.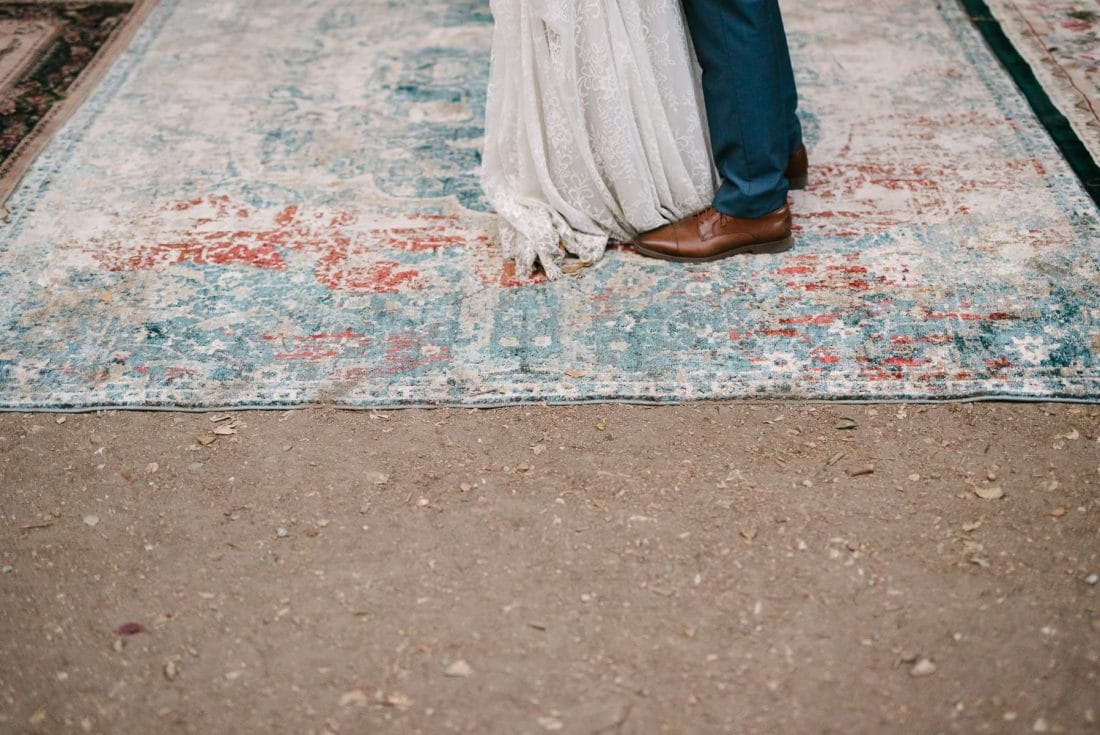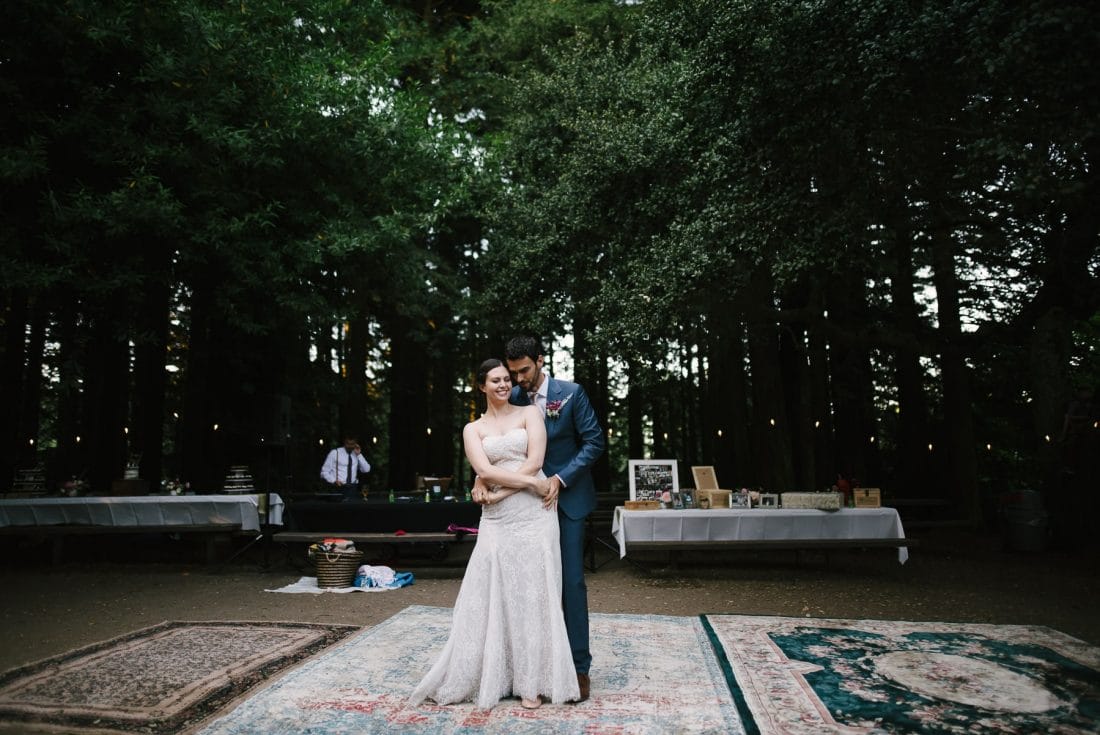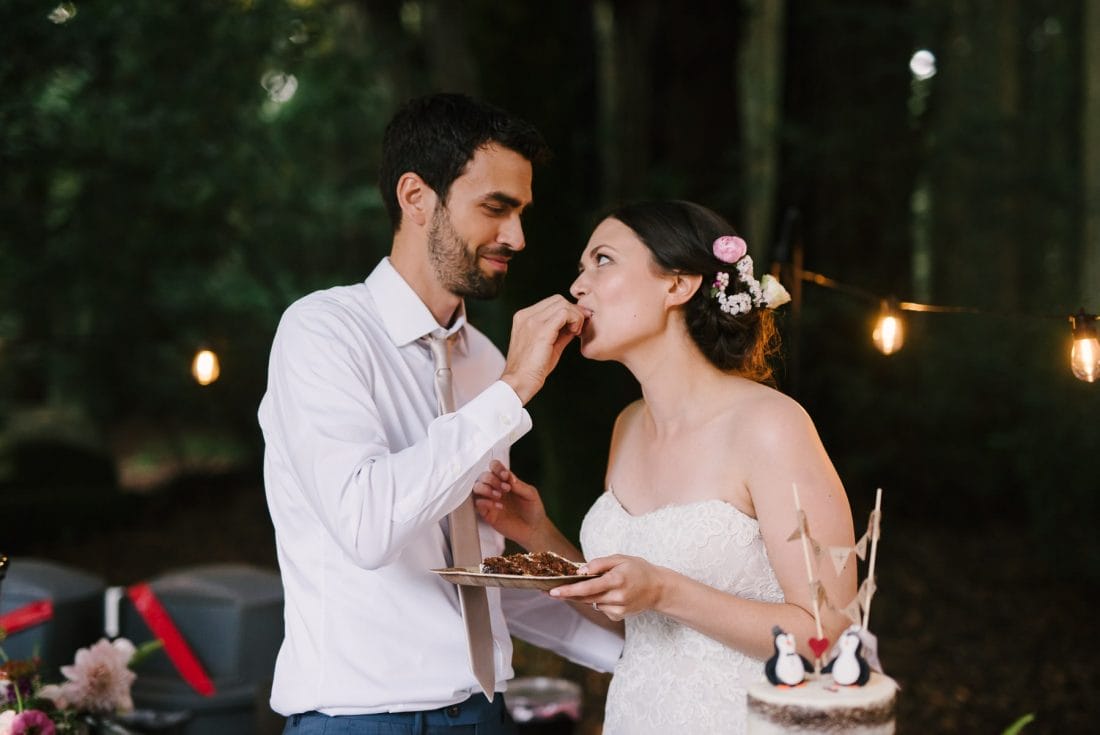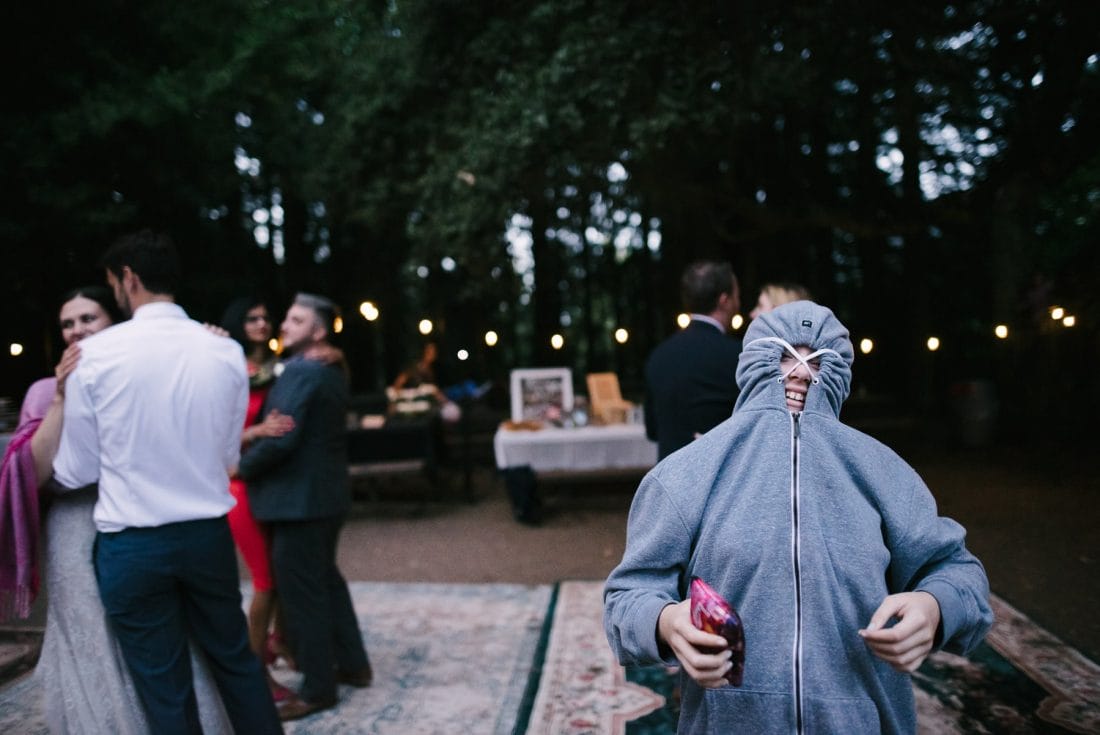 Some Final Thoughts
Get a Box Truck
The Uhaul that Kim and Geoff rented was a huge asset for this wedding. It was well worth paying for the 3-day rental. They brought it in the day before the wedding loaded with wedding stuff and left it at the end of the night packed again. A folding wagon was super helpful in getting everything to and from the rental truck.
Book Your Wedding on a Friday
By booking their wedding on a Friday, Kim and Geoff avoided the weekend crowds and avoided having to pay for parking (starting in September, parking is free on the weekdays).
Make Your Own Rings and Other Stuff
Besides the cake topper and a ton of other DIY projects, Kim and Geoff made their own wedding rings. They took the Jewelry & Metals I class at The Crucible and learned all they needed to make their wedding bands ($430 per person including materials).
Vendors
Most of these folks are mentioned above, but if you missed it, these vendors helped make Kim and Geoff's wedding a success.
Photography – By Me… Gabriel Harber Photography
Flowers – My awesome neighbor, Flower and Forage
Catering – Los Cilantros
Speaker Rental – Guitar Center
Rental Company for Chairs, Linens, Glassware, etc – All Seasons Event Rentals
Beer – Drake's Dealership
Jockey Box – Nor Cal Draft Co
Cake and Cupcakes – Cupcakin'
Dress – Glamour Closet SF
A Few Last Things
I hope you have found this Roberts Regional Wedding Guide helpful. Much of the info here was pulled from Kim and Geoff's master document. While I have focussed on Roberts Regional Recreation Area, much of the information outlined above could be used for planning a wedding in other outdoor venues with minimal onsite infrastructure. If there is additional information that you wish I addressed or specific questions you have, please comment below. Also, if you missed the links to Jessica and Ethan's or Laura and John's wedding at Roberts, make sure to check those out for additional ideas.