Kayla and Miguel's Mid Summer Roberts Regional Recreation Area Wedding
Here is a recent wedding I shot along with some updated tips and thoughts to my Complete Guide to Planning a Wedding at Roberts Regional Recreation Area. Roberts Regional Recreation Area is located in the Oakland hills. It is fairly close to downtown Oakland, Berkeley, and San Francisco. It is nestled in a grove of Redwood trees, has plenty of parking, and can be reserved for a few hundred dollars. While it is conveniently located, beautiful, and affordable, planning a wedding there does take some extra work. In this and previous posts, I have tried to give some guidance on how to best plan a wedding there.
When I met with Kayla and Miguel in 2021 they told me that my guide to planning a wedding at Roberts Regional was super helpful. They studied the post, zoomed in on images, reached out to my previous couples, and had great questions for me when we met. After their wedding, I was curious about their experience and wanted to know if they had any tips to share. They were happy to send me some insight which I will incorporate into my post here.
Getting Ready
Kayla and Miguel prepared for their big day at a rental apartment close to Roberts Regional. It was just the two of them and their fabulous hair and makeup artist, Kristen Marie (she is on my vendor list). They rented the apartment the night before the wedding and a couple of nights after. Keeping your home base close to the wedding location tends to make things easier and less stressful. Kayla and Miguel rented two cargo vans since the road to the park is a little windy and hard to drive with a big truck. They noted that one van might have been enough and that U-haul also has heavy-duty dollies which were helpful for transporting things. They rented cargo wagons from Sports Basement to haul gear to the site.
Pre-wedding Portraits at Roberts Regional
When we arrived at Roberts Regional, folks were setting up for the wedding. Kayla and Miguel had a stack of Arizmendi Pizza for the family and setup crew. The light at most any venue changes from day to day and hour to hour. While it is nice to have a general idea of spots that work for photos, it is important to stay flexible. What worked one time, may not work again. I did a quick walk about the property, and found a nice spot (one I hadn't shot at before), under one of the big oak trees at the Bay Vista site.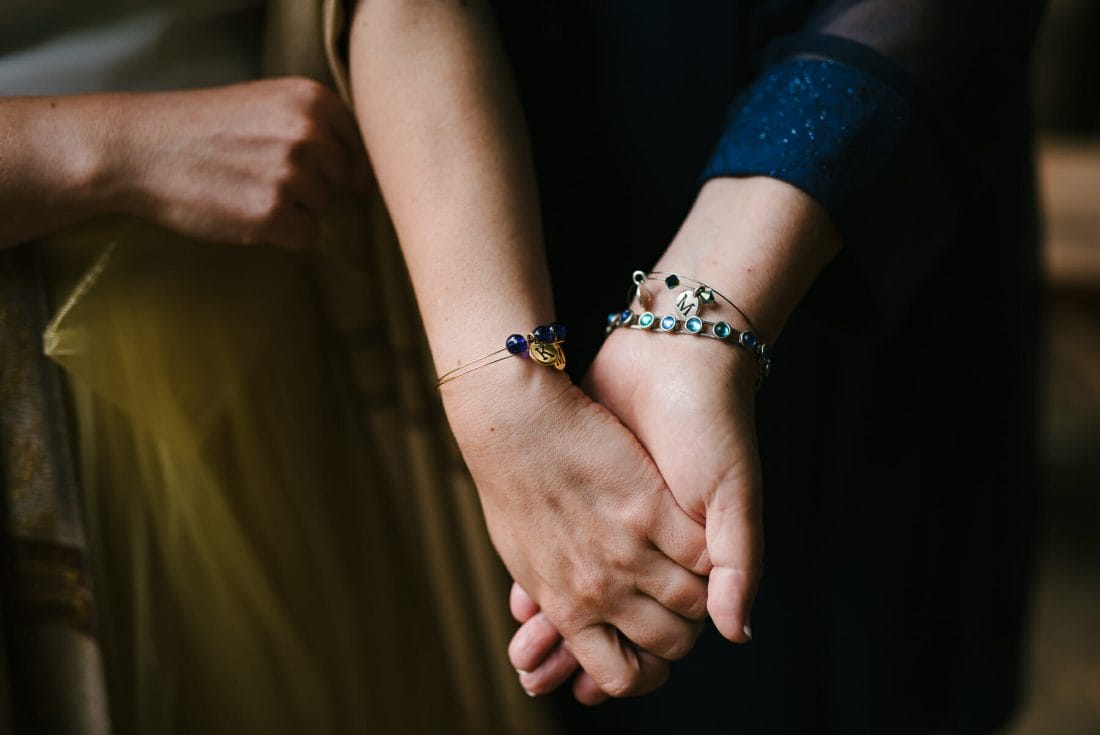 Ceremony in the Redwoods
Kayla and Miguel had Chairs 4 events deliver their chairs for the wedding. They also got their table clothes from the same company. Redwood needles getting stuck on your wedding dress is pretty much a given, but the runner and carpet that Kayla and Miguel put out helped out a bit. The carpet certainly added a nice splash of color. They rented speakers from Guitar Center and hooked them up a few days prior, making sure they weren't missing any cables and that everything worked. The ceremony was super sweet.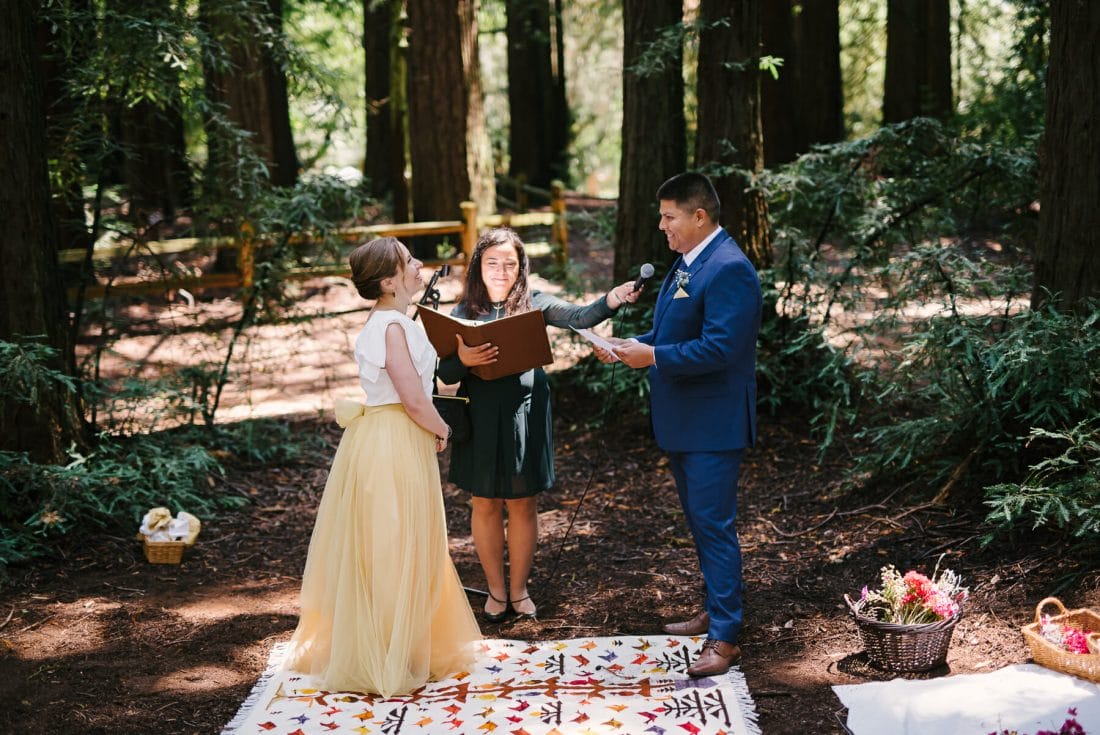 Group Shot, Couple Portraits, and Cocktail Hour
Directly after the ceremony, I gathered everyone in a group for a picture of everyone in attendance. Since I didn't have a ladder to climb, I climbed a fence. A rather tall fence. Sitting on top of that fence I had to wonder for a moment about the decision to sit 10 feet up in the air trying to get 60 or so people into a tight group so I could take a picture of them. Glad I did it, and thankful I didn't fall. After the group shot, Kayla and Miguel grabbed drinks and chatted for a bit before we walked around the redwoods and took couple portraits.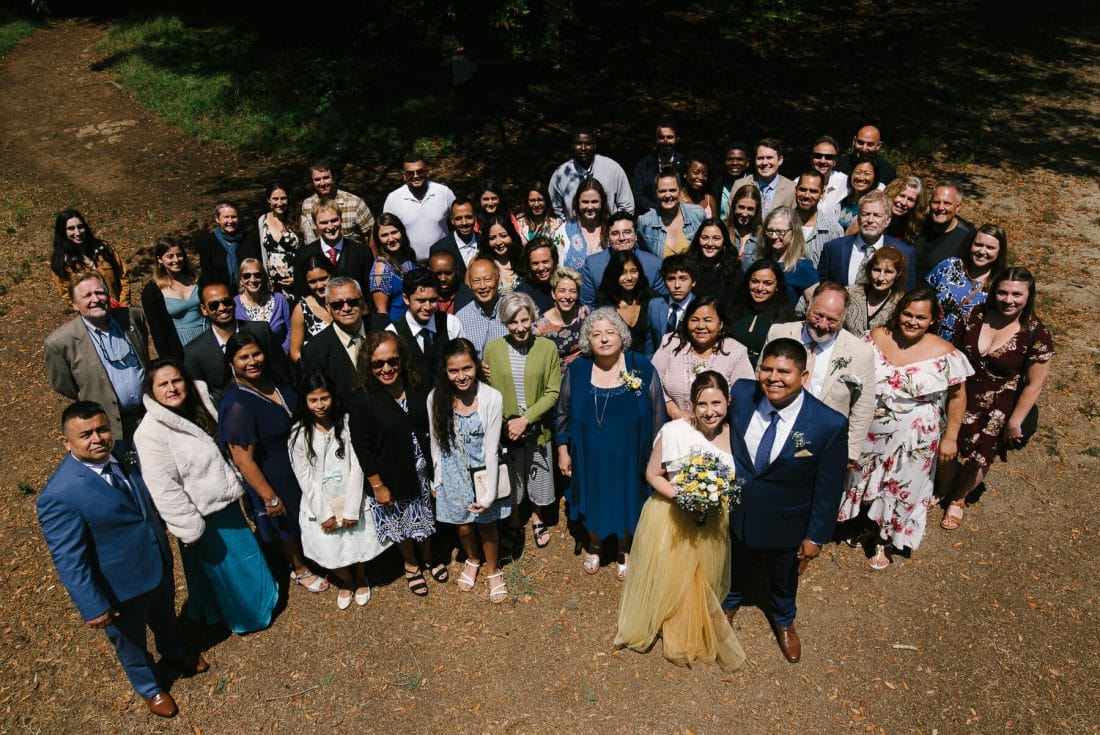 Dinner, Toasts, and Dancing
I find that weddings at Roberts Regional tend to be on the earlier side. Kayla and Miguel said that their reservation was from 10am to 6pm, but it sounds like the park is flexible about the end time. They were there past 7pm, and I have shot weddings that didn't wrap until after dark. But it can get cold in there. Having a plan (blankets) for the cold is a good idea.
Kayla and Miguel's dinner started around 4 pm. Creative Ideas Catering put out a delicious spread of Colombian Mexican eats. There was lots of salad, plantains, and rice. After dinner family gave a few toasts, and then they moved into dancing. They had a few carpets out for the dance floor (looks nice and helps to keep the dust down). Kayla and Miguel met while Salsa dancing in San Francisco and their first dance was awesome.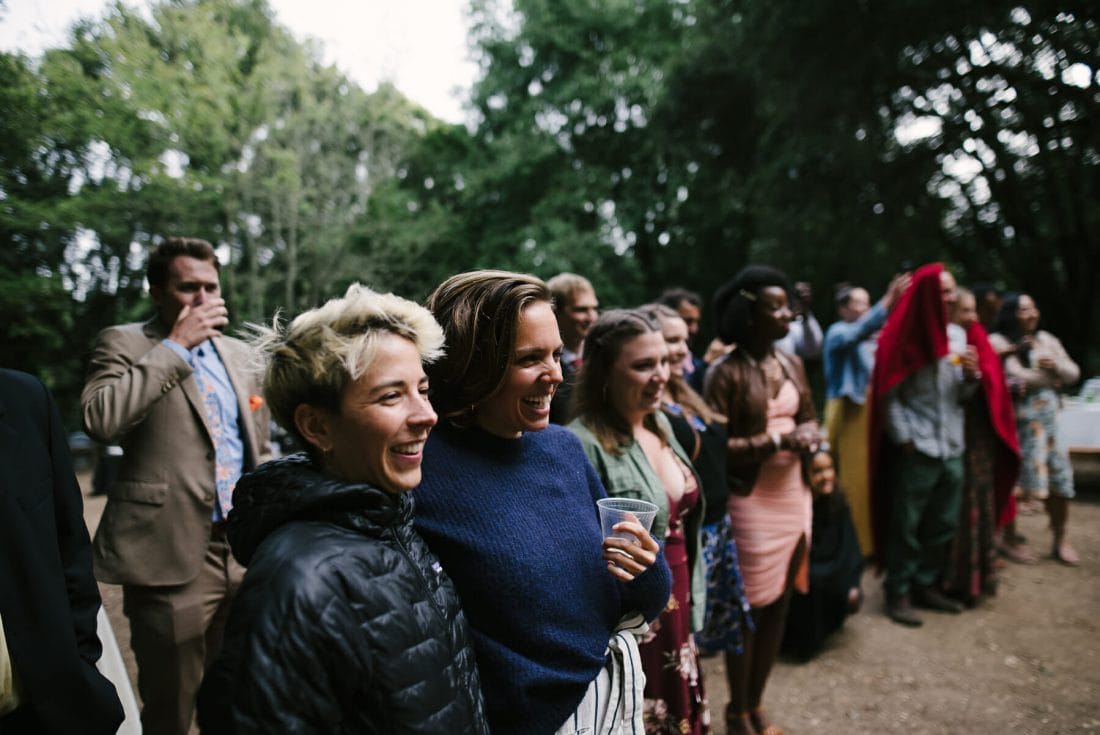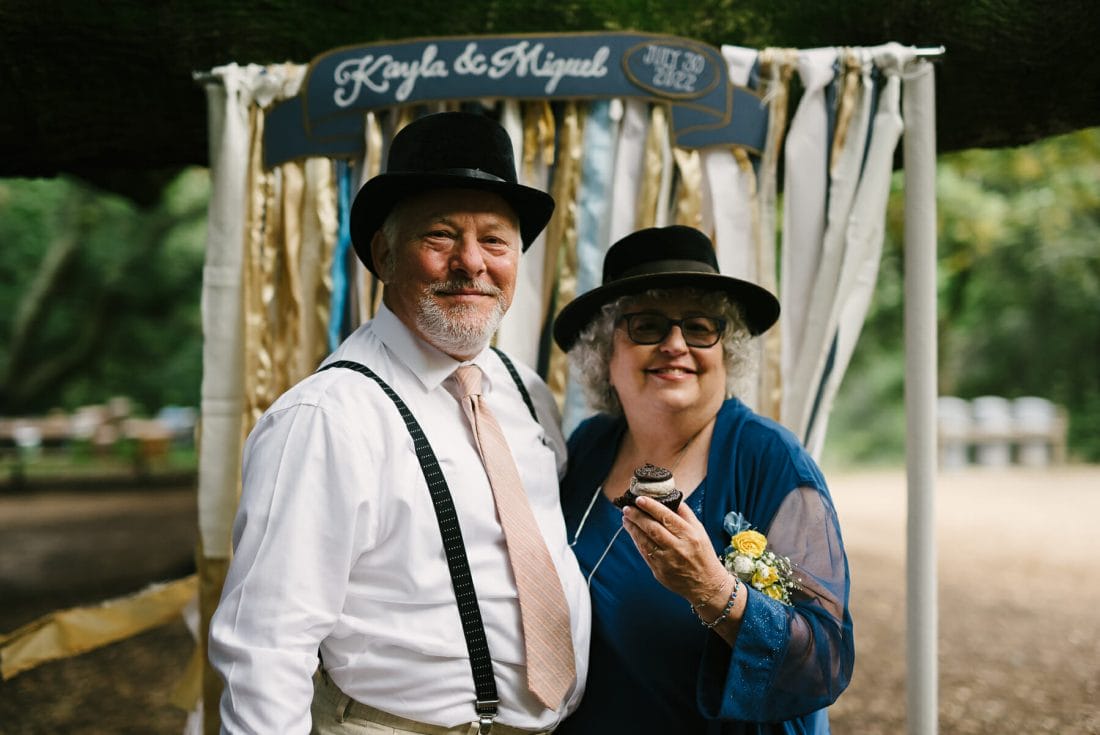 Some Things to Keep in Mind
The Madrone and Bay Vista picnic areas have to be rented together. The capacity for Madrone is 50 people; Bay Vista is 150 people.
The rental fee for the two sites is $320 plus a $225 deposit (as of Jan 2023) for Alameda County residents. Here is a link to the page where you can find the current fee schedule.
Reservations for the next calendar year are sometime in December (check for the exact dates). Make sure you have a few people calling at the same time to increase your chances of getting the reservation you want.
There are no compost bins in the park, so if you want to do compost, bring a bin and bring it with you at the end of the event.
Parking passes for guests can be purchased the day of for $5 each (cash only). Technically there are no in-and-out privileges but they're not always strict with that.
Overnight parking of cars or U-Hauls in the parking lot is no longer allowed.
There is no vehicle access to Bay Vista or Madrone. Everything must be carried out from the parking lot.
Generators and charcoal are NOT allowed. Battery packs are recommended.
While you can park on Skyline Blvd, the supervisor does not recommend it.
The supervisor now does recommend UBER or Lyft. There is a drop-off and pick-up area on the asphalt where the buses go that is easy for rideshare drivers to find. Carpooling and bus rental are also good options. 
Recommendations for DIY Couples
Wipe down the tables the day before and make sure the setup crew brings towels the morning of as it gets very wet in the morning. If you're doing flowers yourself, make sure they are stable enough to hold up in the wind. Offer your flowers to guests and staff at the end of the evening so they don't go to waste. Hire at least 3-4 people for setup and cleanup. Iron out the wrinkles, by doing a rehearsal of the ceremony before the day. Bring a small brush to clean off your shoes. Though sometimes there aren't bugs, bring bug spray just in case. While lights add a nice ambiance, if you plan on leaving before it gets dark, consider leaving that off your to-do list.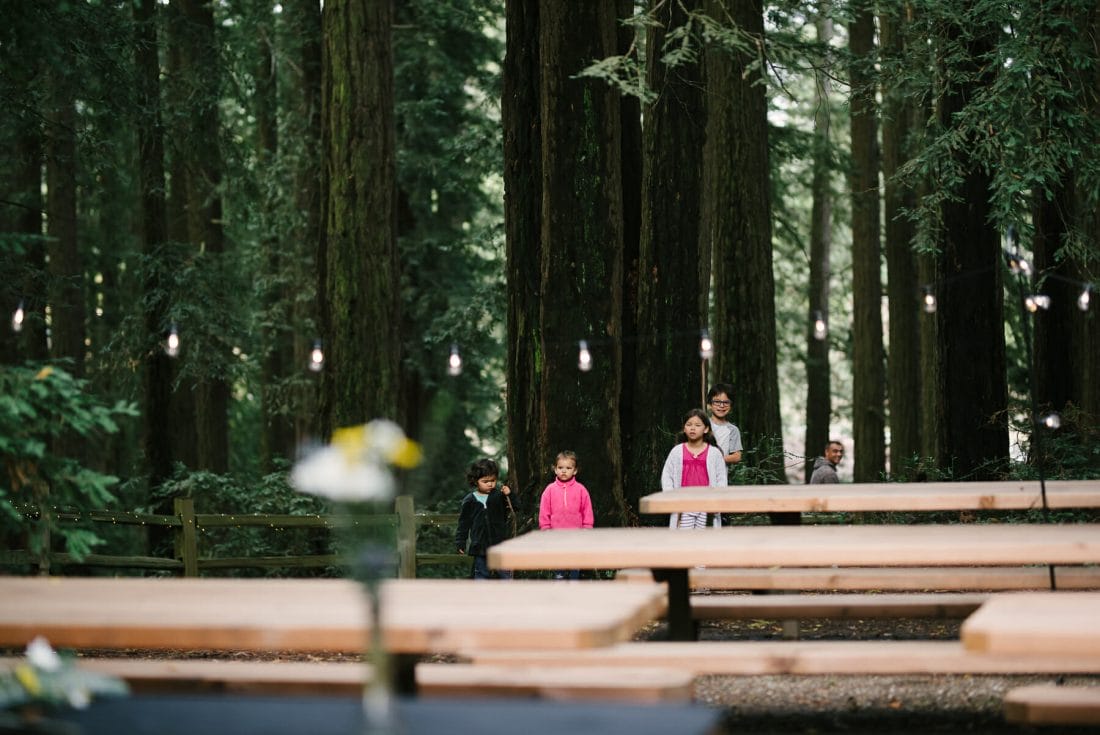 Final Thoughts
While much of this information is specific to Roberts Regional Park in Oakland, I hope that it will be useful to folks doing DIY outdoor weddings in other places. Much of the same considerations need to be taken into account for any outdoor venue with minimal infrastructure. Here is the first detailed post I wrote about planning a wedding at Roberts Regional Park. At the bottom, you will find links to other weddings I have shot there. And, you can always use the search bar on my website. Thanks for reading.