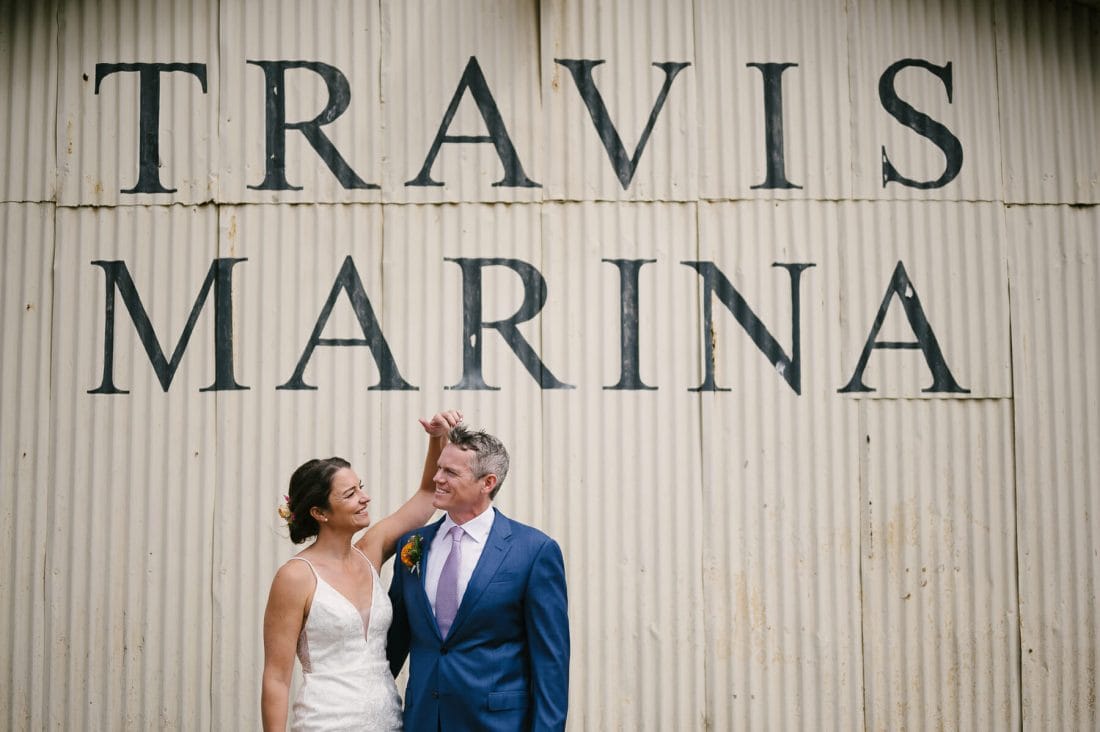 Anne and James' Super Fun Wedding at the Presidio Yacht Club in the Travis Marina in Sausalito
Anne and James' wedding at the Presidio Yacht Club in the Travis Marina in Sausalito was a blast.  So much of a blast, actually, that two random people tried to crash the dance party.  I have shot at a good number of venues in Marin, but this was my first time at the Travis Marina.  The venue is a mix of industrial, nautical, and dive bar.  The vibes are all good.  It is close to San Francisco and downtown Sausalito.  Cavallo Point is incredibly close for guests who want to stay close by. The views are spectacular, the space is excellent, and there is lots of parking close by.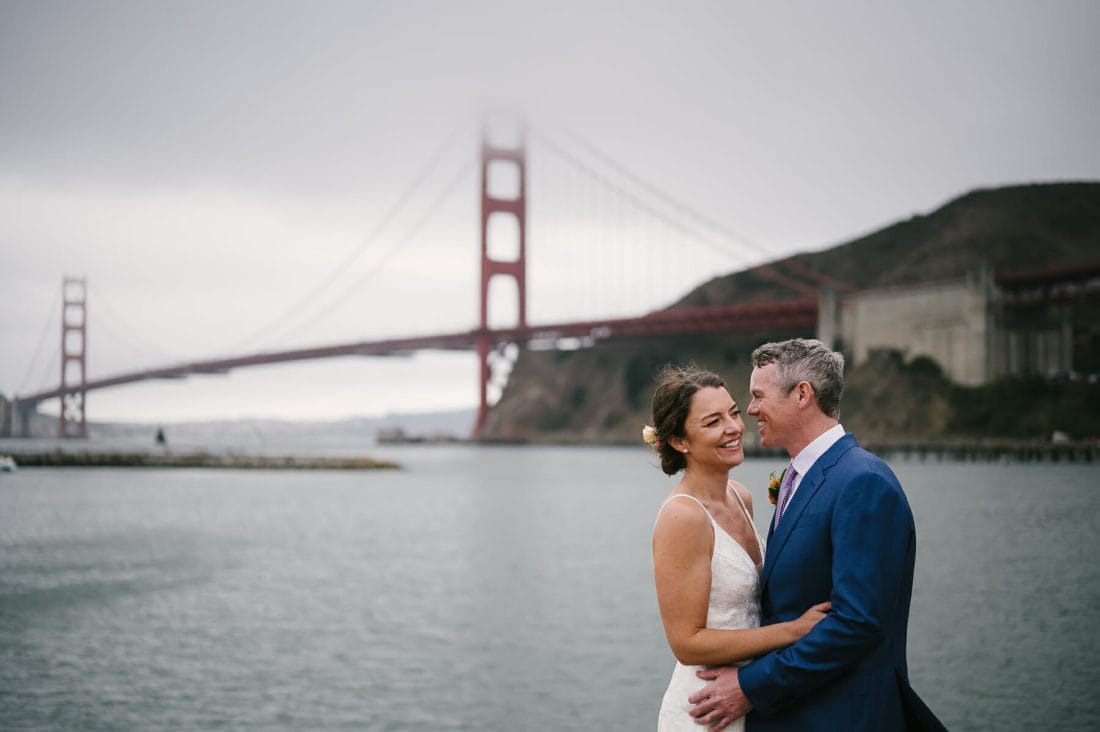 Anne and James work and live in San Francisco.  Anne's father, who also acted as officiant for the wedding, used to be a judge in Marin County.  He was so funny.  Anne and James were super mellow, easygoing, and fun to work with.  I hope you enjoy this sneak peek into their wedding day.
Getting Ready in Sausalito
Anne and her bridesmaids got ready at a family friend's house in Sausalito.  Eliza Desch did hair and makeup for Anne and some of the bridesmaids, and some did their own makeup. They had a beautiful platter of snacks (it's always a good idea to consider brunch/ lunch when getting ready before a wedding).  I hung out with Anne and her crew for half an hour or so before heading into town to stop by the Inn Above Tides where the guys were getting ready.  The scene with the gents was pretty mellow so I headed to Travis Marina to get set up and take a look around.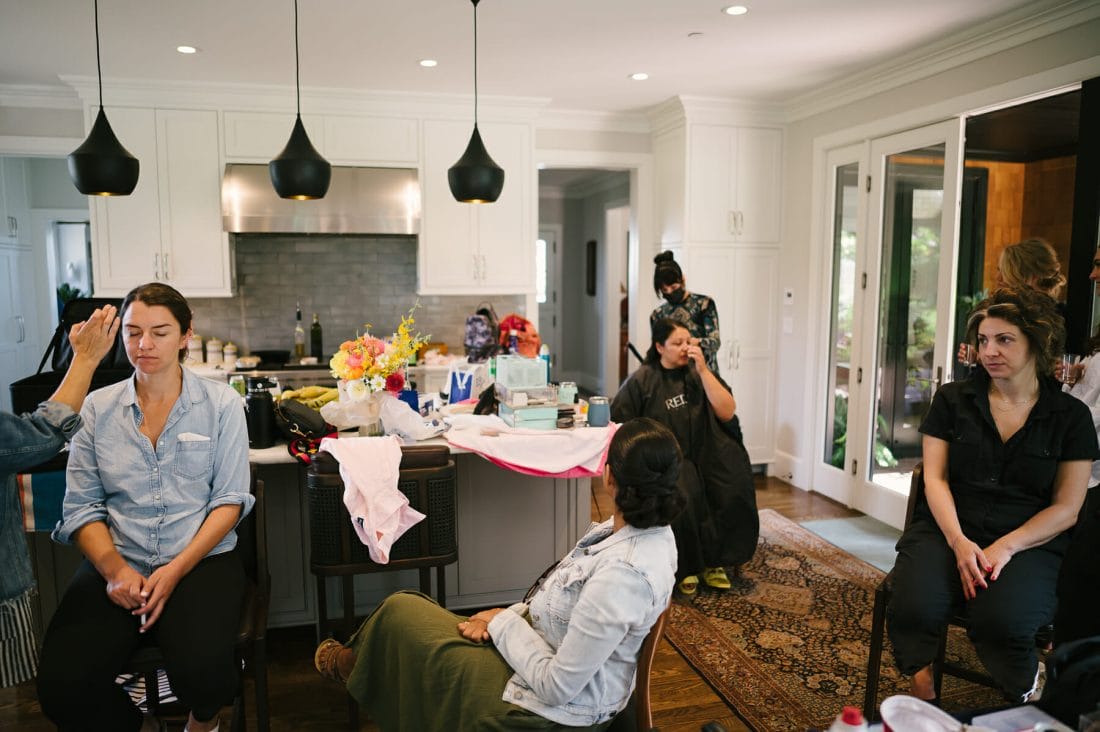 Pre Ceremony Portraits at Travis Marina
After a quick first look at the Presidio Yacht Club, we found a cool old building outside for immediate family and wedding party portraits.  The day was partially cloudy.  The overcast sky made finding a good spot for portraits a good bit easier.  I love the mix of nature, industrial, and colorful bridesmaids' dresses, and floral arrangements.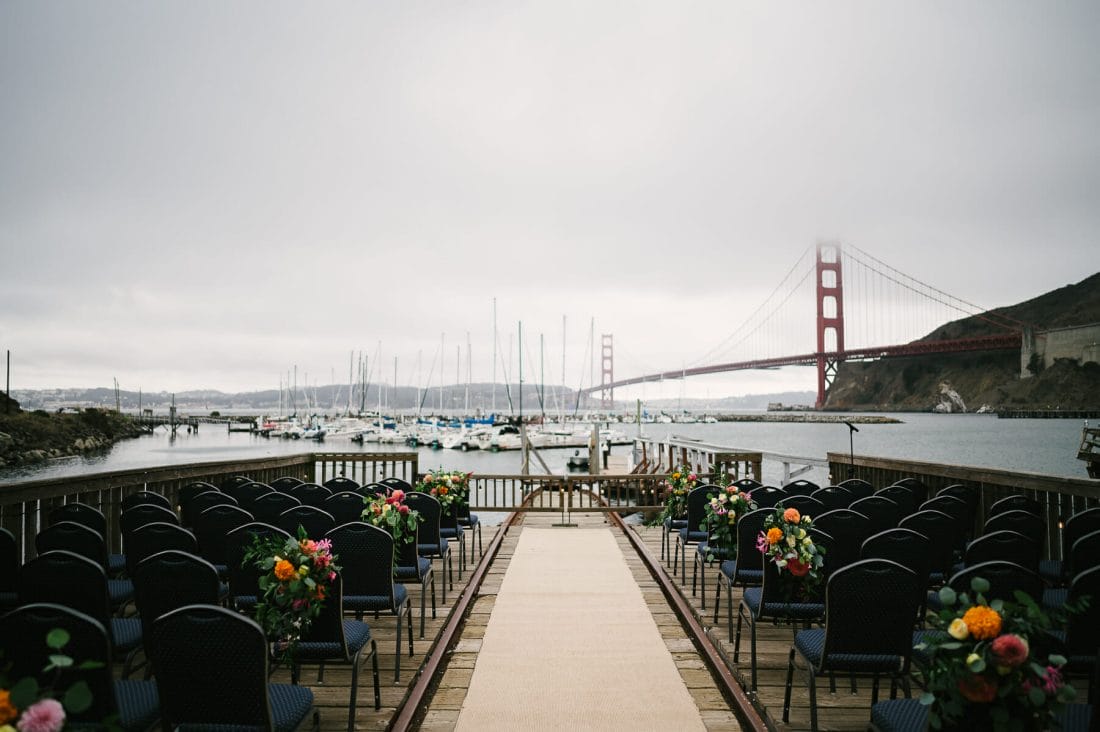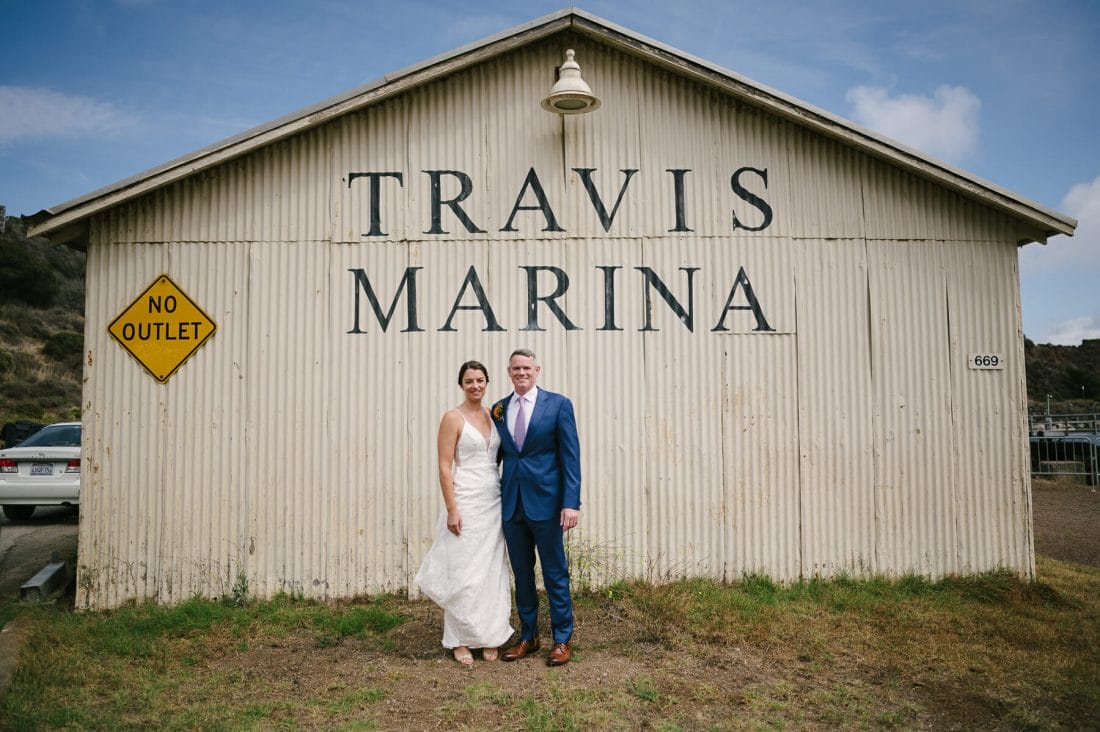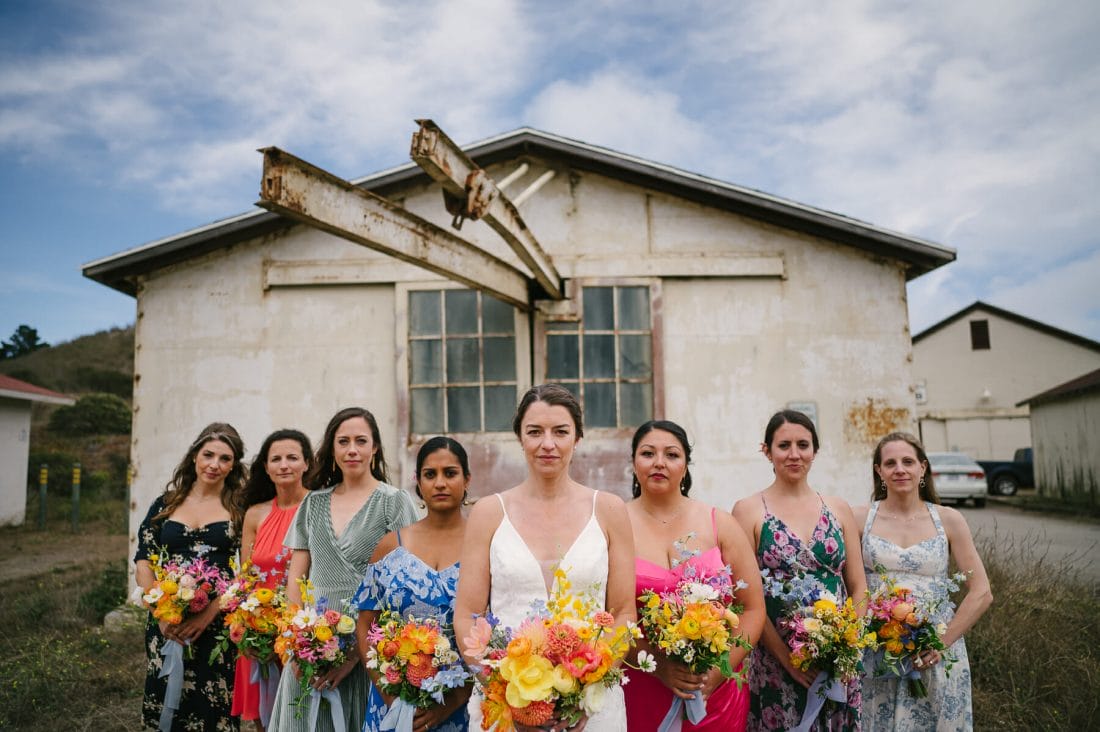 Hilarious Wedding Ceremony
The ceremony location at the Presidio Yacht Club has a fantastic view of the Golden Gate Bridge.  Seating is somewhat limited, but the guests who didn't get seats at Anne and James' wedding didn't seem to mind standing.  As I mentioned earlier, Anne's father used to be a Marin County judge.  He officiated the wedding and started out the proceedings by making observations about guests' choices for dinner and seating. He quickly had the audience laughing out loud.  The ceremony had a perfect mix of funny and sweet.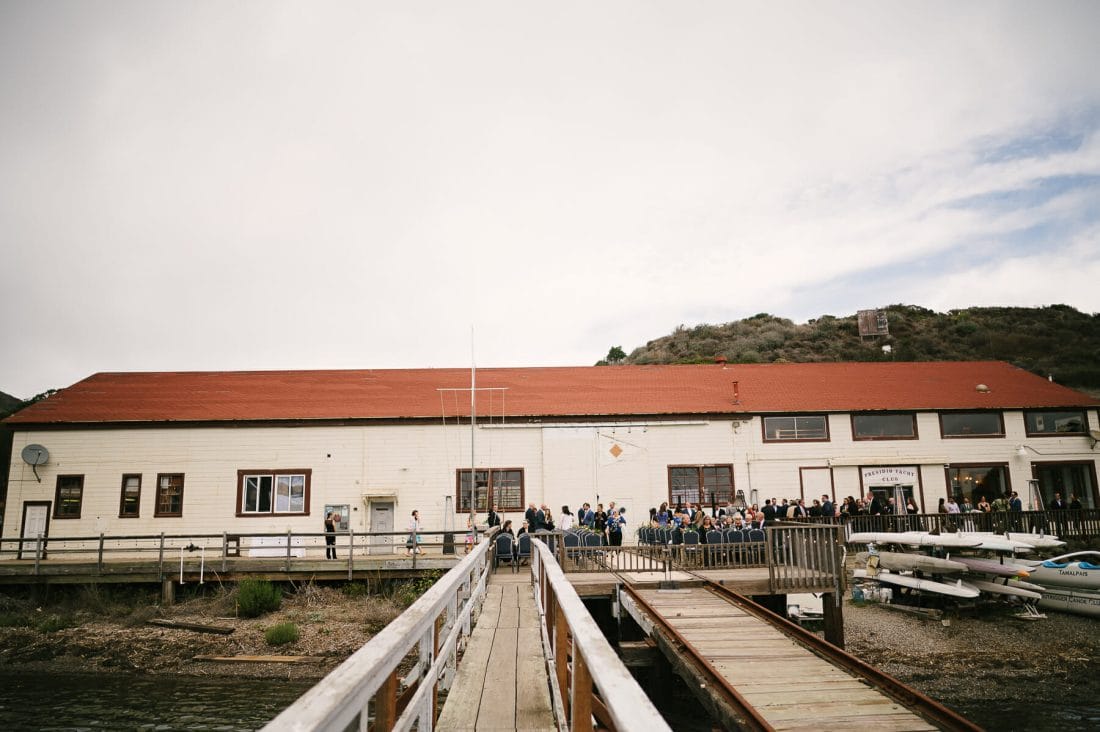 Cocktail Hour and Couple Portraits
During cocktail hour, folks hung out upstairs in the Travis Marina Bar and on the deck in front of the Presidio Yacht Club.  The deck space is a little tight, but people didn't seem to mind.  Once Anne and James had a chance to chat a bit, and grab some beverages and something to eat, I took them for a little walk down the marina.  We walked to the breakwater and chatted about work and life.  It turns out that James knows my brother-in-law.  We walked to the end of the parking lot and got some nice shots with the Golden Gate Bridge in the background.  Anne was a trooper and braved the cold and wind.  After about 15 minutes, we headed back for dinner.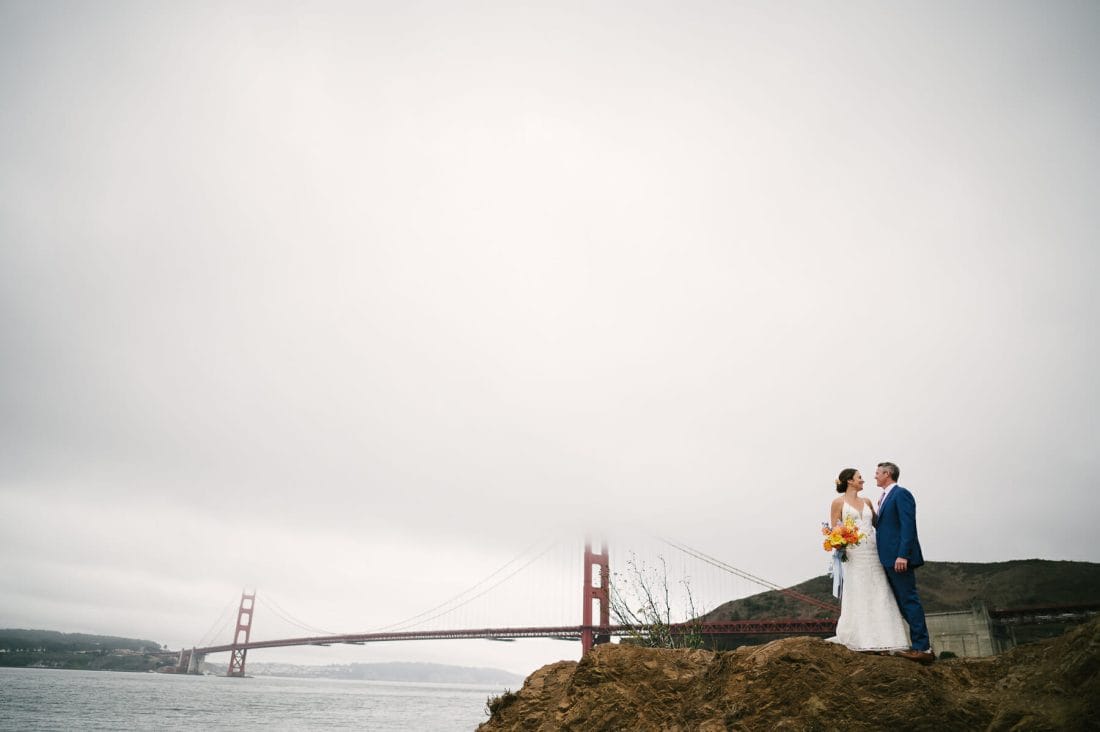 Dinner, Cake Cutting, and Dancing
Dinner was held in the large warehouse space that looks to have been the repair space for the Yacht Club at one time.  Workbenches and caution signs are still there.  Sails hung from the ceiling.  After dinner, there was a series of incredibly funny, spot-on toasts.  After toasts, Anne and James cut their cake and then went upstairs for an awesome dance party.  I have to say, that not all dance parties are created equal.  Sometimes the DJ just doesn't bring the party.  Sometimes folks aren't in a dancing mood.  At this wedding, folks tore up and dance floor, and DJ John Piazza certainly brought the party.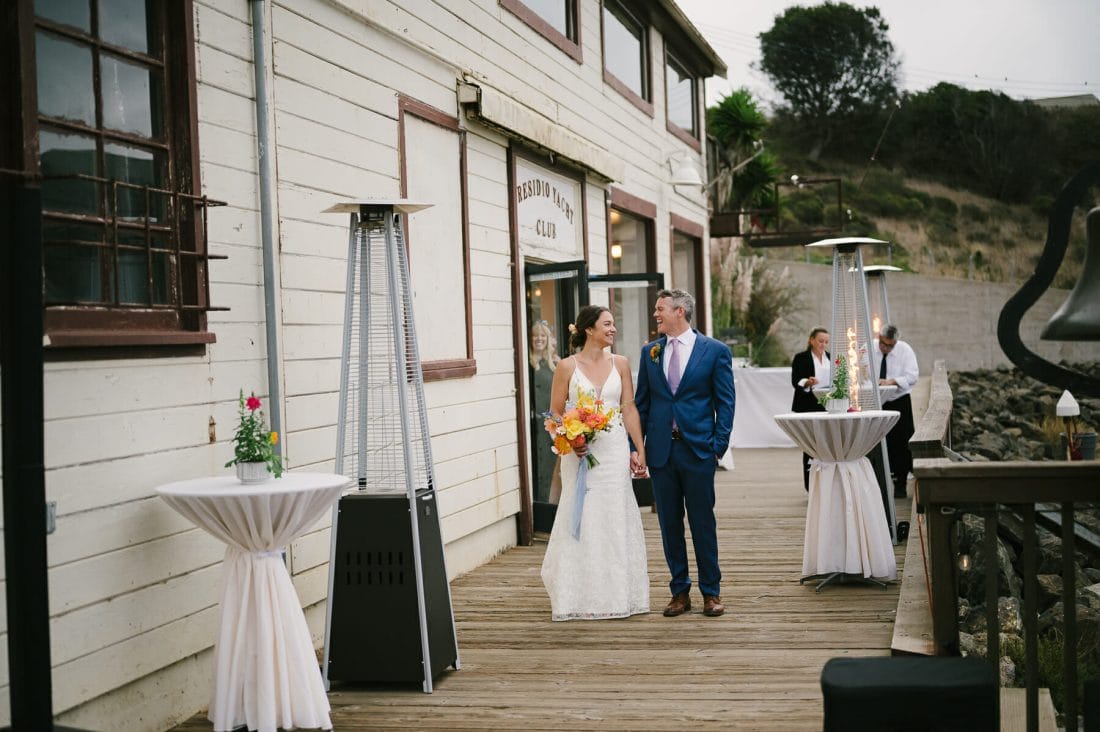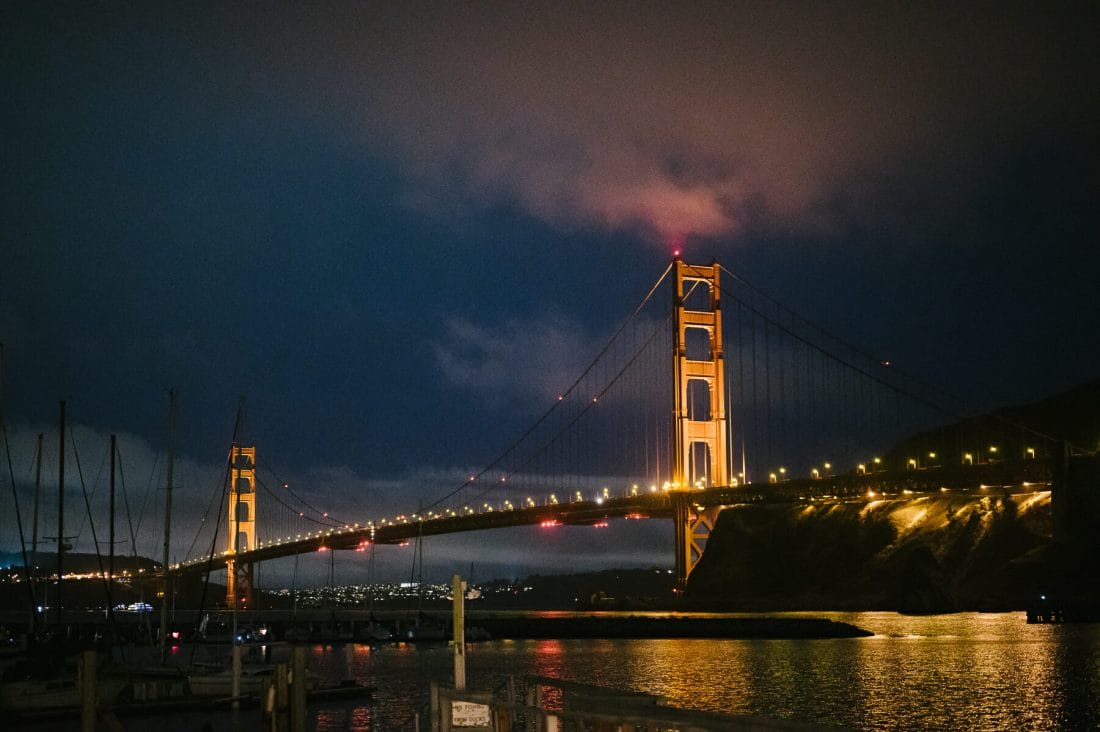 Thanks for reading. Hope you enjoyed this wedding. I know I sure did. I want to mention that Rae + Rose Floral Co did the awesome flowers. Carrie and Miguel from Golden Gate Special Events rocked the event coordination!
If you want to check out another wedding in this area of Marin that is just a bridge away from San Francisco, take a look at Courtney and Alexander's awesome Marin Headlands Center for the Arts wedding.