San Francisco City Hall Wedding Guide Intro.
Here is a quick guide with some helpful tips on getting married at San Francisco City Hall and information about the six guest rule.
So, you want to get married at San Francisco City Hall. Congrats. It is a great venue. The architecture is incredible and the light inside is magic. It is easy to access by public transit and by car, and you can park in the garage across the street. That said, there are some things you should be aware of. Make sure to check out the San Francisco County Clerk's office website. You will find the core of what you need there. I will touch on the main points of what you need to know and give you a step by step summary of how to get married at San Francisco City Hall, but a very important thing you should know is…
The County Clerk is Enforcing Their Six-person Limit.
Historically, the San Francisco County Clerk has not enforced its six-person limit at City Hall civil ceremonies. For years I have been telling people to not sweat the rule, and the clerk's office would never ask how many guests people had. When I shot my first SF City Hall wedding in 2009, there were 15 of us all together. Honestly, most of the couples I have worked with at City Hall have invited more than 6 guests. I have worked with a few couples who have invited more than 30 guests. In the 10 years I have been photographing people getting married at San Francisco City Hall, they never enforced the six-person rule. Starting sometime in April of 2019 that changed.
We will get back to this, but first, here are the basics of what you need for a San Francisco City Hall wedding.
What You Need to Get Married at SF City Hall
To get married at San Francisco City Hall (Monday – Friday 9-3:30) you need:
-A valid marriage license (they are good for 90 days from the date they were issued, and you can get one from another courthouse or county clerk's office if you don't get it from SF City Hall)
-The $110 fee for the marriage license if you are getting your license from the San Francisco County Clerk.

-If you want to get your marriage license from the San Francisco County Clerk, you will need to make an appointment online. Your appointment for the license can be on the same day as your ceremony but doesn't have to be. Make sure the marriage license was issued within 90 days of the day you plan on having your ceremony.

-An appointment for a ceremony. Book your ceremony appointment online. They do not accept walk-ins.

-Valid government-issued IDs (passport, driver's license).

-One-two witnesses (your photographer can be the witness) unless you are having a confidential ceremony in which case you do not need a witness.

-The $90 fee for the ceremony.
The County Clerk's Office is on the ground floor at the end of the hallway behind and to the right of the grand staircase.
The Day of the Ceremony.
Check-in with the County Clerk.
Let's assume you have already gotten your marriage license and are coming to San Francisco City Hall for your ceremony appointment. Once you arrive at City Hall, you will walk through security and find your way to the County Clerk's Office. The office is behind and to the right of the grand staircase. You will wait in line and check-in with the clerk. They will check your IDs, confirm the information on your marriage license, and you will get a number for your ceremony appointment. Your guests should wait out in the hallway leading up to the clerk's office. The typical wait, once you have checked in, is between five and twenty minutes.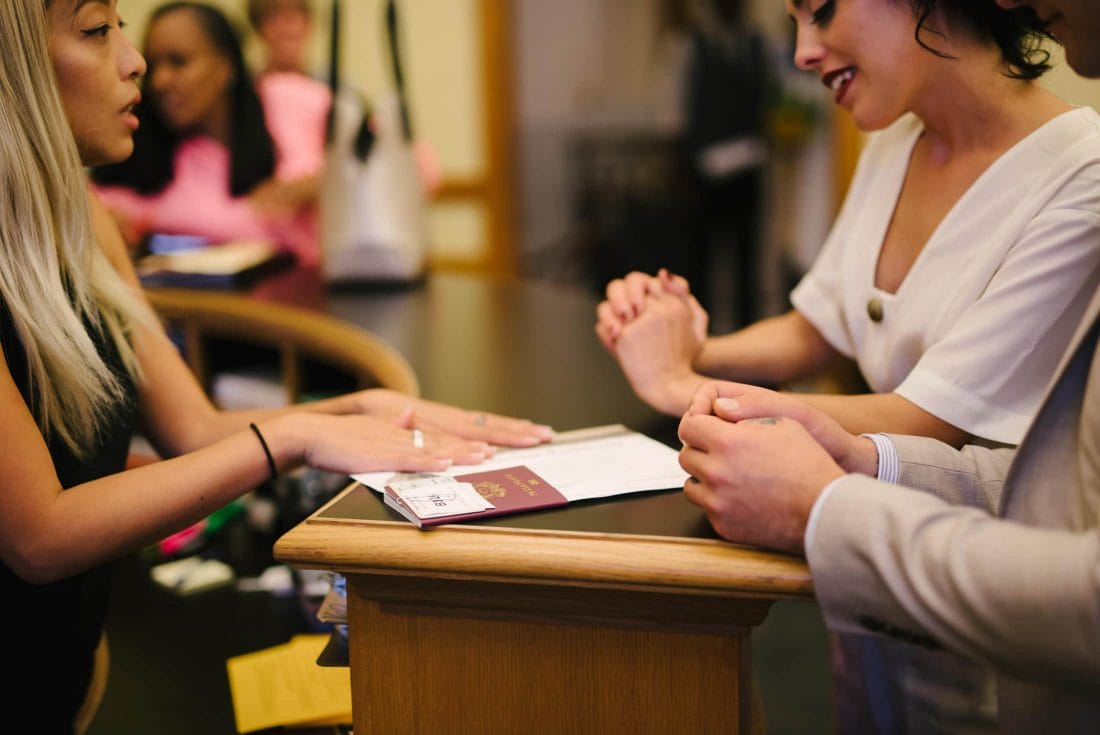 Wait for Your Number to be Called.
Once you have checked in, wait in the lobby for your number to be called. If the commissioner has just left to conduct a round of ceremonies, the wait will be on the longer side. If they have just finished, you may just wait a few minutes. Once your number is called, go back into the clerk's office and bring one or two witnesses with you. The rest of your guests should continue waiting in the hallway.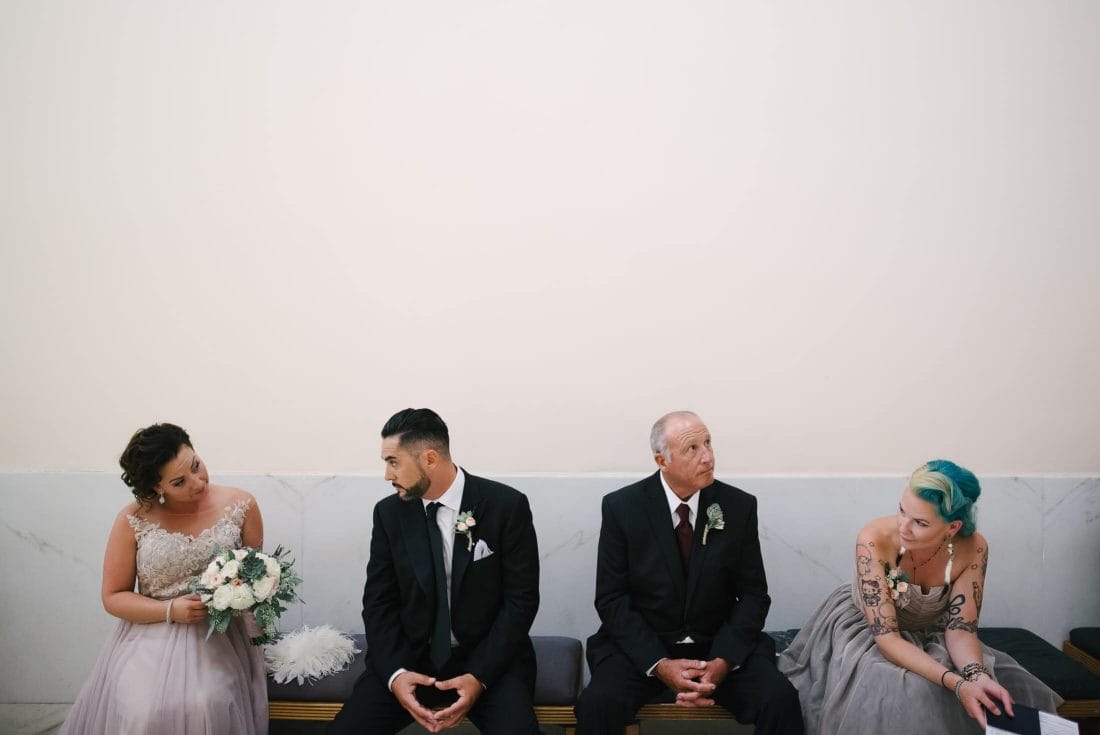 Meet with the Marriage Commissioner.
Next, you will meet with the marriage commissioner who will be performing your ceremony. They will check your IDs, confirm the pronunciation of your names, tell you where the ceremony will take place, and have your witness or witnesses sign the license. Their default ceremony location is always the top of the grand staircase at the Rotunda. I always ask for the fourth floor because the light is really nice up there.
They will give you a souvenir marriage certificate. It is not an official document. Your official marriage certificate will be available about two weeks after your ceremony. Here is info on how to obtain your copy of it.
Go to the Ceremony Location. Wait for the Marriage Commissioner.
Next, you will go to the ceremony spot and wait for the commissioner to meet you for the ceremony. The wait is usually between five and twenty minutes. I typically take some portraits or candid pictures when we are waiting for the marriage commissioner to arrive. Once the commissioner arrives, they will conduct a short ceremony and then you are married. Woohoo.
The Rotunda
The Fourth Floor.
The commissioners often agree to do civil ceremonies on the fourth floor unless they are busy or someone has reserved the space. If you scored a fourth-floor ceremony, take the elevator located near the security check-in.
Portraits
Fourth Floor Portraits
Because of the great light, I like to do family portraits on the fourth floor. I will also do some couple portraits there, and then work my way down to the front of the building.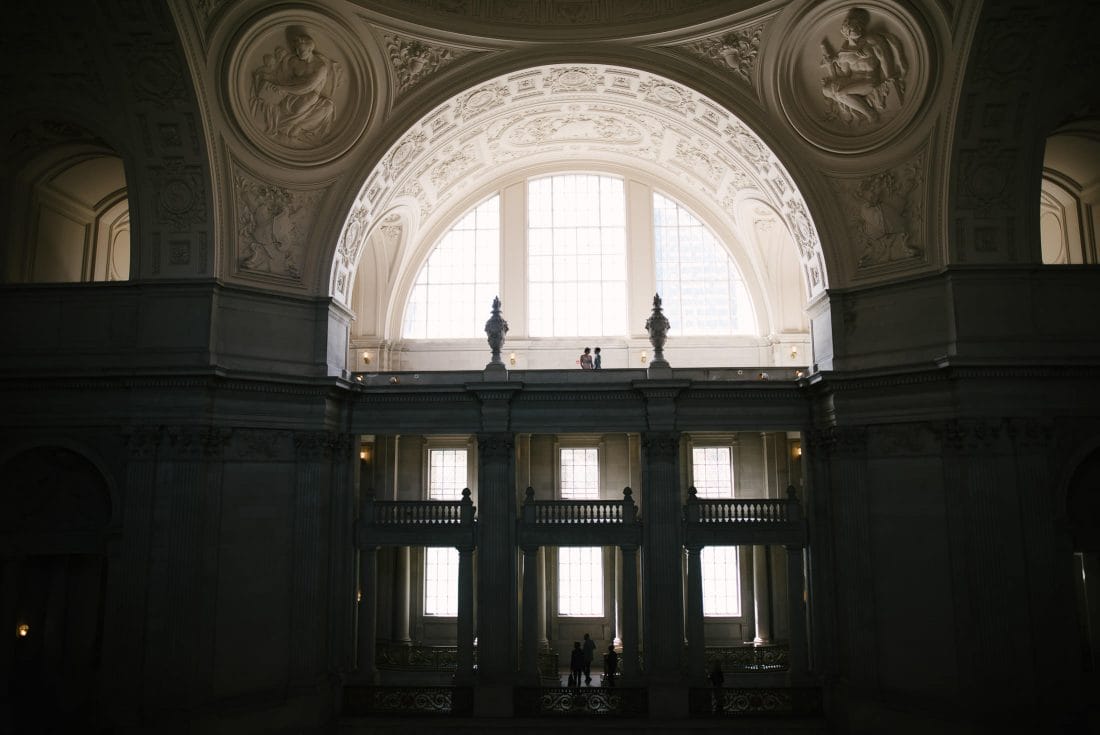 Fourth Floor by the Elevator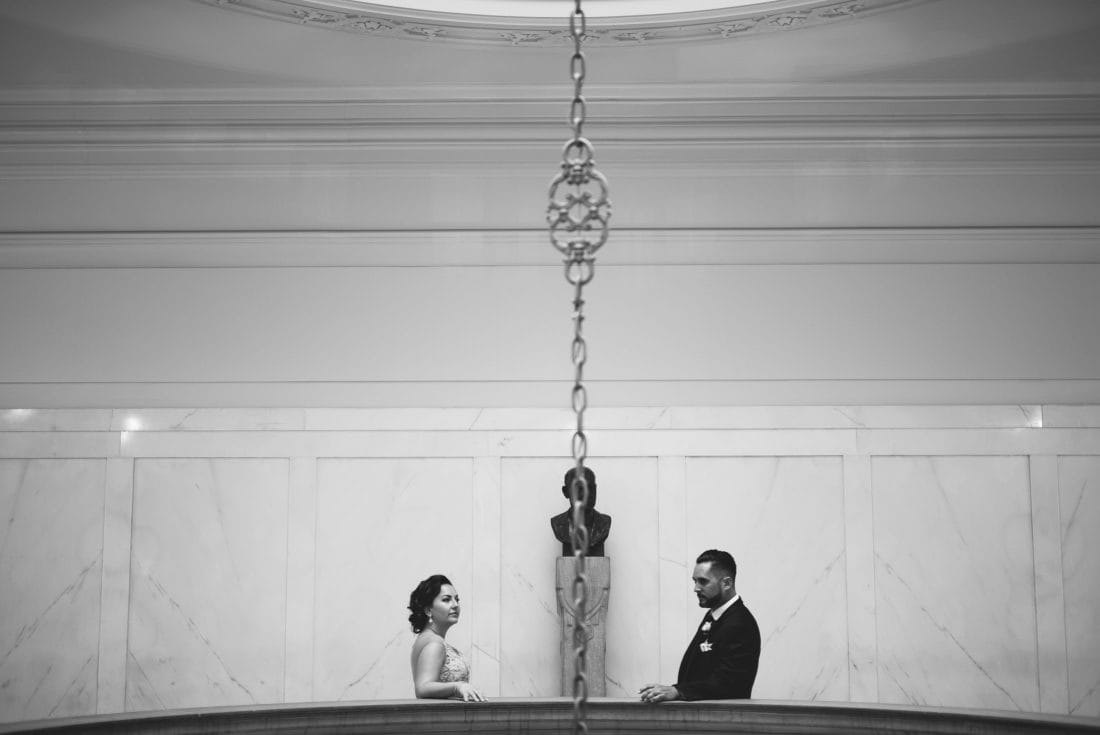 Stairs Leading Down
Third Floor Windows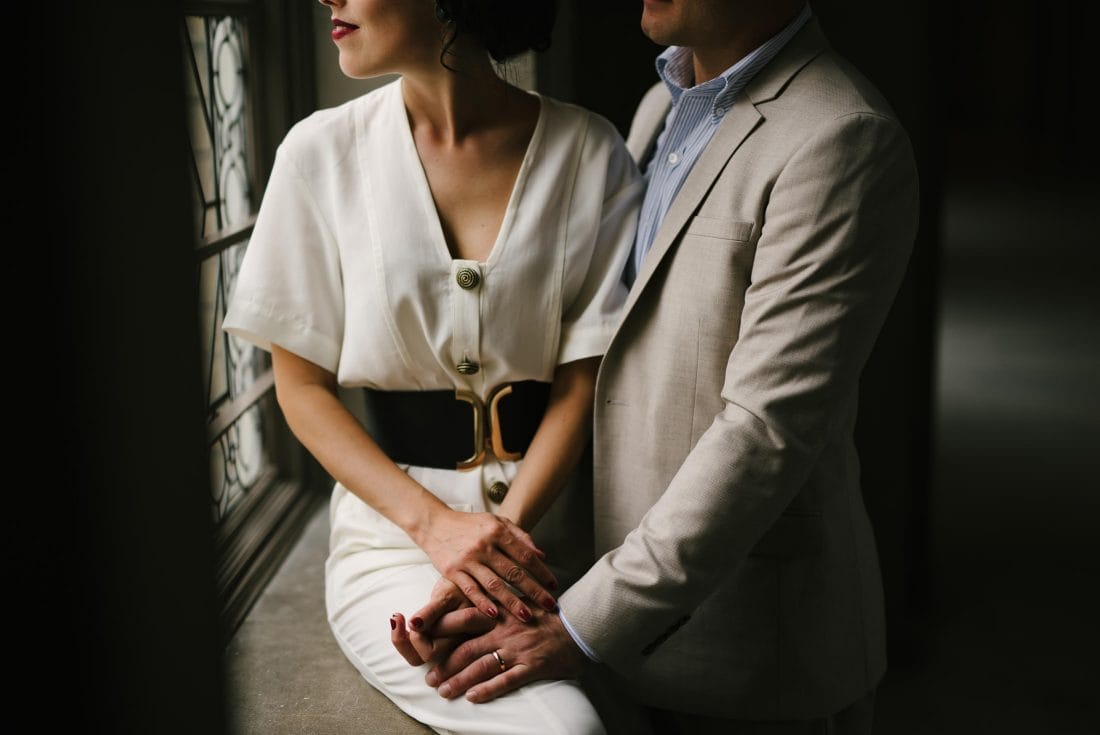 The Grand Staircase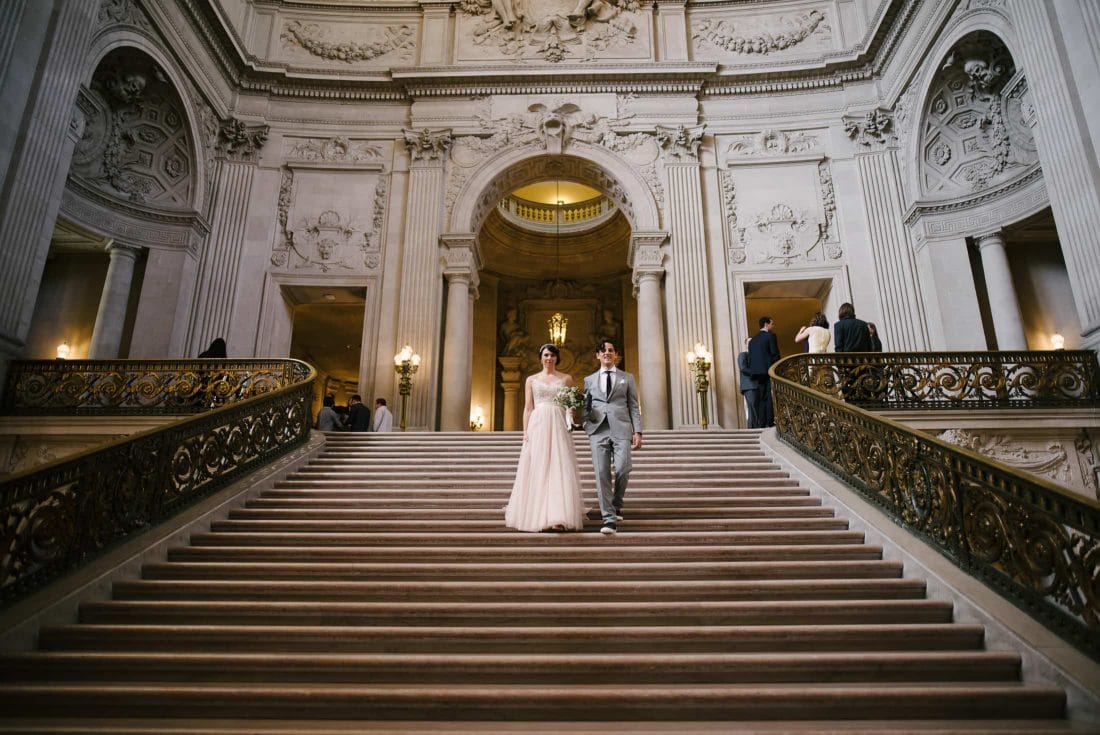 The Entrance to City Hall
Private Weekday Ceremonies
If you decide to reserve a space because you know you have more than six guests, you can do so by contacting the events department. You can reserve a spot on either side of the fourth floor or on the Mayor's Balcony, bring your own officiant, and invite up to 60 guests. A one-hour rental runs $1,000.
The Mayor's Balcony.
The Fourth Floor.
Wait… There is More.
Really – San Francisco City Hall is Enforcing the Six-Person Rule!
From what I understand, sometime in April of 2019, the SF County Clerk received complaints from city officials regarding excessive noise from a very large civil ceremony in the Rotunda. In order to appease city officials, the clerk agreed to enforce the 6 person limit on civil wedding ceremonies.
I have spoken to several couples lately who were working on the assumption that they would be able to bring all their guests (10-20) to their ceremony without issue. Many people will be heading into City Hall with at least six family members and their photographer assuming they will be able to get married in the main part of City Hall. They will now be asked how many people are going to be at the ceremony, and many people will have more than six. Parties with over six people may be offered the private ceremony room (a fairly non-descript room near the clerk's office) or told that extra guests will need to wait outside.
How Many are Six? Let's Do the Math.
Four parents + friend + photographer = six guests. This might be fine still, but most people will have more than this number. If each member of the couple has one sibling, you are now up to eight guests including the photographer.
What now?
So, now that you know what to expect, you can make a plan. I am here to tell you; do not despair. The ceremonies at City Hall are very brief. If you were married in the private ceremony room or with a limited number of your invited guests, you could still take lots of pictures wherever you want before or after the ceremony. Objectively, you might not be missing out on all that much. However, if you have your heart set on having the incredible architecture of San Francisco City Hall in the background of your ceremony with all of your guests, read on.
Keep it to Six
Make sure you just have just six guests at the ceremony. You can have other friends and family wait outside or close by. They can come for photos and congratulations after the short ceremony.
Bring Your Own Officiant
Get a marriage license, and have it executed by your own officiant. Have a friend or family member conduct the ceremony and sign the marriage certificate. You will not be faced with the question of how many people are attending your ceremony. Your best friend or parent can get ordained for FREE online. Check out the Church of Latter-Day Dude and the Universal Life Church. They will ordain people almost instantly for no $$. I just tried it, and am now ordained. Bring your small group of guests (I would keep it under 20) to an open spot at City Hall and conduct your ceremony. It is a public space. If you are respectful of the space and the people around you, there shouldn't be a problem.
Get Married in the Private Ceremony Room
Get married in the private ceremony room. The ceremony will be very short. You can do pictures around City Hall before and after the ceremony.
Rent the 4th Floor or Mayor's Balcony
Rent space on the 4th floor or the Mayor's Balcony. It costs about $1,000 for an hour rental and you can bring up to 60 guests. Check out the event rentals page on the San Francisco City Hall site for more information. You can also rent City Hall for a weekend wedding.
A Final Thought
If all this sounds too complicated or stressful, consider doing a pop-up wedding somewhere else. While San Francisco City Hall is a sweet spot to get married, there are many great places in and around San Francisco where you could bring 20-30 people for a quick ceremony. Consider bringing your friends and family to somewhere in the Presidio, Golden Gate Park, or the Oakland or Berkeley Hills. Mount Tam, the Marin Headlands, and Point Reyes are all close by. Check out little weddings I have shot at Trojan Point, Bolinas, and Point Reyes.
Here is a Pop-up Wedding at Lands End Near the Sutro Baths.
Thanks so much for reading. I hope you found this information useful. Feel free to leave me a comment with questions or thoughts. If you would like to talk with me about shooting your San Francisco wedding, drop me a note through my contact page.