Umrah and John's Sweet Ina Coolbrith Elopement in San Francisco's North Beach
Prepared to be wooed by this super sweet, intimate Ina Coolbrith Park elopement. If you haven't checked out Ina Coolbrith Park (I hadn't until the other day), do yourself a favor and take a look. The views from the park are spectacular. It is located in San Francisco's North Beach, fairly close to the Fairmont Hotel.
John and Umrah met when he walked into the credit union she worked at in San Francisco Mint Plaza while she was studying architecture. They talked. He told her that he wanted to live in something akin to a spaceship. She laughed and knew exactly what he meant. A year and a half later Umrah moved into a sweet little pink apartment building in North Beach. The building just happened to be next door to the sweet little pink apartment building that John lived in. Those apartments are just a block or so away from Ina Coolbrith Park. They had their first date there. And… the rest is history.
Getting Ready at the Fairmont Hotel
When I arrived at Umrah's room at the Fairmont Hotel, she was just about done with her hair and makeup. I went down the hallway to check on John and he was in the process of trying to figure out how to tie a bowtie. Between his brothers and YouTube, they figured out the elusive bow tie. Once I was sure the tie was in good order, I popped back to Umrah's room where she was getting ready to put on her sparkly blue wedding dress. I should note that when my daughter saw pictures of this wedding dress, she was very impressed. Once Umrah was in her dress, it was time for the first look. I thought the plan was to meet downstairs for this moment, but when I opened Umrah's door, John was right there and wanted to see her post haste.
Surprise First Look
Umrah was down to do the first look in her hotel room, and John was very ready to see her. I love it when people follow their hearts. There was no hesitation, just an exuberant John stoked to see the woman he loved. After they appreciated each other's finery, we all went downstairs to meet the family. We met on the rooftop garden at the Fairmont and then headed to the front of the hotel to call rides to the park. We piled into a couple of cars and headed over to Ina Coolrith Park for the ceremony. Umrah's sparkly blue dress had to be stuffed into the car.
Ina Coolbrith Park Elopement
The previous day Umrah and John had gone over to the park to take a look at the spot where they wanted to do the ceremony. He joked that it would be funny if the park were under construction and that they should probably come up with a plan B. As chance would have it, the park was under construction. Their first choice of spots was being worked on and had bright orange fencing all around it. Good thing they took a look before the big day.
They came up with another great spot under a beautiful oak tree. We walked up the stairs to and asked some folks who were sitting on benches on either side of the oak if they would mind moving. It was sunny and warm, and I was glad for the shade of the tree. After a quick discussion about lighting, we settled on the orientation for their ceremony. The shooting space was somewhat confined, and I had to dodge the agave spines at my back, but the wedding was super sweet.
Wedding Portraits in Ina Coolbrith Park
After the ceremony, there were lots of hugs and congrats, and then Umrah and John looked to me for the next step. When we worked out the timeline for the day, we discussed doing a quick walk around the park after the ceremony. The day was hot and the stairs were steep, so we made our foray around the park and met back with their families after about 15 minutes.
Cable Car Ride Back to the Fairmont Hotel
We waited at the bottom of Ina Coolbrith Park for a cable car to take us back to the Fairmont Hotel. Umrah and John pointed out the apartment where they met. It was less than a block away from the park. After we had been waiting for 10 minutes or so, a woman stuck her head out of the window of her apartment to say congrats to the couple. She then told us when the next cable car was due to arrive. Some of the group decided to walk back to the hotel, and the rest of us piled onto an already very full cable car for a ride back.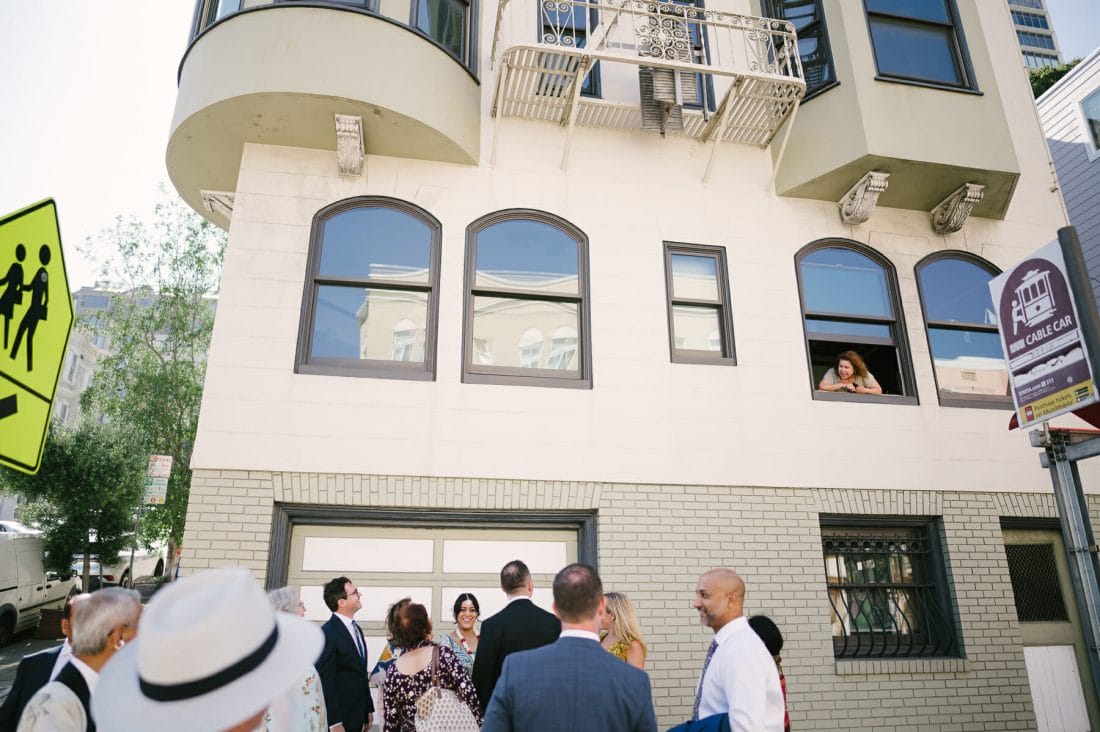 The Signing of Marriage Contract and Family Portraits
Once back at the hotel, Umrah and John sign papers to finalize the marriage. We snuck in a quick picture on the staircase in the main entryway. And then we went back to the rooftop garden for family portraits. Amazingly, we fit all this into about 3.5 hours. After I left, Umrah and John planned to have a nap and then go out to dinner to celebrate with their families. I feel super honored to have been a part of their sweet day.
If you enjoyed this rad Ina Coolbrith elopement and are interested in checking out some other elopements/ tiny weddings, take a look at the elopement guide I recently put together.