Julia and Mike's Sierra at Tahoe wedding was cold, windy, and touched with snow. While the weather was certainly remarkable, it was not what made this wedding special. Julia and Mike specifically chose Sierra at Tahoe for the gorgeous ceremony site, the great views, the mountains, and the outdoor reception area. It was 75 degrees and sunny the weekend before their wedding. They had not anticipated having to use a tent for their ceremony or any of the indoor spaces for their at Sierra at Tahoe wedding. But that is what happened. What stands out about this wedding, is how seamlessly everyone worked together to make it a successful event. Julia and Mike rolled with the changes and stayed positive and lighthearted though it all. The Sierra at Tahoe event team was so helpful and easy to work with. And all the guests and family took the weather excitement in stride with zero drama.
Preplanning and Using Google Maps to Scout Locations
Before the wedding, I did some virtual scouting using google maps in 3D mode. This method of scouting locations is pretty fun and efficient. It is not foolproof, but it usually gives me a good idea of what a place looks like without having to spend many hours in the car. Echo Lake looked like a cool spot, and it was right en route between the getting ready location in South Lake Tahoe and Sierra at Tahoe.
Getting Ready at the Hotel
I arrived at the Lake Tahoe Vacation Resort, where Julia and Mike were getting ready, the morning of the wedding. The air temperature was cold, but the sun was still shining. Julia was getting her makeup done, and Mike was finishing up a round of disc golf with his groomspeople. One of Julia's bridesmaids greeted me with a warm hello and a big hug when I walked in the door to her hotel room. I knew this was going to be a good day. Since we had done a good bit of emailing, Julia and I checked in about the plan for the day. She and Mike had gone to Echo Lake the day before, and confirmed it looked like a great spot. Mike got to the hotel just about the time that Julia finished getting ready. I popped over to his room and got some quick shots of him tying his tie. We then headed out to find a first look location.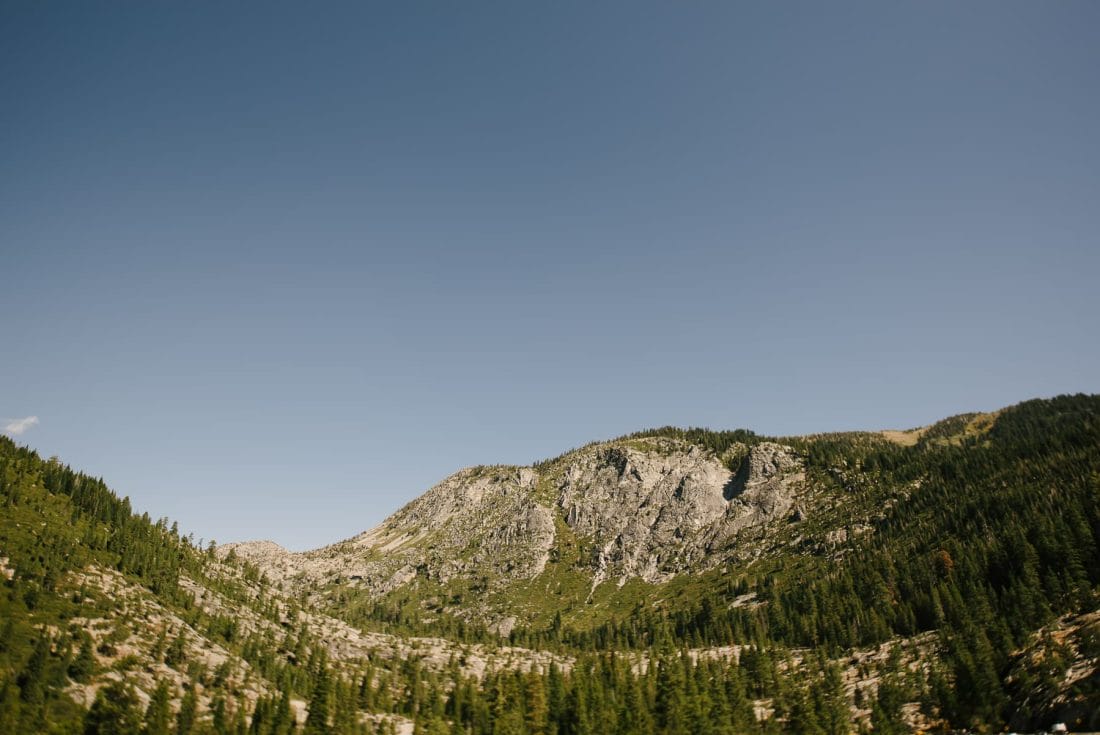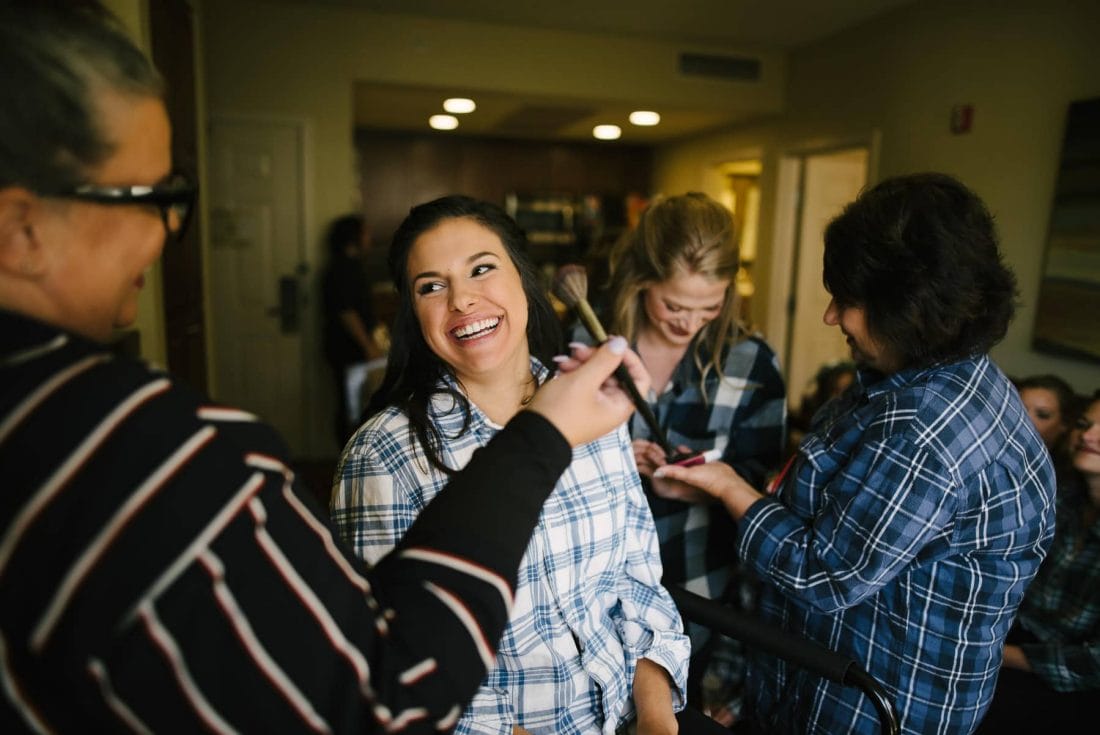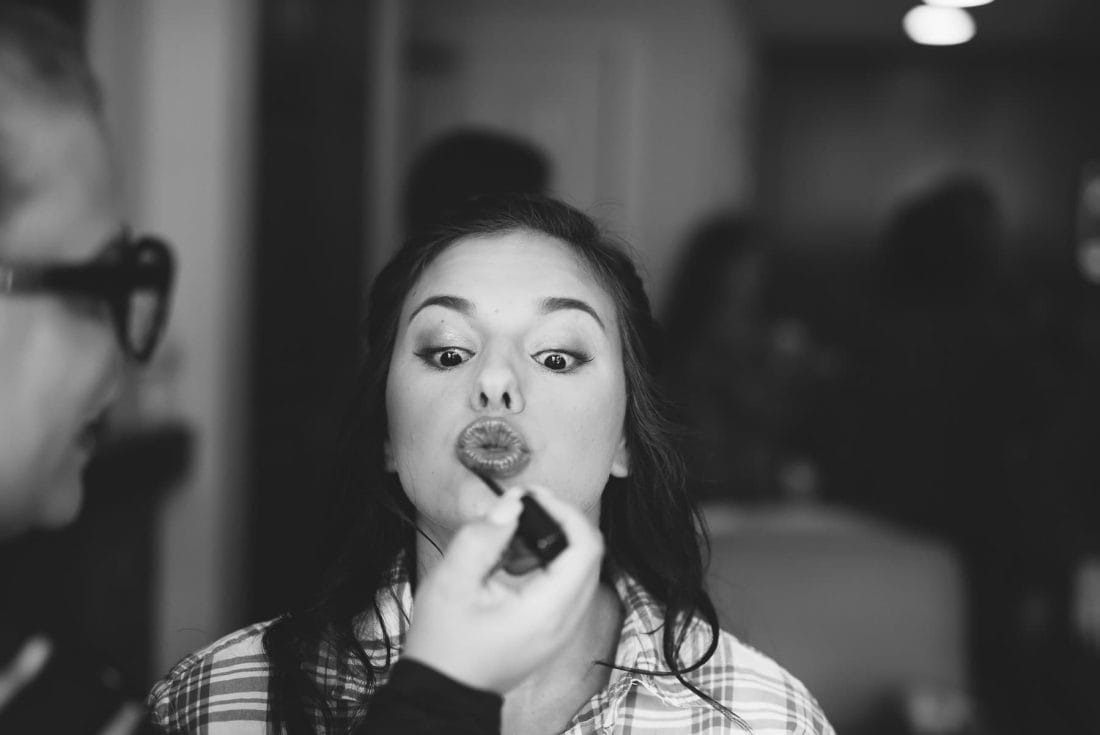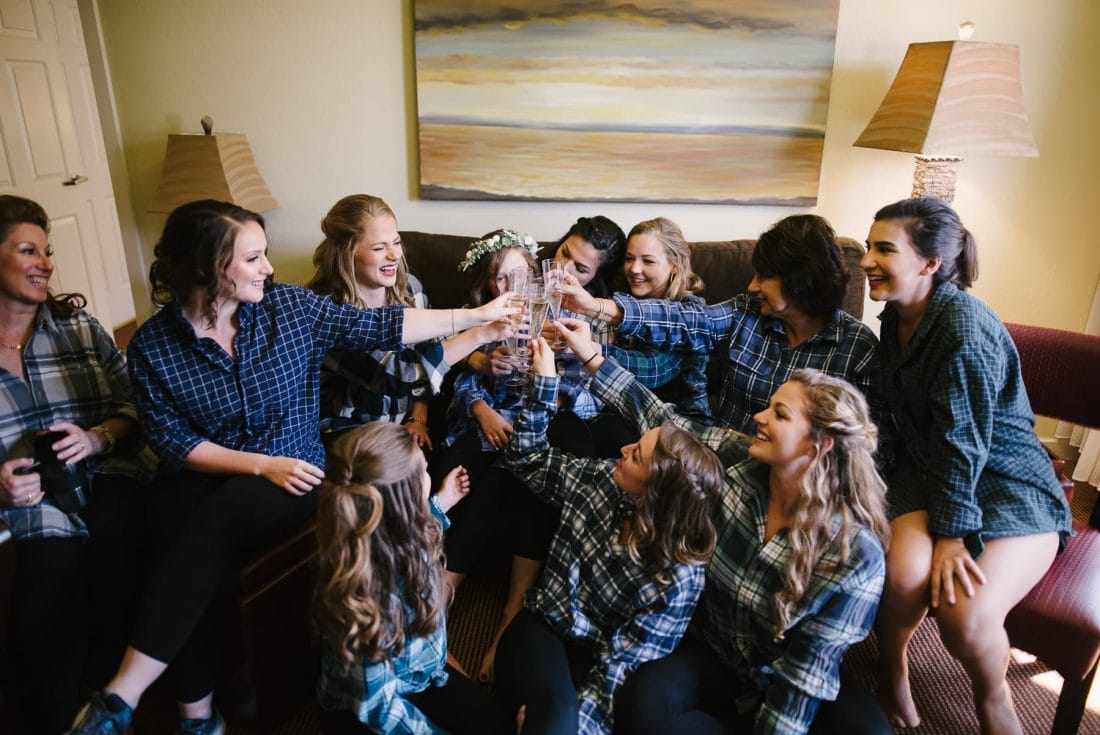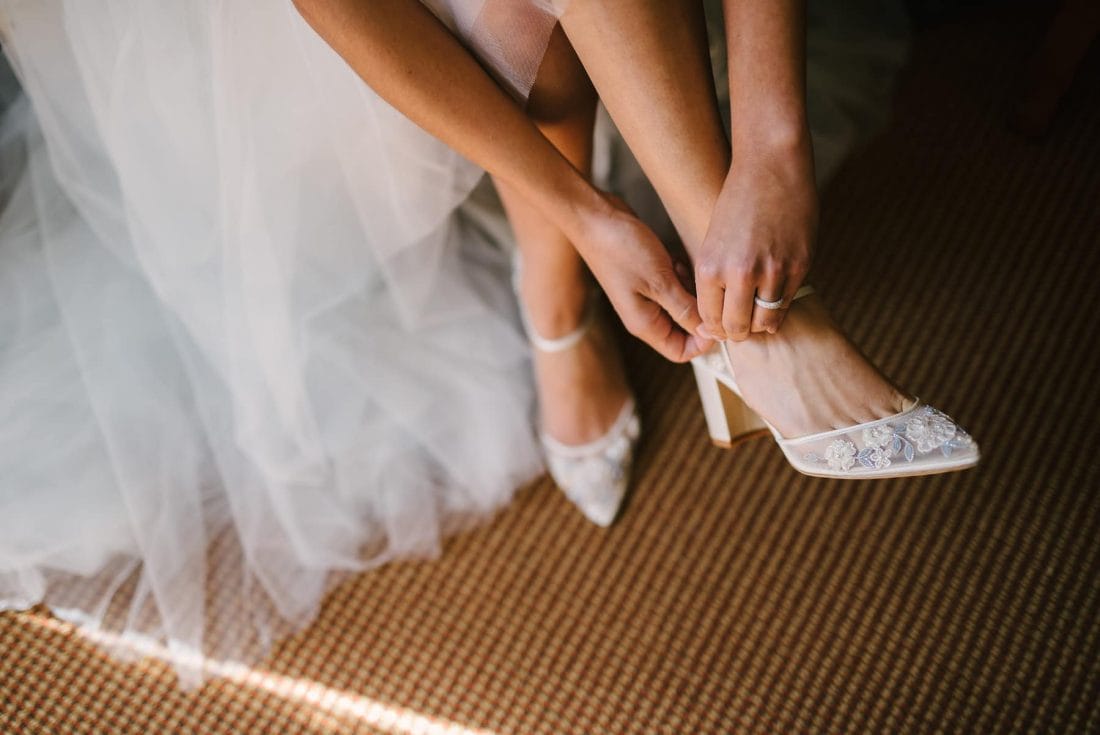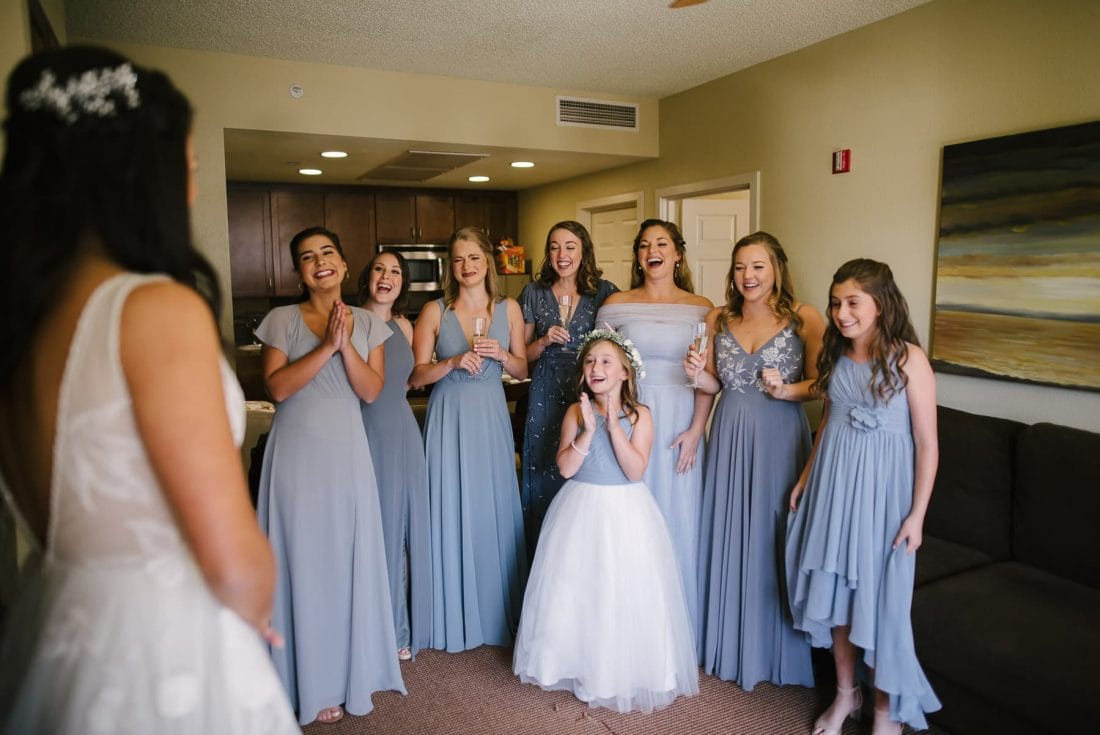 First Look
I scouted a first look spot with Mike, met up with Julia, and decided on a new spot. The first look scouting and the first look itself took less than 15 minutes. After we were done with the first look, we headed to Echo Lake. The family and wedding party finished getting ready and met us Sierra at Tahoe for wedding party and immediate family portraits.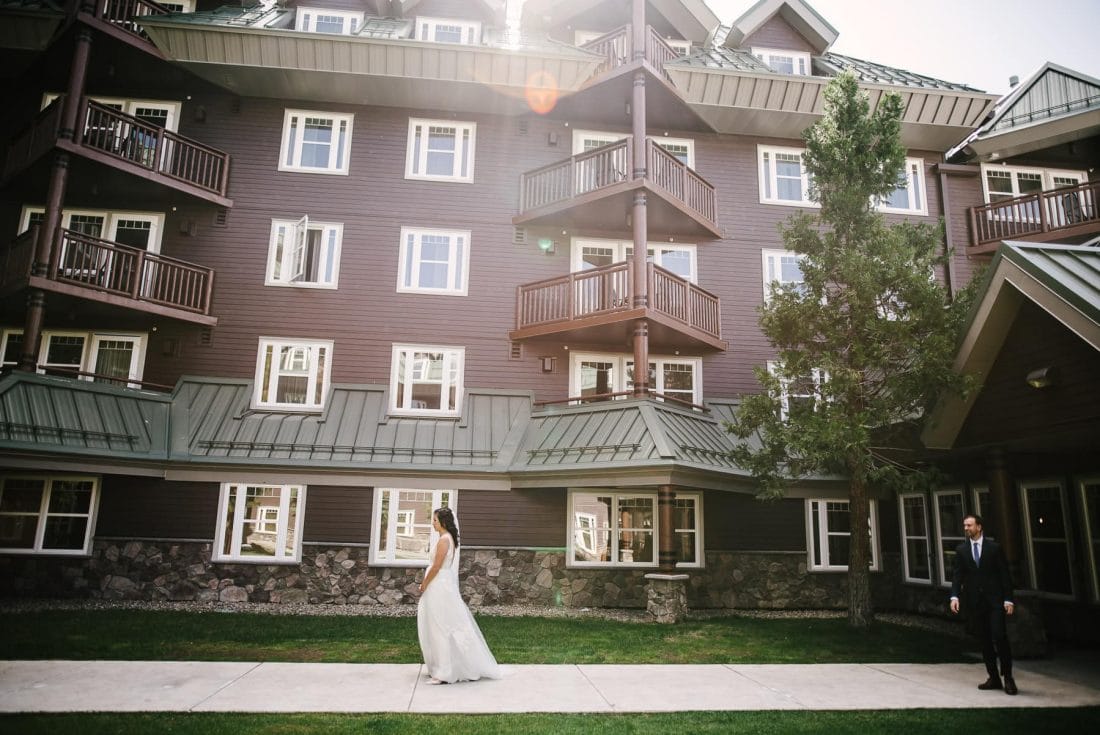 Couple Portraits en Route to Sierra at Tahoe
There is a pullout on the side of the road with an epic view of Lake Tahoe. Every time I drive through Tahoe, I want to stop there but always blow right by it on my way to some exciting destination. I finally decided to make a stop there with Julia and Mike. The weather was turning for the worse, with wind picking up, and a light drizzle of rain starting to fall. It seemed prudent to hedge our bets and get some pictures while we knew we could. We pulled off the road, took a few pictures, jumped back in the warm car, and headed to Echo Lake. By the time we got Echo Lake, the wind was blowing hard and the air was freezing. Julia (and Mike) braved the cold for some quick pictures. We made two other quick stops for photos and arrived at Sierra at Tahoe around the same time as the immediate family and wedding party got there.
Immediate Family and Wedding Party Portraits
Julia and Mike made some last-minute Amazon purchases once they were fairly certain that the weather was going to be cold. They bought a box of hand warmers for all the guests and some faux fur shawls for the bridesmaids. Both of these purchases were well used. I was personally so thankful for the hand warmers. While the weather held, we went outside for immediate family and wedding party pictures. The Sierra at Tahoe team pointed out a fun spot for wedding party pictures and helped transport people.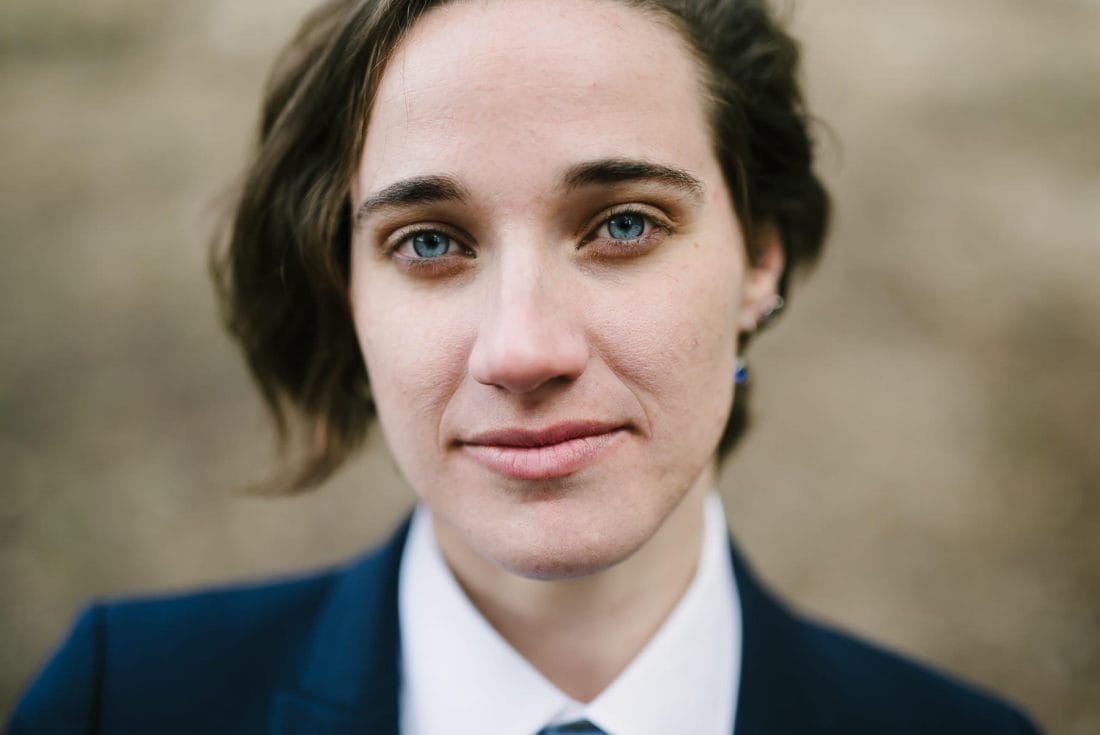 The Ceremony and Everyone Group Shot
Although not what they had envisioned as far as epic views in the background, Julia and Mike's ceremony was sweet and heartfelt. Almost as soon as it was over, it began to snow. I gathered people quickly for a group shot before everyone hurried inside for some warmth, a beverage, and something to eat. Toward the end of cocktail hour, the Sierra at Tahoe event staff took us up the hill for some couple portraits at the original ceremony site. The snow was coming down so hard.
Reception and Dancing
The reception was held inside (not the original plan). Julia laughed that they had picked Sierra at Tahoe for all of the beautiful outdoor spaces, but ended up doing almost everything inside. I was so glad that Julia and Mike didn't let the last-minute changes keep them from having a great time. We popped out for a few minutes to take pics at sunset and then got back into the warmth for dancing, speeches, and good times.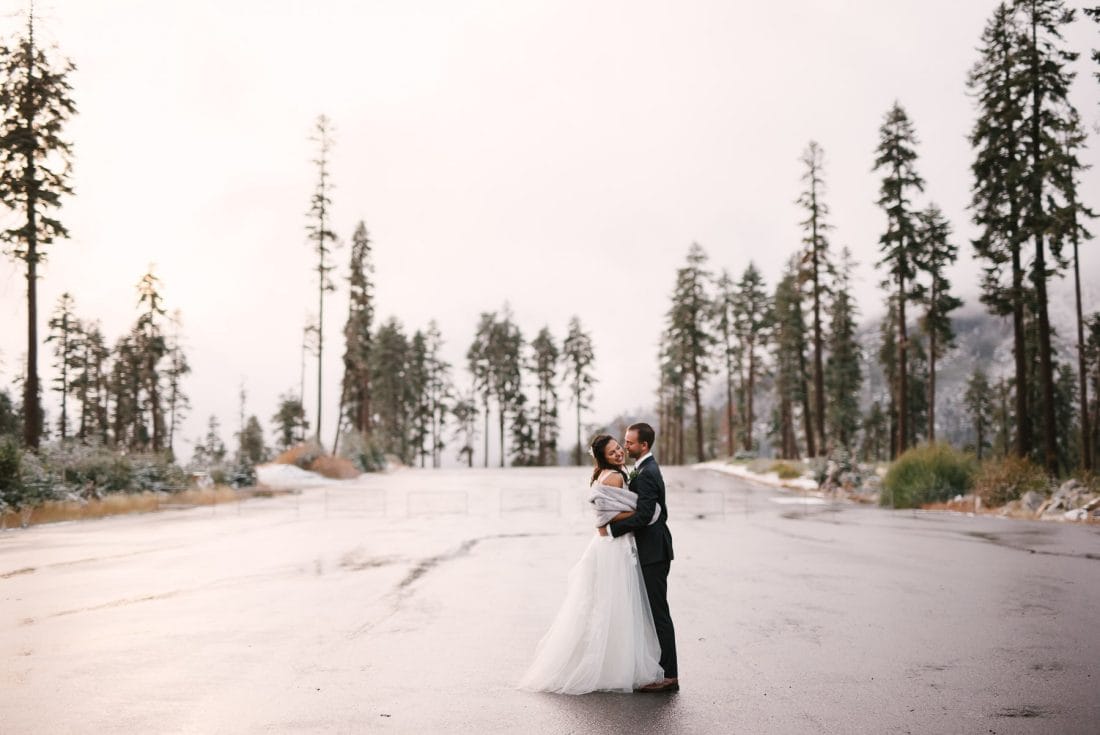 For another weather exciting ski resort wedding in Tahoe, check out Kate and Taylor's Sugar Bowl wedding.