Welcome to Cassie and Brandon's game-filled campout wedding weekend festival at Oz Farm. They dubbed it Burrkinstock and called it "part wedding, part music festival, part campout." I shot another super fun wedding at Oz Farm the previous weekend and I was stoked to be back for a new adventure. One of the great things about weddings is how unique they can be. I knew that Cassie and Brandon had a wild weekend planned, and I was ready to roll with their crazy wonderful vision. They were incredibly organized and had a very clear idea of what they wanted for their wedding. They skipped most of the traditional stuff and focussed on bringing their communities together for a weekend-long campout. The weekend felt more like a super fun summer camp than a traditional wedding.
Getting There
After years of going to Point Arena via Highway 1, I decided to try "the other way." Friends had warned against taking Mountain View Road, but I thought I should give it a try. I was wrong. If you plan on having a wedding at Oz Farm, I would suggest advising that your guests avoid Mountain View Road. It is very windy, narrow, and in poor condition. I don't usually get car sick but arrive feeling quite sour to the stomach. Mountain View Road made me really appreciate Highway 1. The air on the drive-in had been fairly thick with smoke, but as I got closer to Oz Farm the skies cleared. Good to know that Oz Farm not only has a pretty fantastic micro-climate but also seems to get less smoke during fire season than other venues.
The Plan
When I arrived at Oz Farm on Friday, there was a welcome table with personalized mugs and necklaces, team t-shirts, sunscreen, and a custom-designed trivia book and field guide for the weekend. Cassie personally designed so many sweet tidbits for this wedding. Brandon was the puzzle master and MC for the weekend. Guests were put into teams that would be competing in a multitude of events over Friday and Saturday. The winning team would have 2 hours to plan the wedding ceremony late Saturday afternoon. If the winning team didn't want the responsibility of planning and conducting the ceremony, they had the option of giving passing it off the responsibility.
Friday Pub Crawl and Animal Disco
The first event was a pub crawl. Teams set up their custom bars in the cabins on Oz Farm and served whatever drink they decided to mix up. There were pop-rocks shots, Mai Tais, fancy-infused Margaritas, Bloody Marys, and more. After the pub crawl, folks moved over to the pizza oven and started slinging dough. As a lover of all things bread, I couldn't help but get my hands in there and shape a few pizzas. The pizza was great. As sunset approached, the animals came out to play. There were some fantastic outfits for the animal disco. And of course, teams earned points for best costume. A performance troop surprised guests later in the evening with stilt walking and fire dancing, kids worked the spin tables, and Pokemon and a T-rex rocked the dance floor.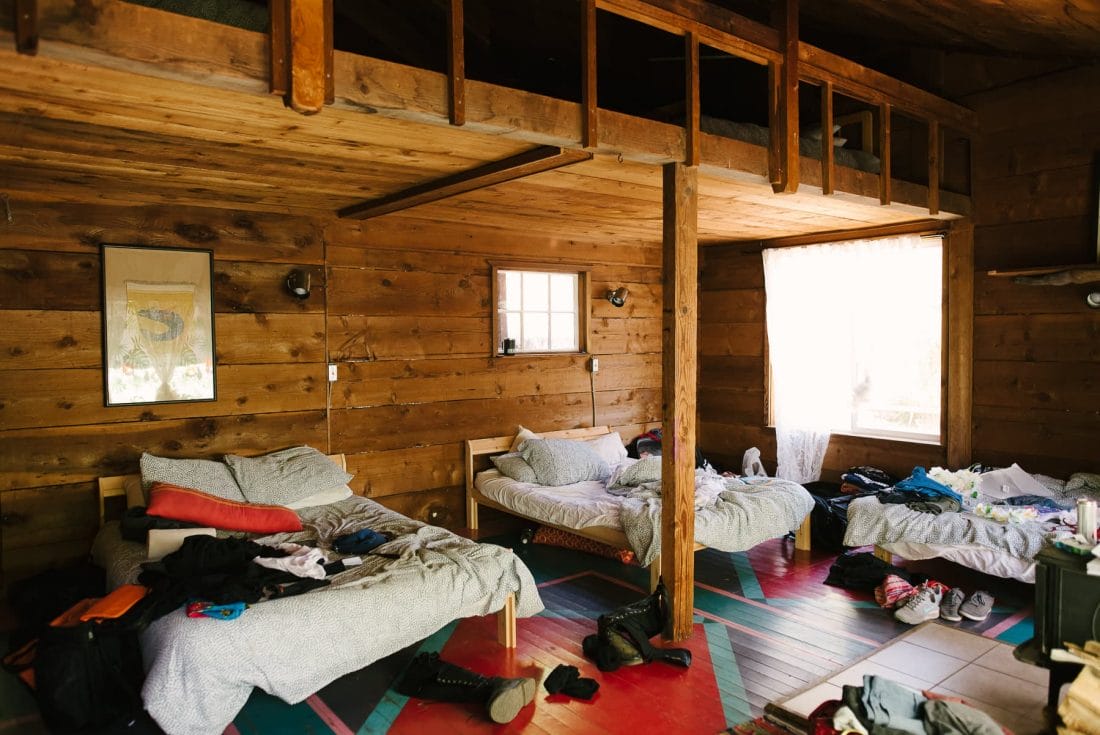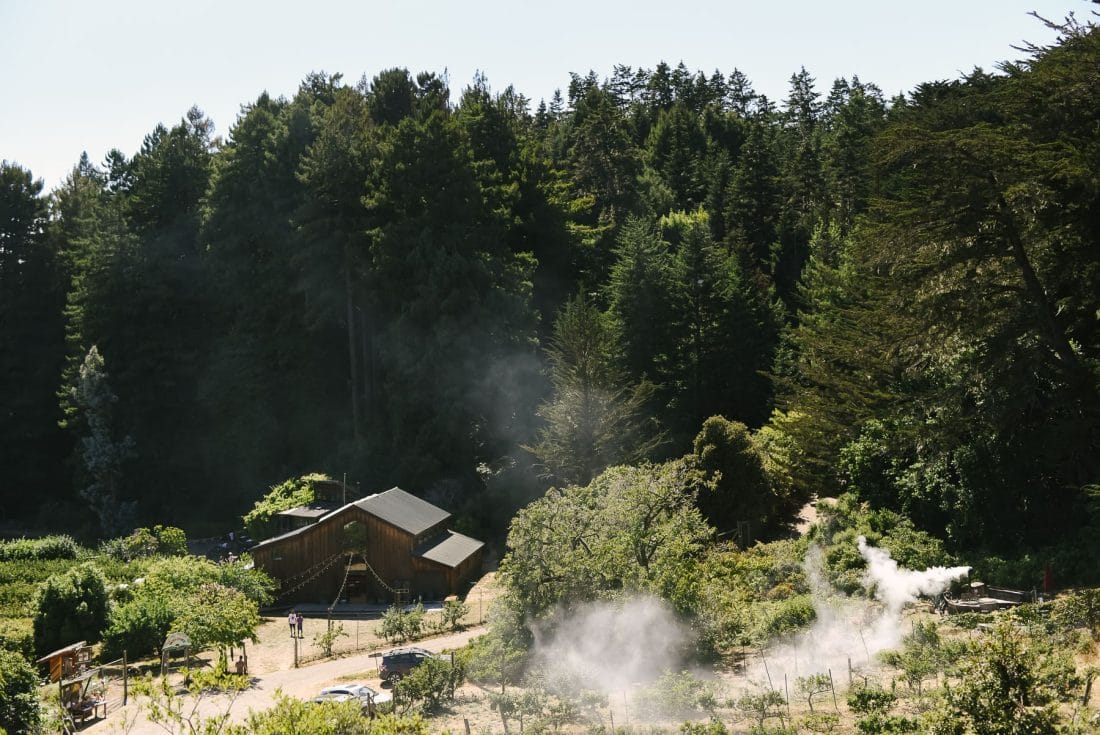 Game Day
The next morning, games started bright and early after breakfast. Teams jumped right in. The competition was on. Blind taste testing started around 10 am. A high-impact game of balloon stomp followed. It is incredible that nobody broke an ankle. There was a water balloon relay and card throwing contest (into watermelons). They had a beverage spaghetti boat race and Oreo on the face contest where the contestants tried to get the Oreo from their forehead into their mouth without using their hands. The number of games that Cassie and Brandon set up was dizzying. They moved the group from one event to the next without a beat. After 5 hours of competition, there was a winner. Team purple for the win.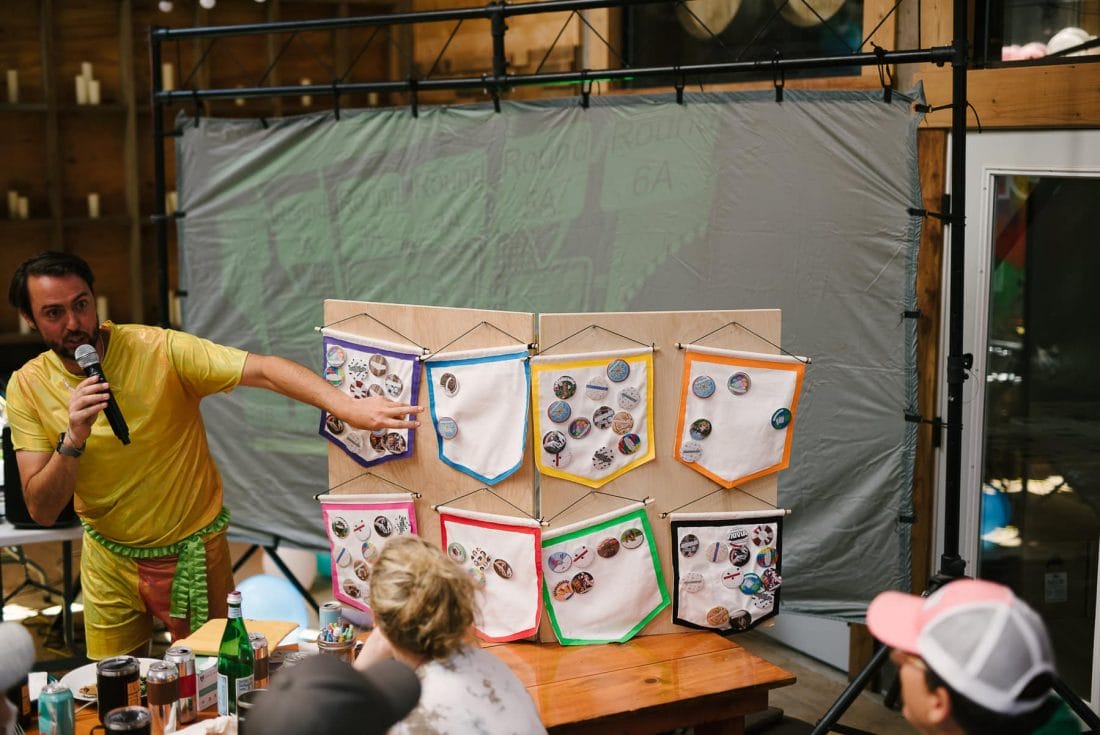 Wedding Prep
Things shifted once there was a winning team. Team purple had 2 hours to plan the wedding ceremony and vows. Folks went to their tents and cabins and changed into their wedding attire. Cassie and Brandon got ready in the community house. Cassie put on a little makeup, did a quick spruce up on her hair, and had a friend put on blue and purple eyelashes. Her friends decorated her dress (before the wedding day). Brandon had some custom flare on his wedding pants. The overall vibe was very laid back and mellow.
Once Cassie and Brandon were dressed and ready, we did some quick family portraits, and a bagpiper lead the group to the ceremony site where the winning team began the wedding ceremony.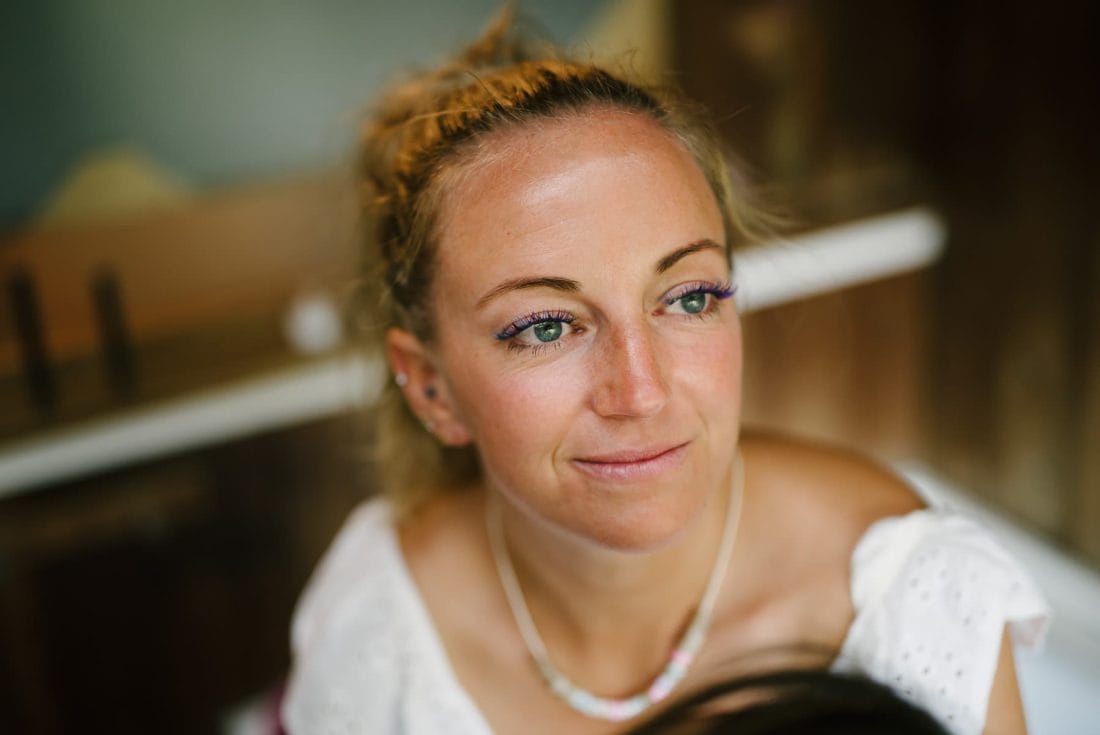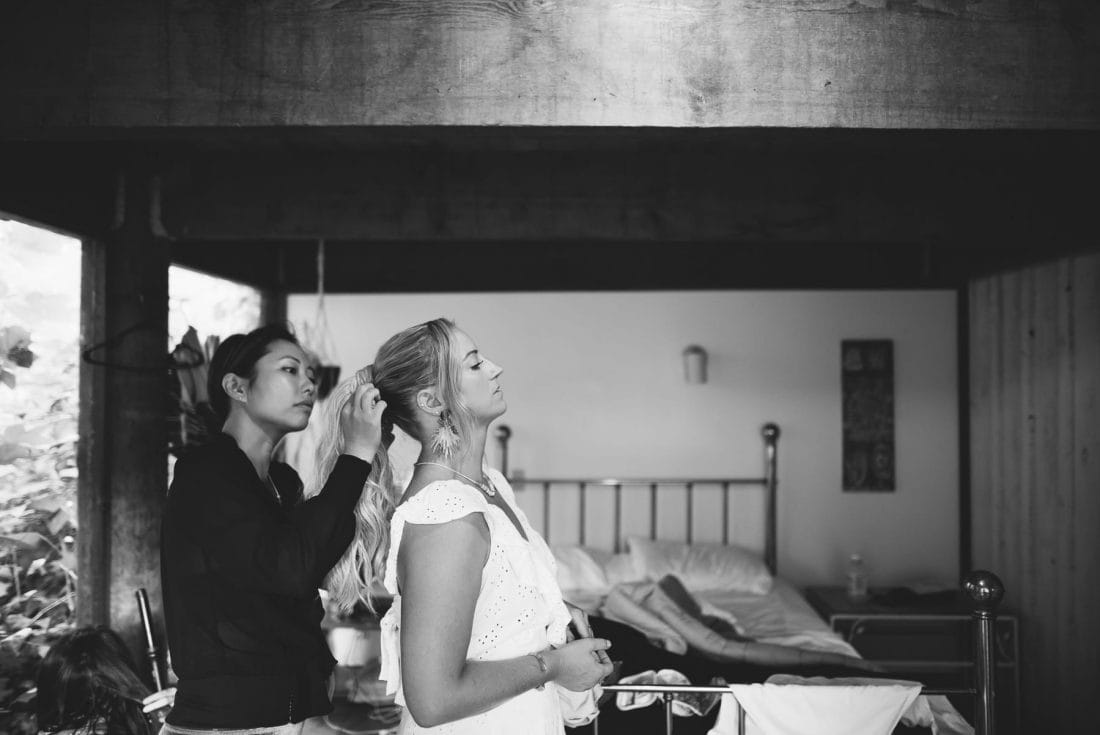 Ceremony
Cassie said, "When it comes to weddings, the ceremony is the piece that intimidated and scared us the most. How do you make that "us"? And so, we outsourced it. And honestly, it was the part of our weekend we were least looking forward to. But ironically, it might have been our favorite part. We should have known better that our friends wouldn't let it be anything less than incredible."
Cassie walked down the aisle with her two nephews, there were groomsmaids and bridesmen (carrying flowers), and Cassie's dad walked in with Brandon. It was a sweet processional. Brandon sister and Cassies mom said some heartwarming words, and then the crowd participated in a game of Mad Libs vows. After the very fun/ funny vows, Brandon's dad presented the couple with the rings Brandon made. But that's not all. Before the couple could seal the deal with a kiss, Brandon fist had to throw a ping pong ball into a solo cup (beer pong style). Then they kissed. Champagne corks popped, and they took slugs of bubbly right out of the bottle.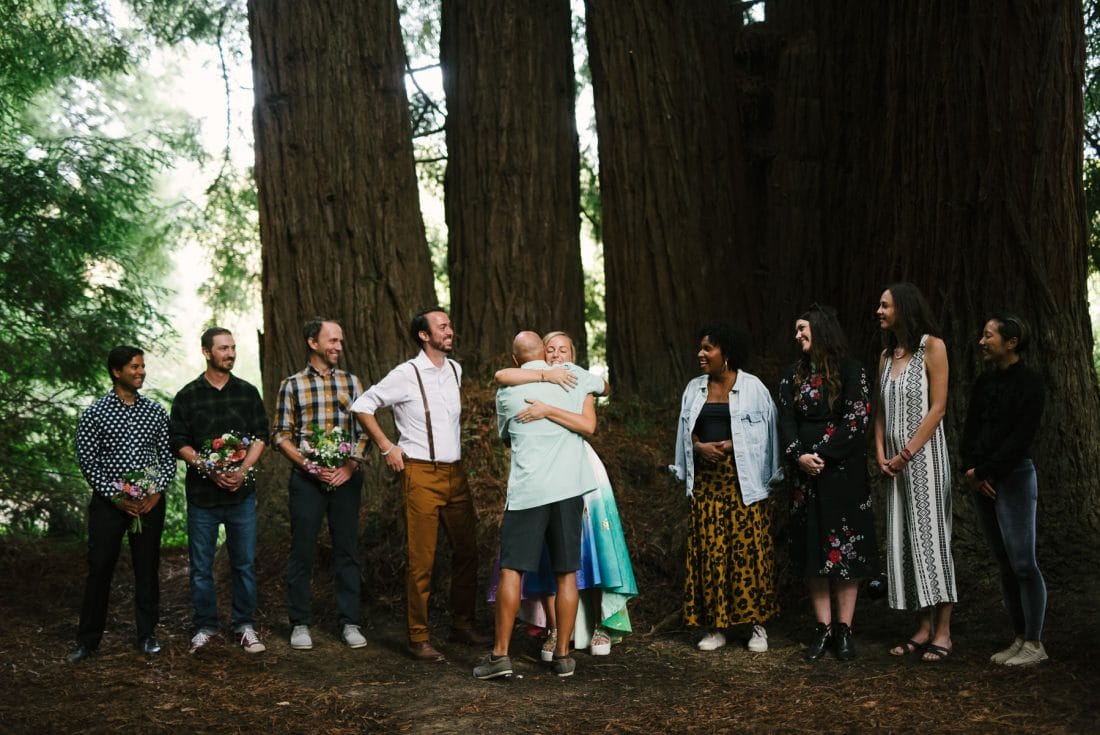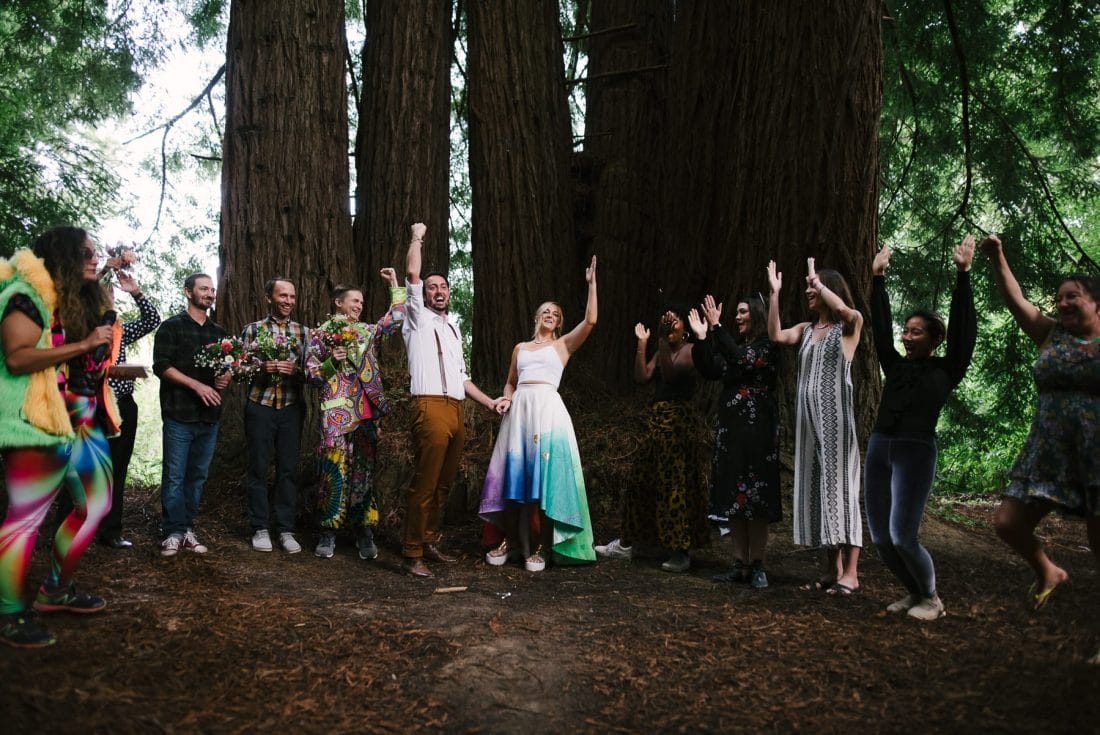 Dinner and Couple Pics Around the Farm
Dinner was set out in the flower gardens at the farm. All the guests sat together at one super long table and ate family-style. The food was amazing. Toward the end of dinner, I grabbed Cassie and Brandon for a quick walkabout. We used the old VW Rabbit Truck as a prop, walked down the rows of orchards, did pictures in the flowers, and used a work shed as a backdrop.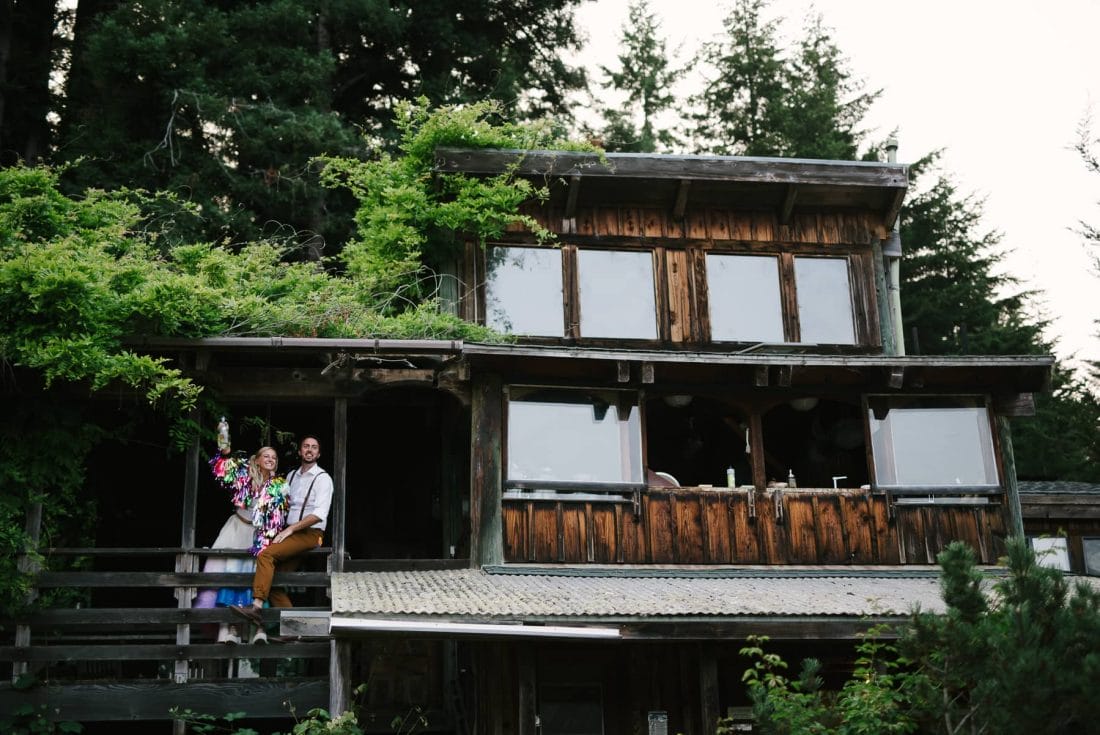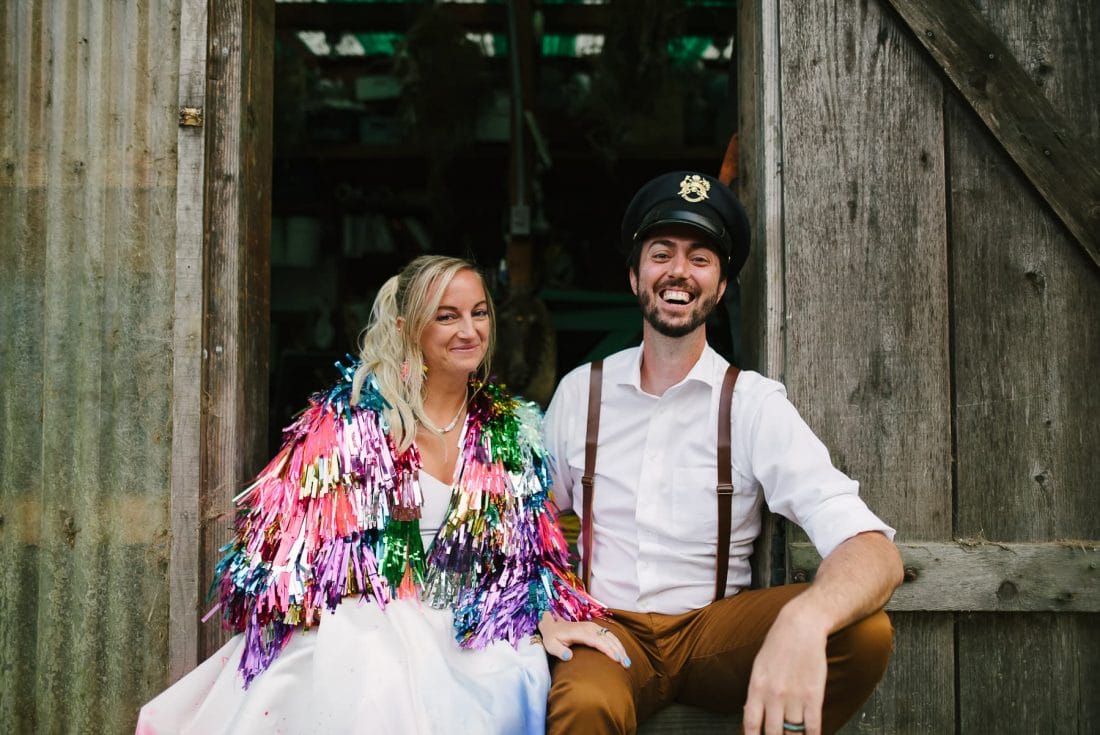 Dessert and Music
After dinner, they put out a wonderful spread of dessert from the local Bakery, Fanny's Cup and Saucer. Everyone moved into the barn and Cassie and Brandon's friends put on a music show and shared some great stories. Brandon joined in for one of the songs.
Throughout the whole weekend, the Oz Farm staff rocked it. From behind the scenes, they made sure that everything was in place and that things ran smoothly and seamlessly. Abby, onsite event planner, florist, fire tender, yoga teacher, etc … kept all the pieces together. This crazy festival campout wedding weekend at Oz Farm was so much fun, and proof that you can really make a wedding into whatever kind of celebration you want.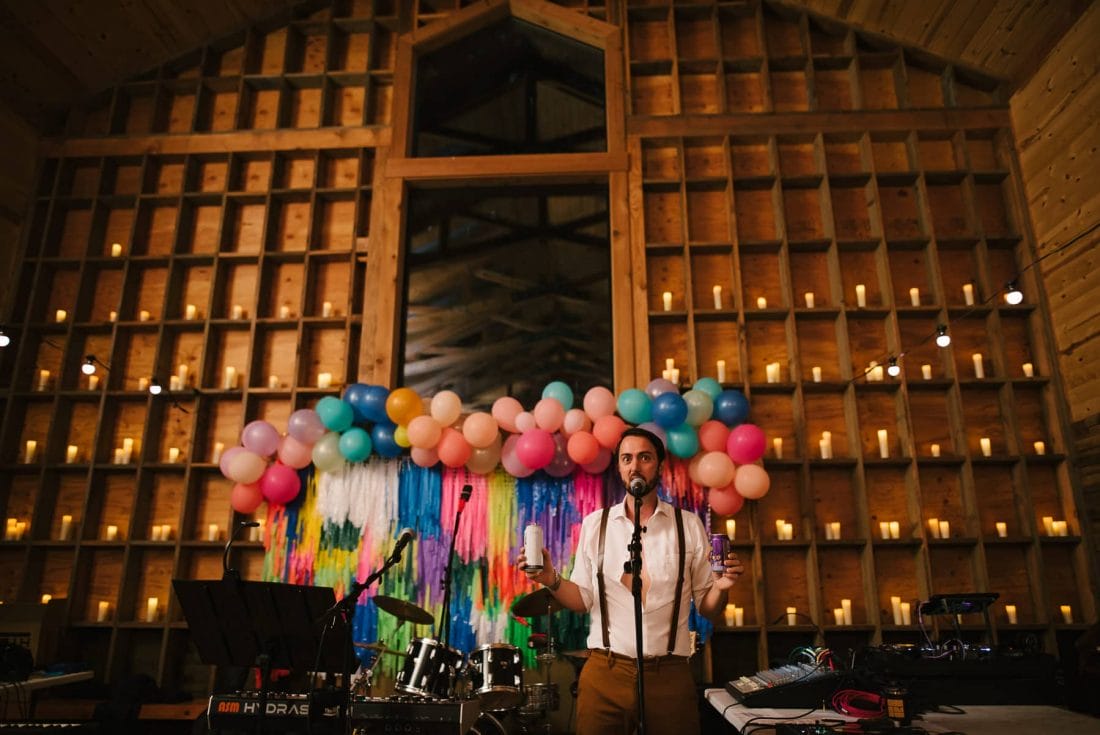 I hope you enjoyed this fun, non-traditional wedding celebration. If you want to take a look at another incredibly fun campout wedding at Oz Farm I shot just the week before, take a look at Emily and Luey's magical weekend celebration.