The Bay Area is a beautiful and diverse region of Northern California, home to iconic landmarks, stunning landscapes, and romantic destinations. Whether you're a local or visiting from out of town, the Bay Area is a great place to elope and start your journey as a married couple. Here's a guide to help you plan your Bay Area elopement.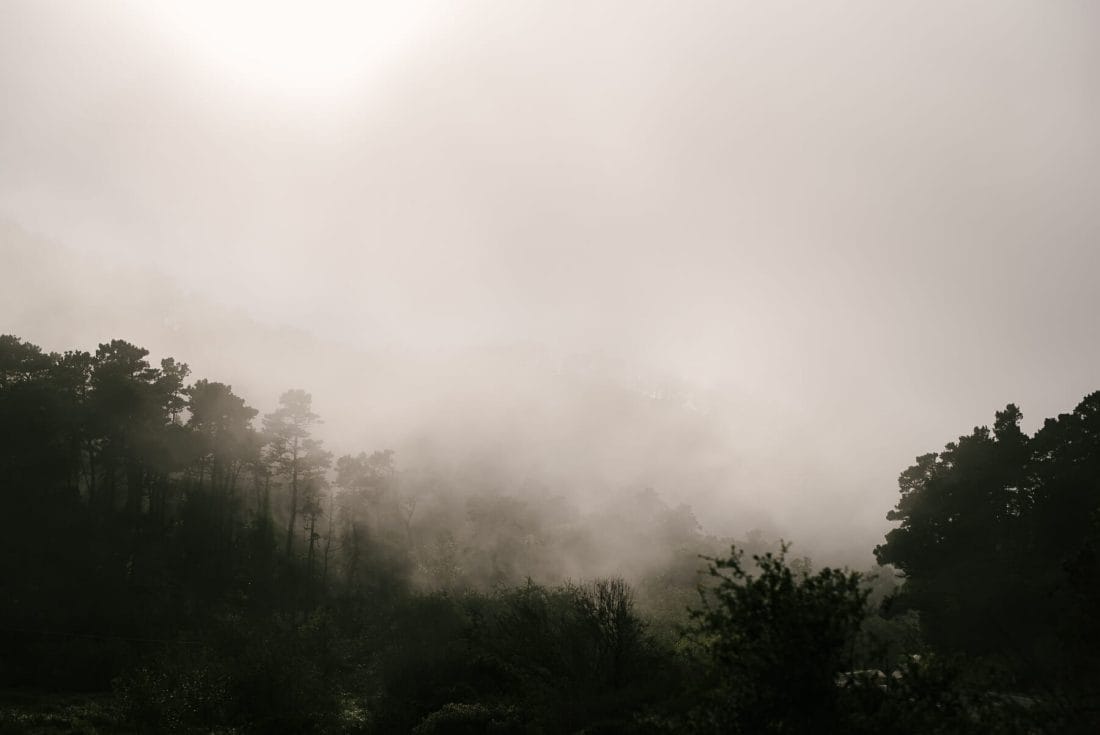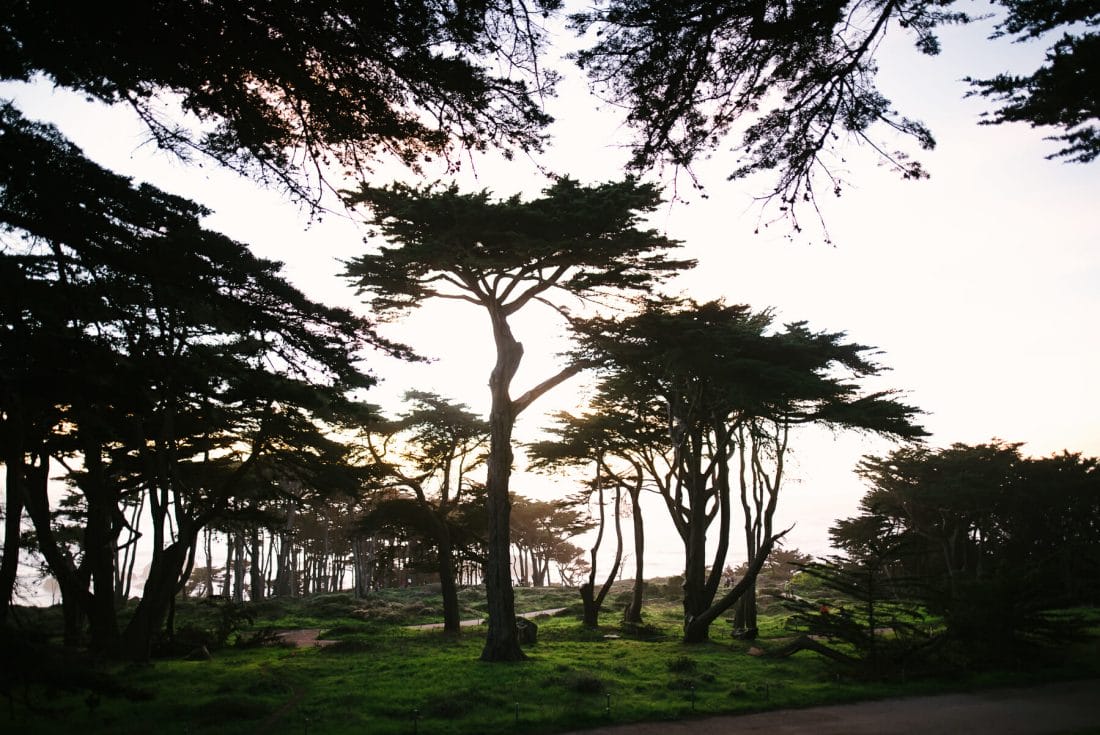 Consider What Type of Location You Want
The Bay Area offers a variety of beautiful locations, from beaches and forests to vineyards and urban settings. Consider what type of scenery and vibe you want for your elopement and choose a location accordingly. Some popular options include Mount Tamalpais, Point Reyes (really so many places in Marin County), the San Francisco Presidio, Golden Gate Park, Sonoma County, Napa, the Oakland Hills, Carmel, Big Sur, and of course San Francisco City Hall. I would say SF City Hall is the single most popular elopement spot in the Bay Area. Consider accessibility, local dining, hotel, and rental availability when deciding where to elope. It is nice to have a place that is close to food and sleeping accommodations. Also, check to see if the spot you have chosen requires a permit (or not).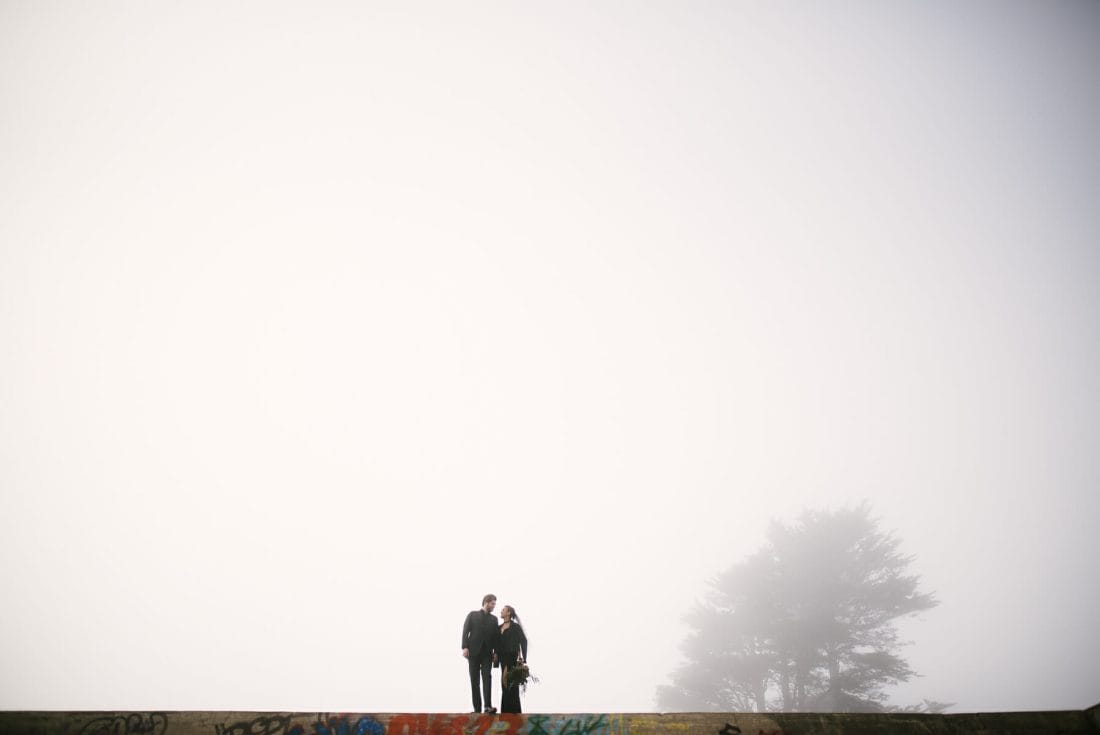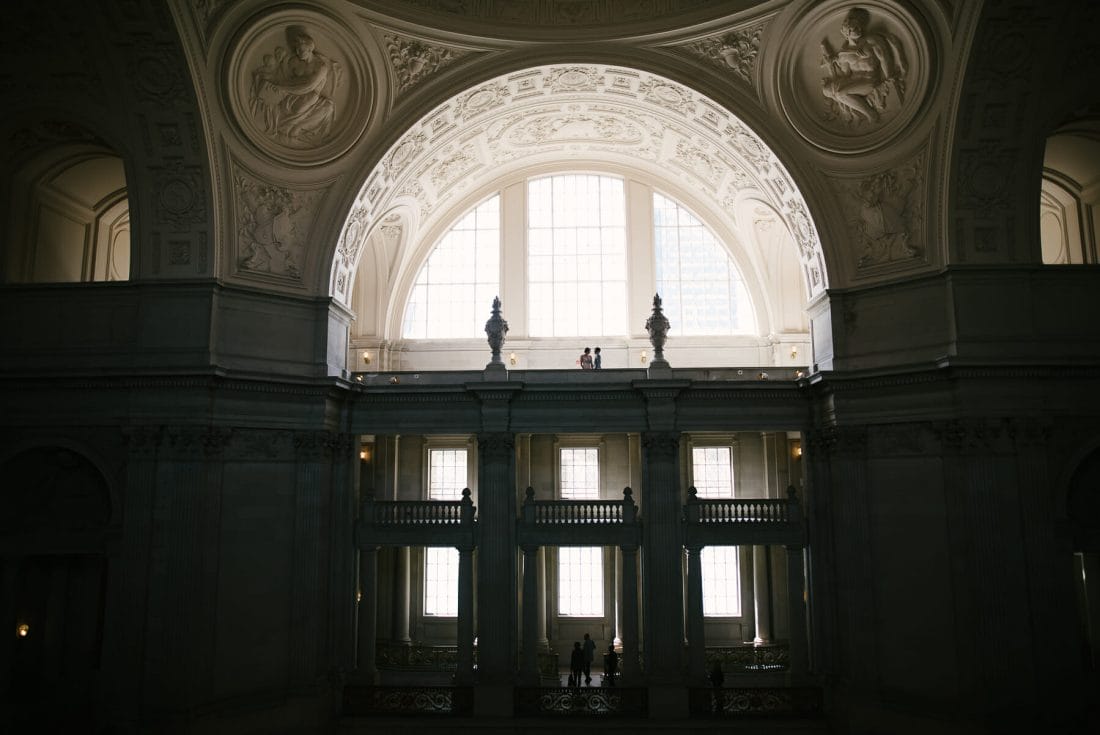 Scout Locations
Since elopements tend to be short affairs with few people, getting official permission to have your ceremony in a specific space may be more effort than it is worth (in my opinion). Scout your location and make your own assessment before the big day. There are many parks, open spaces, and public spaces that make great backdrops for an elopement. If you are planning to elope during the week, visit prospective locations on a weekday to get an accurate idea of what it might be like on your ceremony day. Most places won't notice or care if you gather with a few people for a brief ceremony.
If you want some great locations to start your search, check out the spots on the map below.
Point Reyes National Seashore
Point Reyes National Seashore offers a variety of stunning elopement locations. From craggy rock formations to beautiful vistas with views of the Pacific to incredible forested areas. You can find incredible vacation rentals around Inverness and Point Reyes Station. There are also excellent food choices in the area. It is remote enough to offer privacy and a sense of seclusion but located just a little over an hour from San Francisco.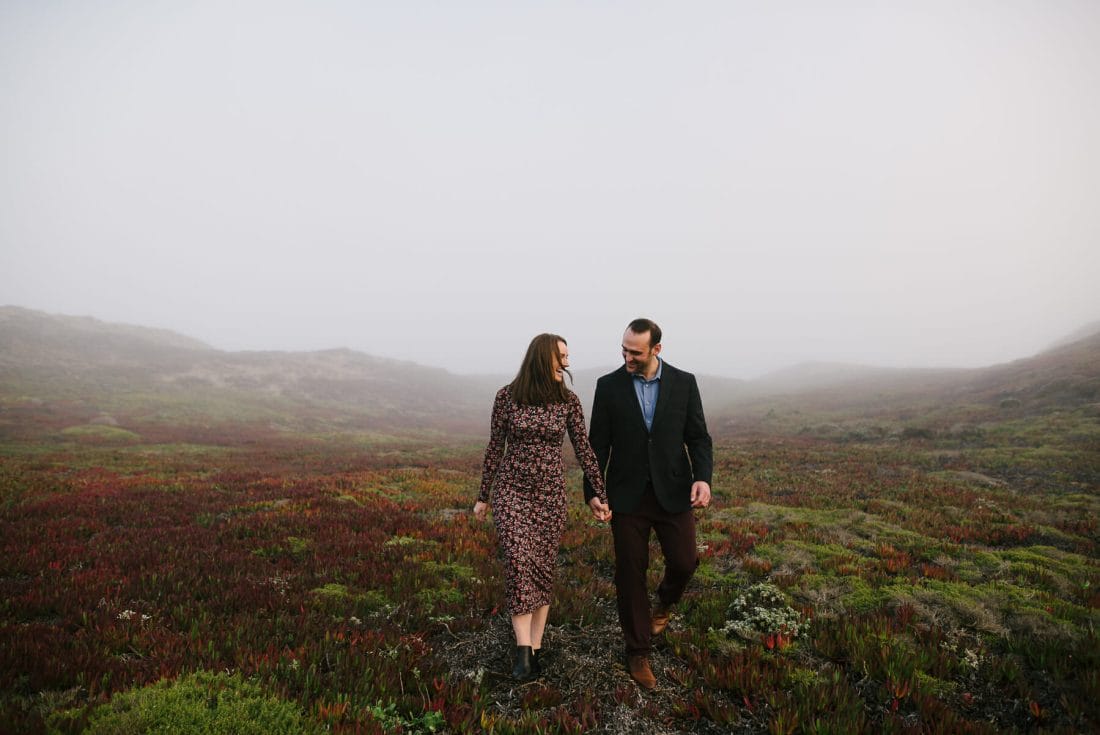 Mount Tam State Park
From Muir Beach to Muir Woods and Trojan Point, Mount Tam is a large expanse of space close to Mill Valley, Sausalito, and San Francisco. While some of the most iconic spots (Muir Woods) tend to be crowded and require special arrangements to conduct a ceremony in the space, there are plenty of less trafficked areas to do your elopement. Trojan Point is a sweet spot with amazing views and fairly easy access by car.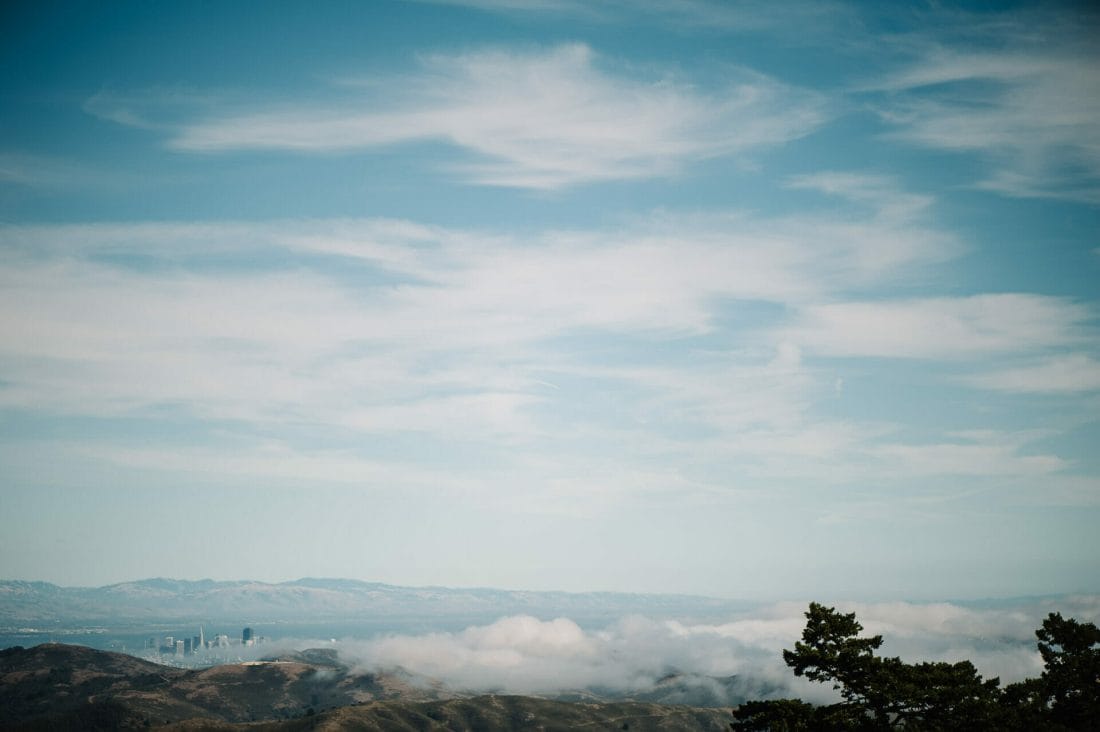 The Marin Headlands
The Marin Headlands is about as close as you can get to San Francisco without being in the City and has many spots that are easily accessible by car. There is no lack of gorgeous views of the Pacific Ocean, Golden Gate Bridge, and iconic rolling hills of the Bay Area. There are plenty of excellent places to stay and dine close by.
San Francisco Presidio
The San Francisco Presidio is one of my favorite places to photograph in the City. It has an old San Francisco vibe to it and is surrounded by stunning views, nature, and vistas of San Francisco and the Golden Gate Bridge. There are places to stay within the Presidio, and since it is in San Francisco, you have all the benefits of the City close by. If you are from out of town, make sure to take into consideration driving times when planning your stay. Even though locations in San Francisco might just be a few miles away, getting around the City often takes much longer than one would think.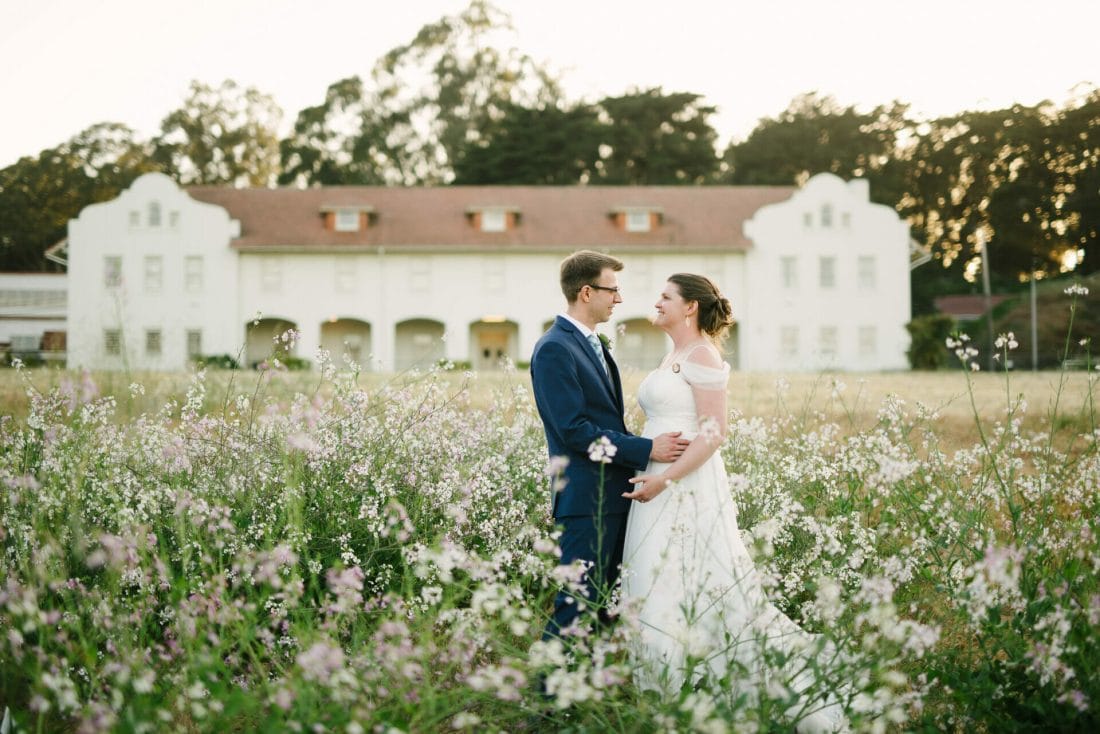 San Francisco City Hall
San Francisco City Hall is probably the most iconic elopement location in the Bay Area. If you are looking for a simple gorgeous location, this is it. The architecture is stunning, the lighting is wonderful, and there are officiants onsite to conduct your ceremony. SF City Hall is also a public space, so if you bring your own officiant, you can conduct a ceremony in an open area of City Hall. City Hall is located in the center of San Francisco and has easy access to many excellent restaurants and places to stay. I have worked with couples who have flown in from other states just to get married in this beautiful building.
East Bay Regional Parks District
The East Bay Regional Parks District covers a chain of local parks including Tilden, Sibley, Roberts Regional, Joaquin Miller, and others. Joaquin Miller is one of my favorite shooting locations in the East Bay. It is easy to access, has lots of space, tends not to be crowded, and offers multiple beautiful spots among the redwoods. Scout around and find a spot that is perfect for you to do your Bay Area elopement. The East Bay has lots of great restaurants and places to stay and tends to be easier to navigate than San Francisco.
Half Moon Bay
Half Moon Bay is a small town located less than 30 minutes from San Francisco. Close to Pacifica and other small towns along the coast, Half Moon Bay offers sweeping views of the Pacific Ocean and small coastal town charm. There is a large parking lot at Poplar Beach and beautiful vistas a close walk away. If you are looking for a little more seclusion, take a drive south a half an hour and check out some of the other spots along HWY 1 toward Santa Cruz.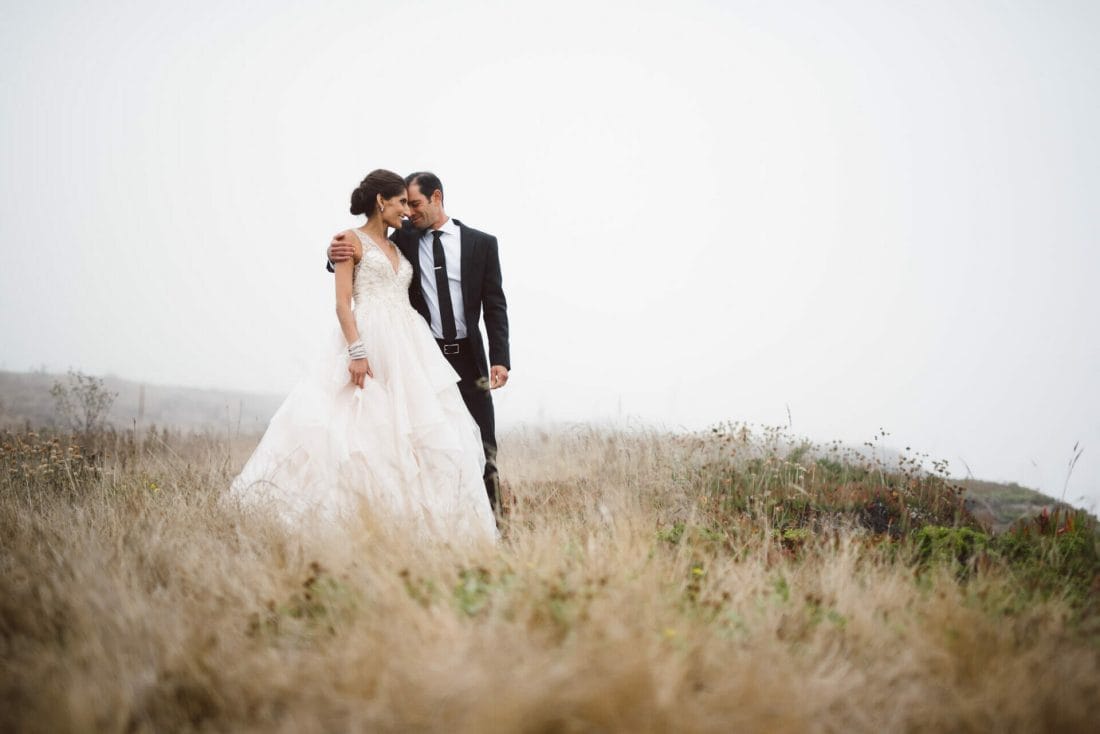 Carmel
Carmel is a super stylish iconic California seaside town. The small downtown has cute shops and fancy restaurants. There are plenty of quaint vacation rentals around. It is about a 2-hour drive from San Francisco and 1.5 hours from San Jose. In the area around Point Lobos State Preserve, there are lots of incredible coastline views with birds flying overhead and craggy rocks jutting out of the crystal blue ocean.
Decide on a Date and Time of Day for Your Ceremony
Choosing the right time of day for your elopement can greatly impact the look and feel of your photos, the overall atmosphere of your ceremony, and your guests' experience.
The lighting during your elopement can greatly affect the photos. If you are planning an outdoor ceremony, the end of the day around sunset when the lighting is soft and warm is probably the best. Later in the day also works well for doing a dinner after. The light first thing in the morning can be great as well, but people usually have a hard time motivating for an early start. In general, I would avoid scheduling something for the middle of the day when the sun is overhead.
Consider the schedules of your guests, vendors, and any other factors that may affect your elopement timeline. Having your ceremony during the week will give you a better chance of encountering fewer people at your chosen location. Also, restaurants tend to be less crowded, and photographers have more flexibility mid-week. Ultimately, the best time of day for your elopement will depend on your personal preferences, the location of your ceremony, and the overall atmosphere you want to create.
Consider the Weather
The weather can greatly impact the comfort and enjoyment of your elopement. If you are planning an outdoor ceremony, consider the time of year and any weather patterns that may affect your day. Bay Area weather is generally mild year-round, but it can get windy and foggy near the coast. Just because the weather is overcast or foggy, doesn't mean it is not a great time to have a ceremony. Moody skies and rolling fog can make for great pictures. One benefit of having a small midweek elopement is that there tends to be more flexibility. If the weather looks too wet or cold on the day you have picked out, you might be able to adjust the time or day with just a little notice.
Make a Guest List
Eloping means that you are choosing to have a small, intimate ceremony with only your closest friends and family.
Think about the overall vibe and atmosphere you want for your elopement. Do you want it to be just the two of you, or do you want a few close family members or friends to join you? Take into consideration the logistics of getting your guests to your ceremony site. Will you walk to the ceremony location? Where will you park? Do you have any guests with mobility considerations? Are you going to use chairs or will you do a standing ceremony?
Consider a larger celebration later if you are eloping with just the two of you. A larger celebration or party can be a great way to celebrate your marriage in a more casual way than a traditional wedding. Having a party later can allow you to include those who couldn't be there on the elopement day.
Obtain Your Marriage License
Before you can legally marry in California, you need to obtain a marriage license. You can obtain your license from any county clerk's office in California. You do not need to be a resident of the county where you are getting the license. Typically you will need to bring a valid photo ID, such as a driver's license or passport. Make sure to know how much the license fee is and what form of payment the clerk's office accepts. Many county clerks do not offer a same-day marriage license. Plan ahead. Your license will be valid for 90 days from the date it was issued.
Hire a Photographer
You'll want to capture your special day with beautiful photos, so hiring a photographer is a worthwhile investment. Look for a photographer who has experience shooting in the Bay Area and can give you great advice on planning your elopement. I have been shooting weddings in the Bay for over 2 decades and have lived here most of my life. Take a look at my bio and pricing and reach out if you would like to discuss your elopement.
Decide Who Will Officiate Your Wedding
Choosing who will officiate your Bay Area elopement is an important decision. You will want to choose an officiant who you feel comfortable with and who can help you create a ceremony that is meaningful and memorable. Your choice of officiant should align with your personal beliefs and values. You could choose a friend or family member who is comfortable speaking in front of a group. The tone of your ceremony should reflect your personality and the overall vibe of your elopement.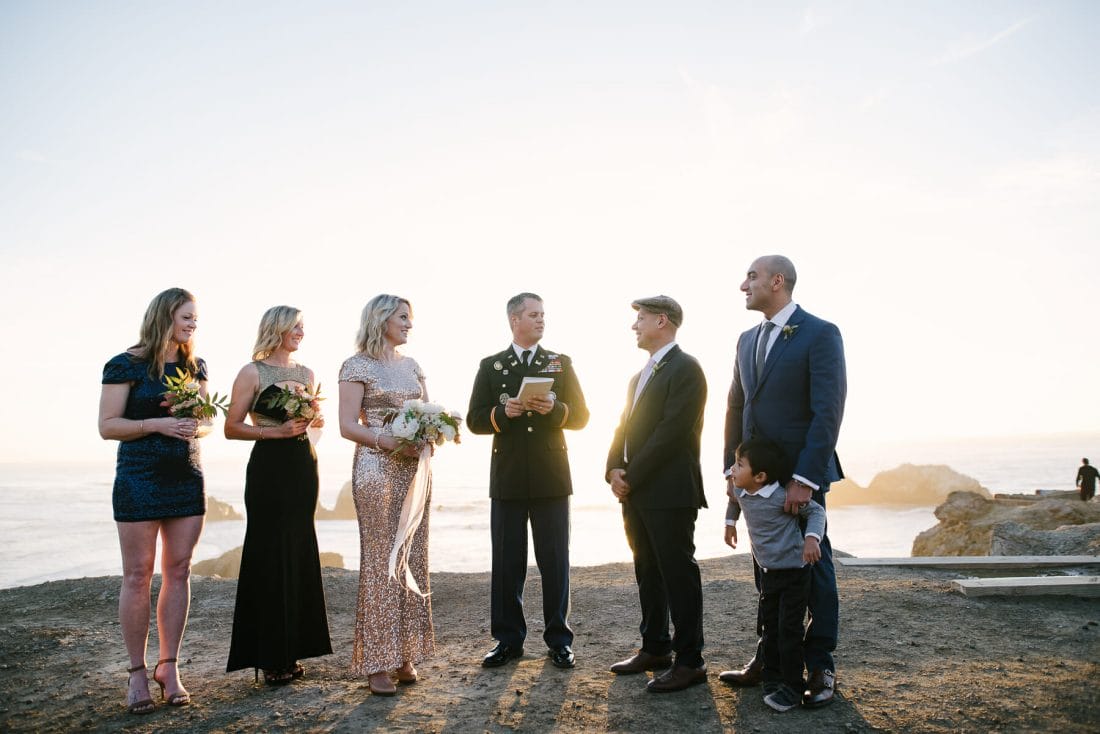 Make sure your officiant is licensed to perform marriages in the state of California. It is very quick and easy to get ordained to perform weddings. There are many online sites that allow you to get ordained for free in just a few minutes. Once you have a list of potential officiants, reach out to them and have a conversation to see if they are a good fit for your elopement. I personally love it when a friend or family member officiates a wedding.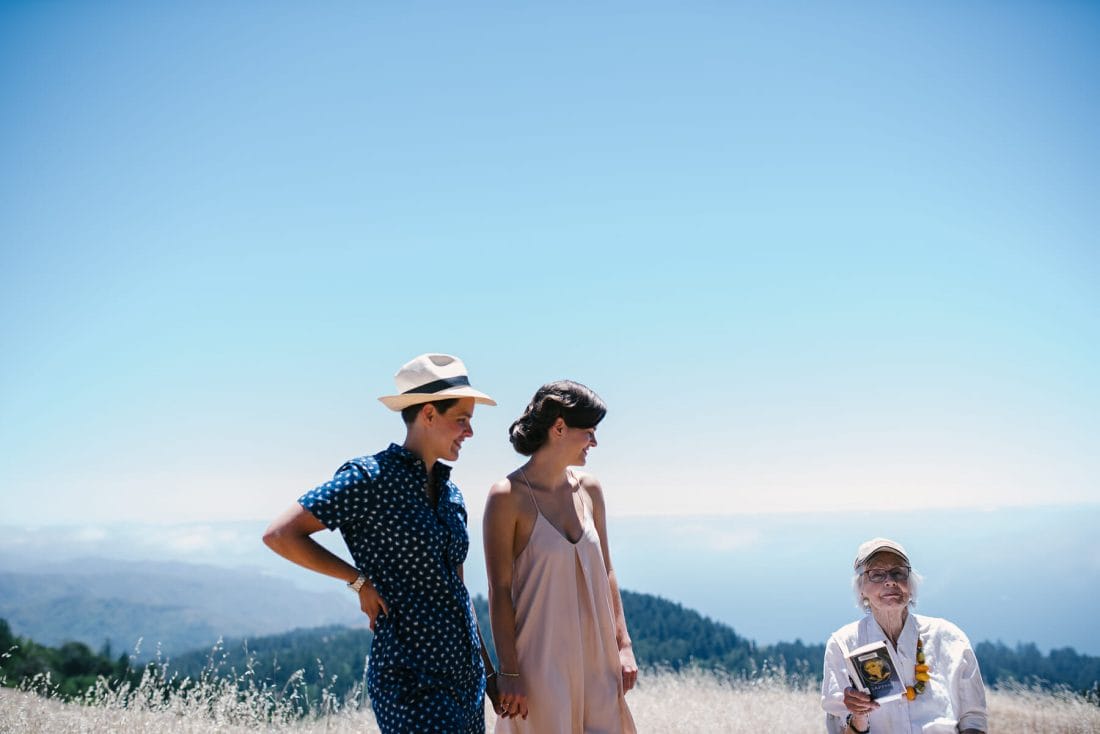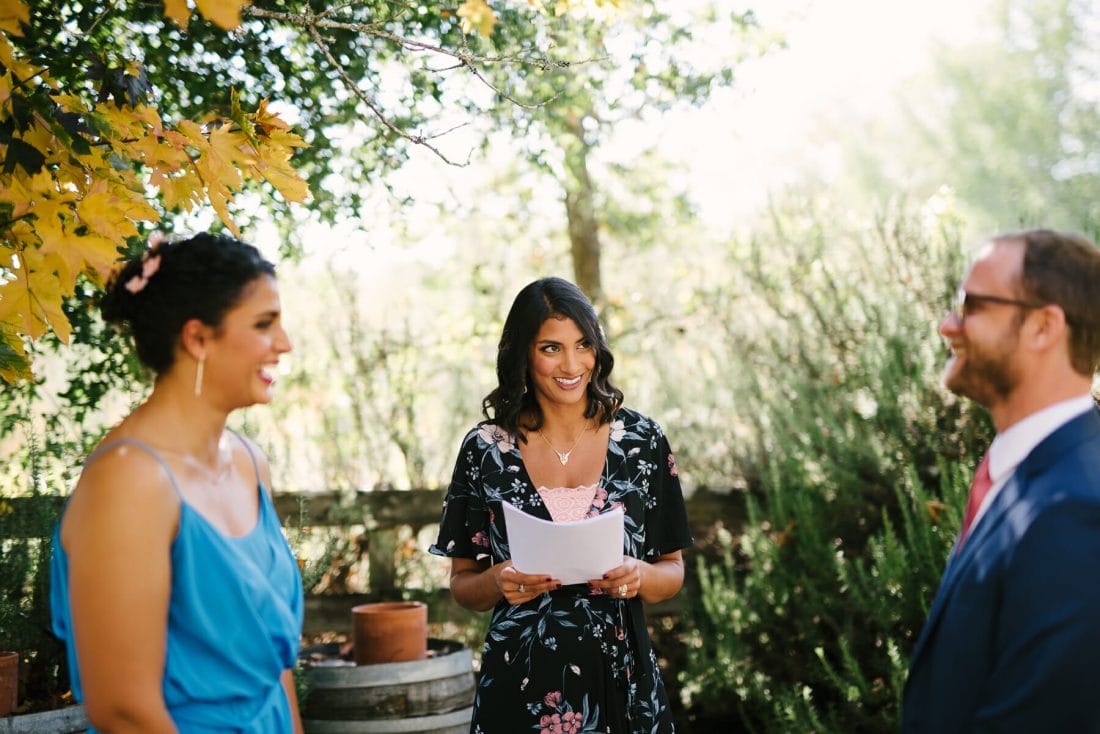 Choose Your Vendors
Depending on your location and preferences, you may need to hire additional vendors such as a florist, caterer, or musician. Take a look at my vendor list for some great Bay Area Vendors who might be able to help out with your elopement. My neighbor, Alyson from Flower and Forage, is an awesome florist. Check her out if you want some rad flowers. Since most elopements are quite small, consider if you will be going out to dinner or having a meal somewhere else after your ceremony. Also, don't forget to eat lunch.
Decide on Your Attire
Whether you want to dress up or keep it casual, make sure you choose attire that fits your personal style and the location of your elopement. Think about the weather and any potential terrain you may be walking on when choosing your outfit. Don't try to scramble over rocks and uneven ground in high heels or dress shoes with slick bottoms. You can have comfort and style. Also, since the Bay Area can be cooler than one might expect, don't forget to bring a warm layer just in case.
Find an Awesome Getting Ready Location
When deciding on a place to get ready for your elopement, consider the ceremony location. If you're getting married in a remote or hard-to-access location, you may want to choose a nearby hotel or rental property to get ready. Getting married in a city? You may want to choose a hotel or Airbnb that is centrally located. In San Francisco, consider parking and tourist traffic.
Think about what amenities you'll need to get ready comfortably. Look for a location with a spacious bathroom, good lighting, and plenty of mirrors. If you have family or friends coming in from out of town, you might want to choose a place that can accommodate everyone or at least allow everyone to stay close by. The Bay Area has no lack of spectacular vacation rentals.
A location with unique features can add to the overall experience and story of your elopement. A rental property with a stunning view, a hotel with a rooftop terrace, or an Airbnb with a charming interior can all make for great backdrops and photo opportunities.
Get Married – Make it Personal
While elopements are often smaller and more intimate than traditional weddings, they can still be special and personalized to your tastes. One of the benefits of eloping is that there is less pressure to do something "traditional." Add personal touches such as writing your own vows or incorporating a special tradition or activity that is meaningful to you both.
Sign the Marriage License
On the day of your ceremony, in addition to your officiant, you will need to have one or two people sign the license as witnesses (unless you are doing a confidential marriage). Your photographer can also be the witness who signs your license. Once the license is signed by the officiant and witness/es, it will need to be mailed or delivered to the clerk's office. The clerk will record the marriage. If you want a copy of the marriage certificate, you can order that from the clerk's office. Check to see how long it will take to get the marriage certificate. This is an important legal document that proves you are married.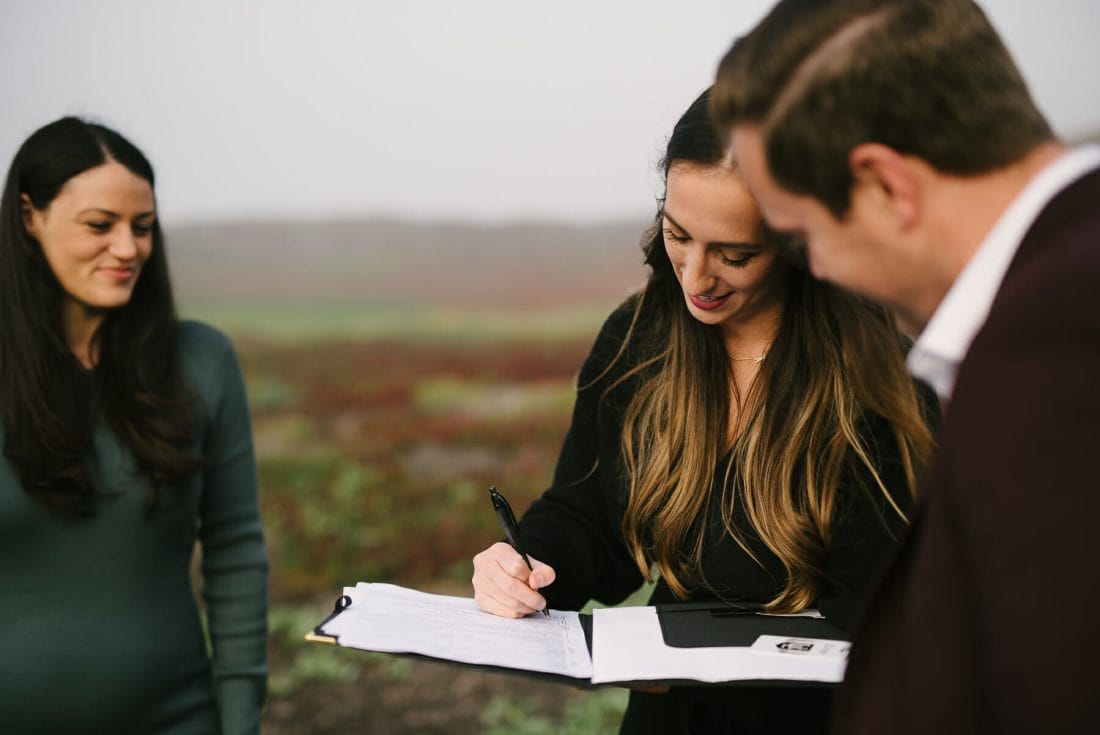 Enjoy your day!
Remember that your elopement is about celebrating your love for each other, so enjoy yourselves. Don't sweat the small stuff. Be flexible and have fun. The Bay Area is a beautiful place to start your journey as a couple, and your elopement will be a day you'll never forget.
Below you will find some links to a few other Bay Area elopements and pop-up weddings I have done over the years. I hope you find the information in this post helpful. Feel free to reach out with any questions or comments.