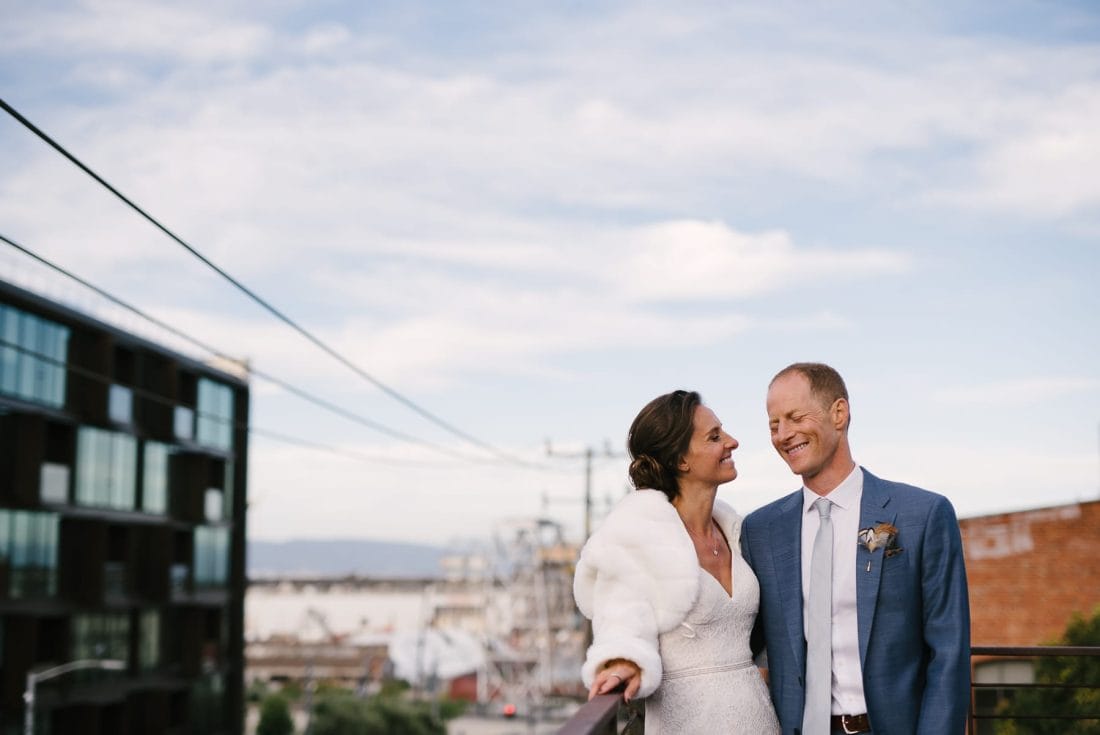 Kelsey and Danny's San Francisco Botanical Garden Wedding and Reception at the Pearl.
Kelsey and Danny's wedding at the San Francisco Botanical Garden was truly magical. They fused music, fire, and tidbits from multiple traditions to create a super personal heartfelt ceremony. I met Kelsey and Danny last November while camping in Death Valley for the first time in person. We had previously met over zoom and discovered that we both love the same hot springs in the middle of the desert. We have multiple common interests, and it felt like our meeting was meant to be. When you are spending a lot of time with someone on your wedding day, it is nice when you get along.
On the morning of the wedding, I met Kelsey and Danny at their home on Haight St for getting ready pictures. From there, we drove together to the San Francisco Botanical Garden. After the ceremony, we drove together to the Pearl, where they had their cocktail hour, dinner, and dancing. It is always easier when all the events at a wedding are in one location, but even though things were a little spread out, the day ran very smoothly.
Getting Ready at Home on Haight Street
After some deliberation, Kelsey and Danny decided to both get ready at their house on Haight Street. They have a beautiful home, a fantastic backyard, and live so close to the ceremony location. It seemed like the best place to get ready. I love it when people do what feels natural. Surrounded by their awesome poster collection, with goodies from a local bakeshop, and some close family members, they got ready for their big day. After they were dressed and ready to go, we walked to my car and headed over to the Botanical Garden.
Fire Meeting, Pre Ceremony Prep, and Portraits at the Botanical Garden
We wanted to make sure to get in some pictures around the 55-acre property. So, after arriving at the Botanical Garden, we checked in with the folks prepping for the ceremony and then headed out to take some couple portraits. As part of the ceremony, Kelsey and Danny had decided to light 3 ceremonial fires. Lighting fires in the park meant that they needed to have a fire safety meeting before the ceremony. We hustled back from our jaunt around the park in time for the meeting. Once we were done with the couple portraits, and the fire safety meeting, we did immediate family portraits under the shade of a tree close to the ceremony site.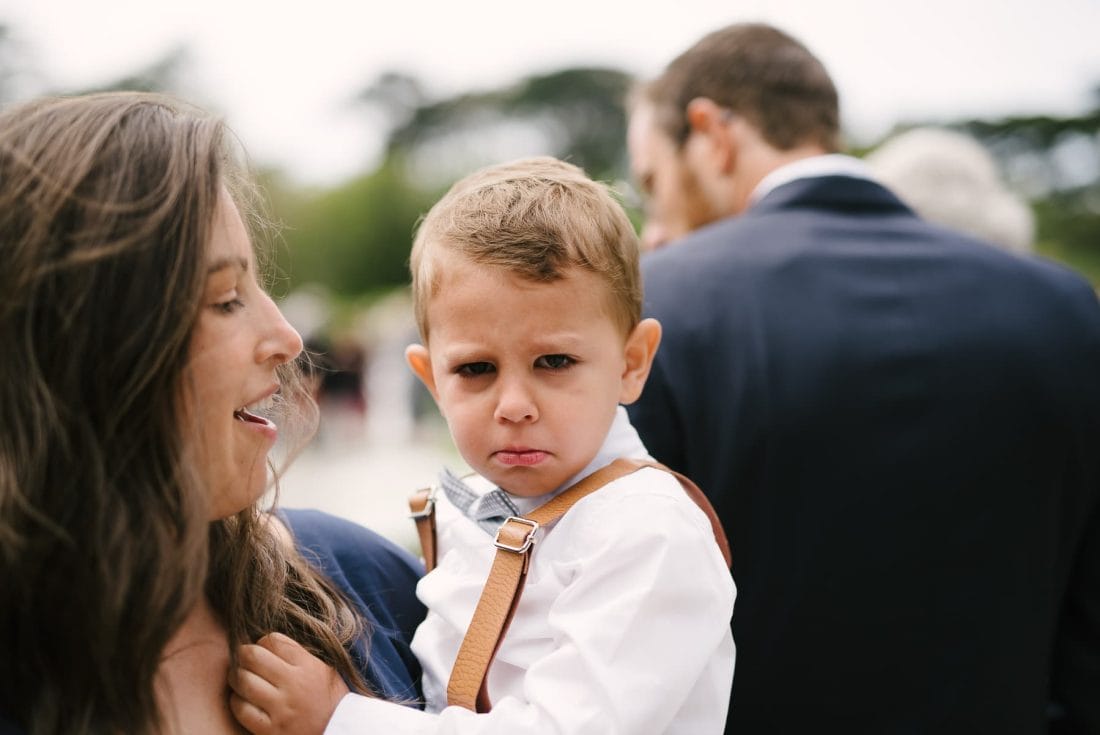 Ceremony
Kelsey and Danny's therapist officiated their ceremony. It was sweet and personal. Kelsey and Danny were barefoot and invited guests to take off their shoes as well. The Chuppah they were married under was used by many other couples. Some friends played music. The three fires were lit. There were so many aspects of the ceremony that highlighted their love and appreciation for their community. After the ceremony, we took a few more pictures around the garden before heading over to the Pearl.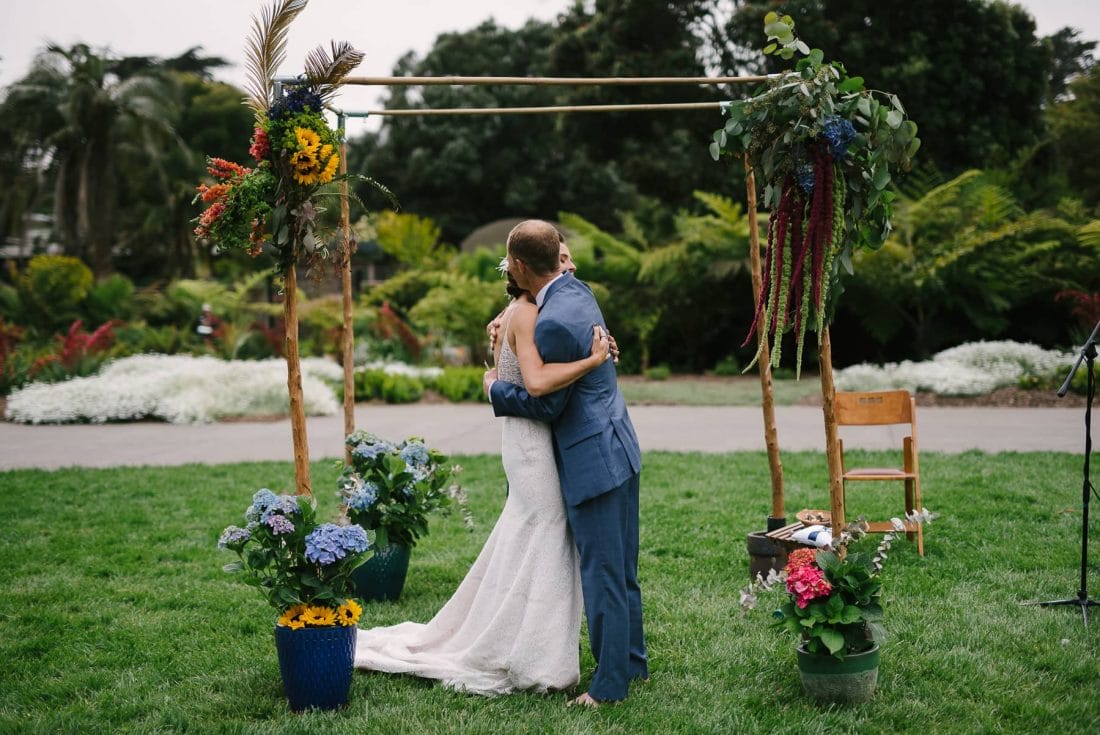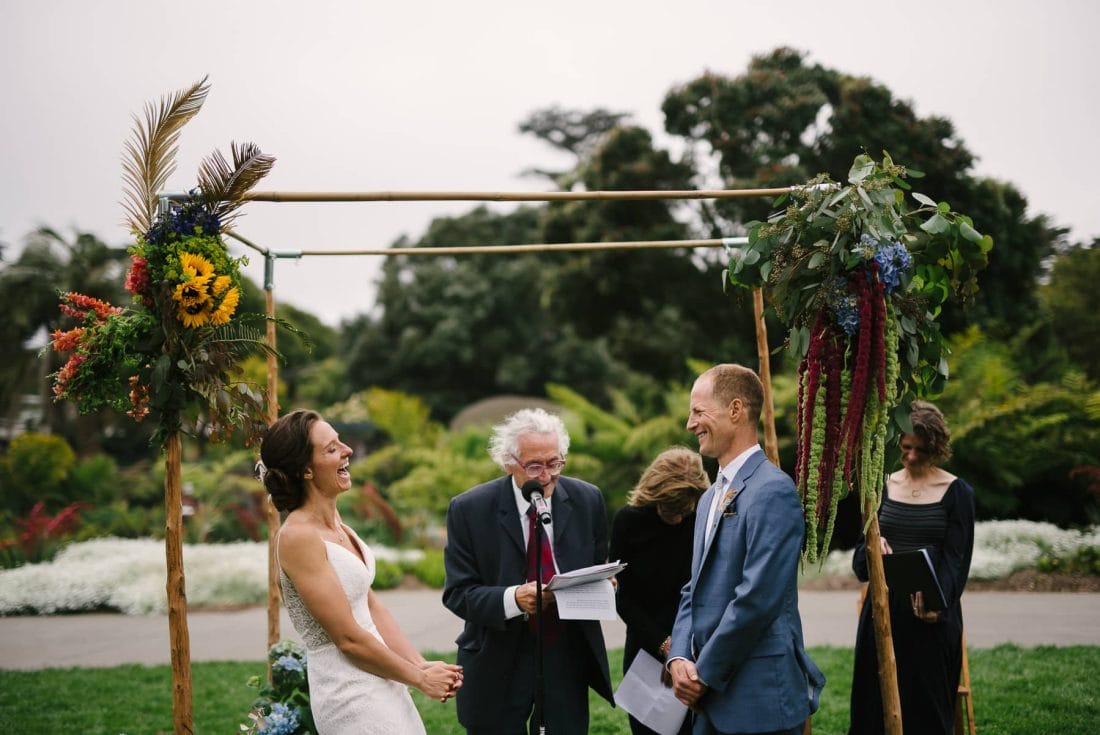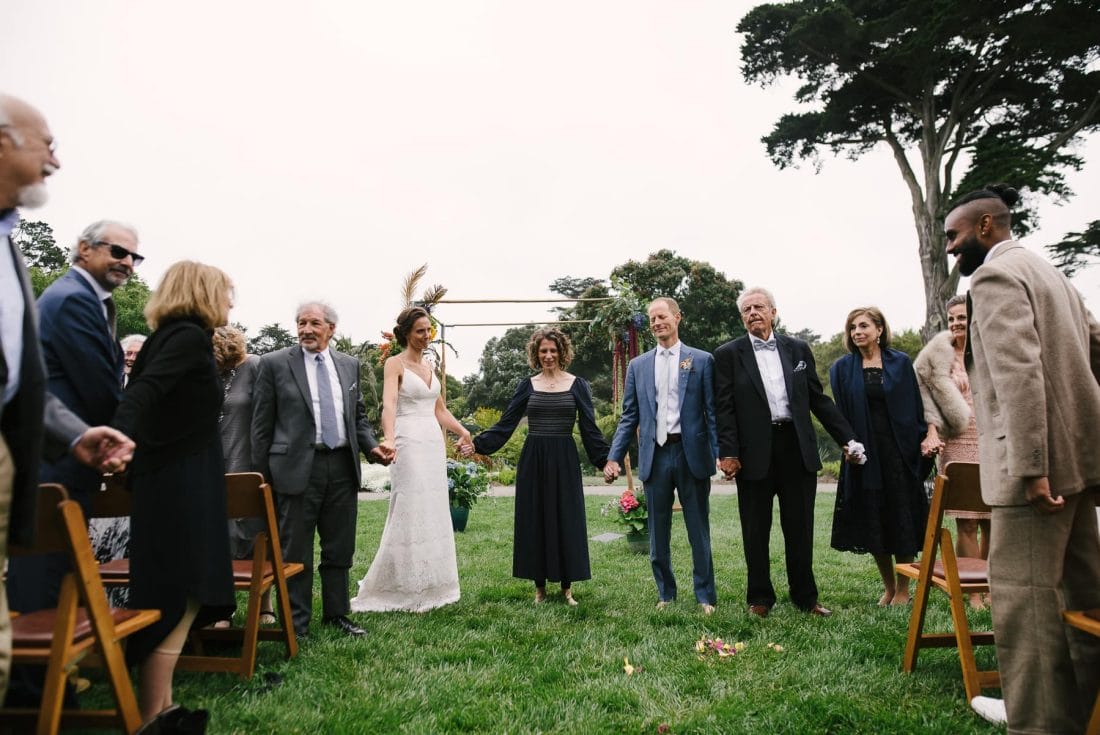 Cocktail Hour, Dinner, Dancing, and Merriment at the Peal
The Pearl is a large warehouse event space on 3rd St. Kelsey and Danny had their cocktail hour on the roof. You are right at the level of the powerlines and have a great view of the Bay from up there. Kelsey and Danny's friend DJed music for the cocktail hour. After cocktails and yummy snacks, folks headed downstairs for dinner and dancing. Dinner was vegetarian and super yummy. My favorite dish was the pasta with chanterelles. As thank you gifts, Kelsey and Danny gave guests tea cups made by one of the cooks. They also had orchids on each table from the Alemany Farmer's Market. Keeping it local, personal, and community-oriented. So much love and laughter at this celebration.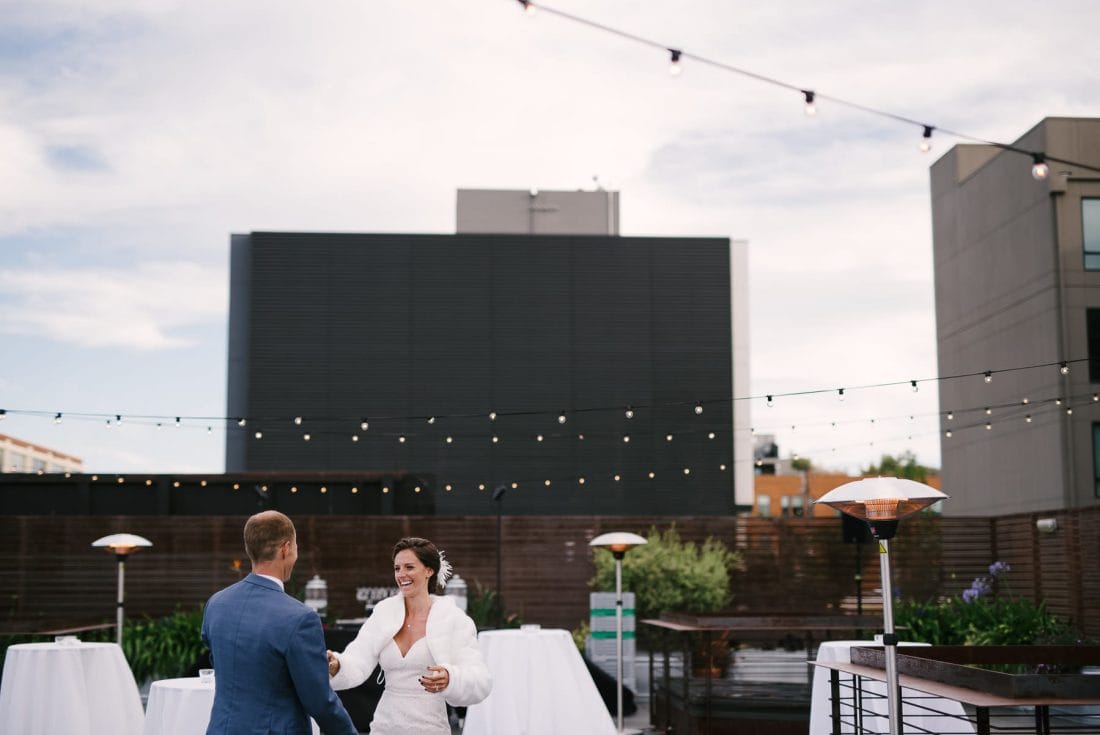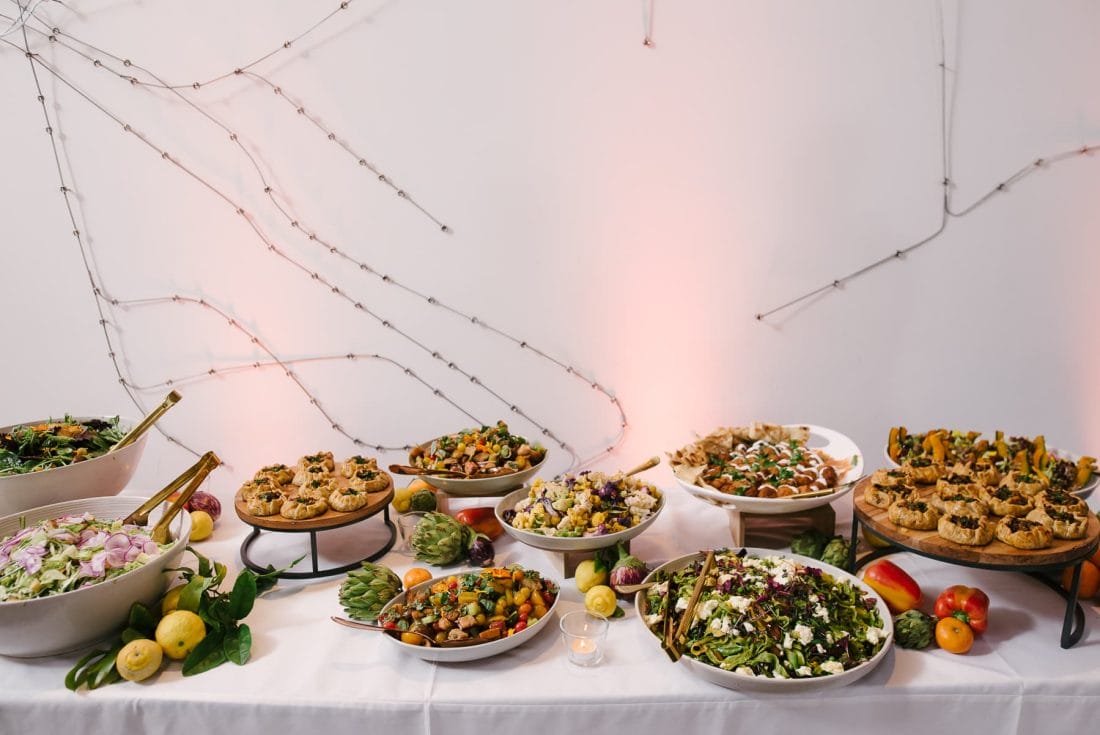 If you want to check out another Botanical Garden wedding, take a look at this UC Berkeley Botanical Garden wedding I shot back in 2013.